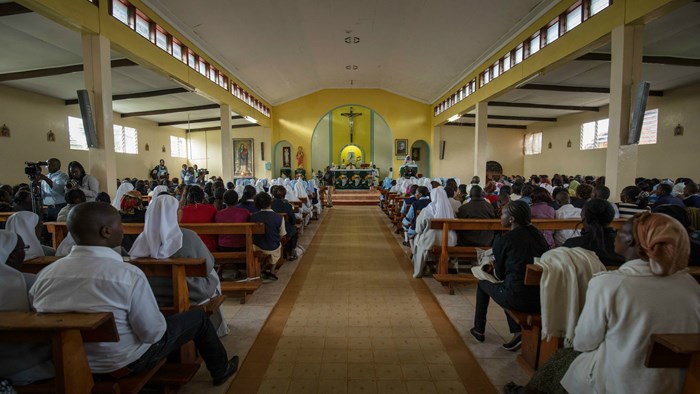 Image: Stuart Price / Make It Kenya
One of Africa's strongest attempts yet to prevent problematic behavior among its mushrooming churches has hit the brakes.
In 2014, Kenya's attorney general banned new churches amid a "miracle-faking" spree. Githu Muigai began 2016 by proposing a lengthy list of new reporting requirements, including a minimum theological education for pastors, annual church membership requirements, and requiring churches to be part of an umbrella organization. He hoped to implement them by end of January.
But backlash from Kenyan evangelicals, Catholics, and Muslims has been so severe that this week President Uhuru Kenyatta sent the 2015 Religious Societies Rules back to the drawing board. Any new regulations must be "subjected to further vigorous public consultations," stated his spokesman.
The DailyNation, one of Kenya's leading newspapers, called the president's move "timely" in an editorial praising the decision.
"If the State must control the faiths, then as President Kenyatta directed, the [attorney general] must conduct extensive consultations with religious leaders and their faithful and agree on the rules," stated the newspaper. "Better still, the whole question of regulating religion should be thrown out because it is unconstitutional and an unnecessary intrusion into personal liberties."
However, the week before the Daily Nation also praised the attorney general's effort as "timely."
"By trafficking in fake miracles and through sermons that promise prosperity for members, these dodgy church leaders have amassed a huge following and exploited their flock ruthlessly for their own material gain," stated the newspaper. "This has to stop."
The proposed regulations were Kenya's latest attempt to crack down on unruly religious organizations.
In December, the nation's Communication Authority announced that preachers may no longer solicit donations on radio or television. The rule does not ban preaching itself, an official clarified, adding that the agency looked at similar standards in the United Kingdom, Australia, and Canada when creating the policy.
Before the 2014 decision to halt registrations of new religious groups, which affected 7,000 churches, some counties attempted to implement "pay-to-preach" laws, and Kenya's chief justice sparked debate with his proposal to weed out "fake pastors."
And in 2012, evangelical groups in Kenya, including the Evangelical Alliance of Kenya (EAK), banded together in an attempt to self-regulate against pastoral deception and criminal activity which were "critically hurting the image of the Church," reported Kenya's Standard.
But the latest round of rules has sparked the biggest reaction. Muigai stated that church leaders had agreed that a "blend of state and self-regulatory measures" were needed. But EAK chairman Mark Kariuki labeled the proposals "persecution."
Kariuki told the media that the EAK did "not reject regulations" in principle, but that the new rules had to be reasonable and created after proper consultation.
Under the proposed rules, the government would require religious organizations to report their finances and whether members of the same family hold leadership positions, reported the DailyNation. Religious organizations would also have to submit a constitution that includes a statement of faith and be open to the registrar's inspection at any time. Churches would have to state any affiliation between leadership and a foreign group. Foreign pastors would require a work permit and government clearance.
Additionally, Kenyan pastors would be required to hold "a theological certificate from an accredited theological institution," reported the Standard. "The call from God is personal, with or without education," said Kariuk, pointing to the apostle Peter as an example.
The proposed regulations also disappointed the country's Catholics and Muslims. Approximately 1 in 5 Kenyans is Catholic, including Kenyatta; nearly 1 in 10 Kenyans is Muslim.
The chair of the Kenya Conference of Catholic Bishops accused the rules of giving the government "the power to invade churches" to conduct random audits.
"This is, to say the least, a license for the government to violate constitutionally guaranteed freedom of worship," said Bishop Philip Anyolo on Tuesday.
Kenya's opposition party also targeted the regulations.
The attorney general's office did have one religious supporter: the Anglican Church of Kenya (ACK).
"We have no major trouble with the laws so long as they don't stop the key role of church of fishing lost souls," bishop Timothy Wambunya told the Standard. "Our church constitution gauges the conduct and education of each cleric and that's what the laws basically want."
Another ACK bishop hinted that prosperity gospel churches deserved more inspection.
"Horrible things are happening in the church today. There is a lot of commercialisation of the gospel with this prosperity gospel," said bishop Beneah Salah. "Perhaps God is using the state to punish the church as he did in the past, where he used kings or nations to discipline the church."
Following the outcry, Kenyatta directed Muigai to work more closely with religious organizations to ensure the new rules are only implemented after "thorough and exhaustive consultations with all groups, bearing in mind the sacrosanct constitutional principles governing the freedom of religion and worship," his spokesman stated.
From 2014 to 2015, Kenya jumped from No. 43 on Open Doors's World Watch List to No. 19. This year, it moved up to No. 16—even though 83 percent of Kenyans are Christians.
The increase had less to do with the government attempts to rein in "fake pastors" and much more to do with the terrorist group al-Shabaab, based in neighboring Somalia.
Last April, al-Shabaab gunmen killed 149 people at Garissa University College, specifically singling out Christians by forcing students to say the Shahada—an Islamic creed—when determining whether to kill them. The school reopened last week for the first time since the shootings.
In December, al-Shabaab militants boarded a Kenyan bus with more than 100 passengers. When gunmen attempted to separate Muslims and Christians, the Muslims refused to leave, telling the terrorists to kill them all or leave them alone. Muslim women offered Christian women their face coverings, and hid others behind bags, reported Morning Star News.
CT has noted how Christian-Muslim relations in East Africa are going the violent way of Nigeria, what Kenya's violence means, and how Kenyan jihadists are enlisting ex-Christians as martyrs.
[Photo courtesy of Make It Kenya - Flickr]