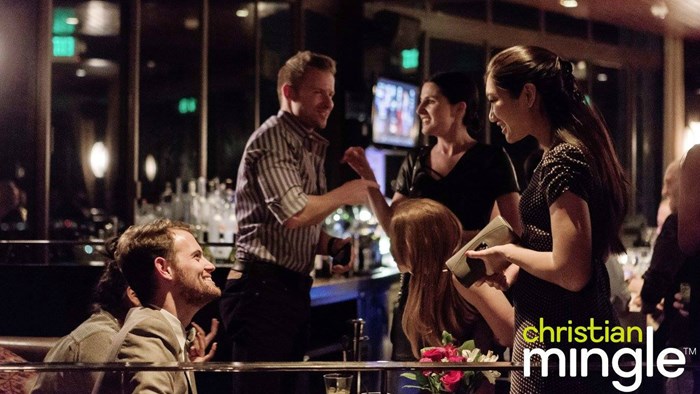 ChristianMingle.com will open its 16 million-member site to gay and lesbian users following an anti-discrimination lawsuit.
According to a settlement approved by a California judge last week, the country's most popular Christian dating site will offer options for same-sex matches, rather than limiting searches to "a man seeking a woman or a woman seeking a man," the Wall Street Journalreported.
The plaintiffs in the case sued ChristianMingle in 2013 for violating a California civil rights law requiring "all business establishments of every kind whatsoever" to offer full accommodations regardless of a person's sexual orientation (among more than a dozen other protected classes).
A spokesperson for ChristianMingle's parent company, Spark Networks Inc., said in an email to CT that they recognize "this is a divisive issue and hope that the greater good of our mission is what people appreciate about us."
ChristianMingle, known for its commercials promising to "find God's match for you," is the largest dating site owned by Spark Networks. The company brought in $48 million last year running niche sites including JDate.com, LDSSingles.com, CatholicMingle.com, and AdventistSinglesConnection.com, as well as sites for black, aging, and deaf daters. The settlement applies to a few other Sparks Networks sites.
ChristianMingle has already changed its homepage to ask users about their own gender and let them select their own search parameters.
"Like all other companies, we must abide by the laws that govern our state and nation," said Michael Egan, Spark Networks CEO. "There is no greater agenda at hand here at ChristianMingle than uniting Christian men and women for the sake of finding happy and healthy lifelong relationships."
While Spark Networks is not a Christian company, it relies on Christian advisors to "provide guidance and feedback." Dallas-area Southern Baptist pastor Clayton Coates said his contributions to ChristianMingle and its affiliated Believe.com focused on a biblical understanding of marriage as between one man and one woman.
Coates told CT he stepped down from the seven-member board following the settlement decision. "As I am a Christian, husband, father of six … it hurts my Lord and it hurts my reputation … and the reputation of my church to stay," he said.
California pastor and national advisory board member Bryan Loritts told CT he had no idea Sparks Networks would be offering same-sex matches until it came out in the news.
The 11-year-old site has not seen a decline in members or new registrations following the June 27 settlement. ChristianMingle profiles feature details about denominational affiliation and church attendance, but members represent a range of beliefs and practices. A 2014 survey found that 61 percent of users would have sex before marriage and 34 percent would be open to marrying outside the Christian faith.
Faced with a similar anti-discrimination lawsuit out of New Jersey, eHarmony launched a spinoff site for gay daters in 2009. Founder Neil Clark Warren later said the same-sex marriage debate "really damaged" eHarmony, which began in partnership with Focus on the Family, but distanced itself to reach a broader swath of users.
Advocates for traditional marriage consider the ChristianMingle lawsuit settlement an infringement on religious liberty, grouping the decision with broader societal and legal pressure on those opposed to gay marriage. Courts in multiple states have recently weighed whether Christian wedding vendors can refuse same-sex couples, and California lawmakers have proposed new restrictions designed to eliminate many existing faith and sexuality requirements at religious colleges.
Patheos blogger David Smalley defended ChristianMingle against the interpretation of the California anti-discrimination law, the Unruh Civil Rights Act, being applied in their suit.
"Since when can the government tell us what products or services we must offer to future customers?" he wrote. "Every atheist, every liberal, and every business owner needs to fight for ChristianMingle's rights to offer the products or services they choose, even if we disagree with their practices or philosophy behind it all."
Brandan Robertson, a blogger and former spokesman for Evangelicals for Marriage Equality, called the settlement "a huge win for LGBT+ Christians."
Back in 2011, CT asked Christian relationship experts about whether evangelicals should embrace dating sites, and single Christians have since weighed in about the potential benefits and drawbacks of online dating on Her.meneutics.