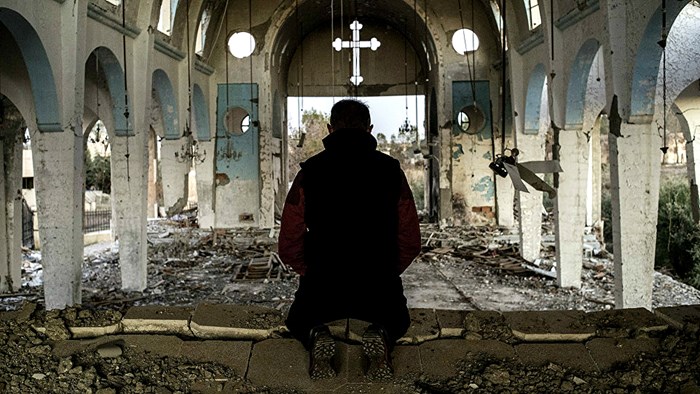 Image: Valery Melnikov / Sputnik
Update (Mar. 17): Secretary of State John Kerry has declared that ISIS is committing genocide against Christians and other religious and ethnic minorities in the Middle East.
Speaking from the State Department on Thursday morning, the day of the deadline for his decision, Kerry said:
My purpose in appearing before you to today is to assert that, in my judgment, Daesh [ISIS] is responsible for genocide against groups in areas under its control, including Yazidis, Christians, and Shia Muslims.

[ISIS] is genocidal by self-proclamation, by ideology, and by actions—in what it says, what it believes, and what it does. Daesh is also responsible for crimes against humanity and ethnic cleansing directed at these same groups, and in some cases also against Sunni Muslims, Kurds, and other minorities.
He cited the examples of ISIS killing Christians in Mosul and Qaraqosh "solely because of their faith," as well as forcing Christian and Yazidi women into sexual slavery.
"We know that in areas under its control, [ISIS] has made a systematic effort to destroy the cultural heritage of ancient communities—destroying Armenian, Syrian Orthodox, and Roman Catholic churches; blowing up monasteries and the tombs of prophets; desecrating cemeteries," said Kerry. " … We know that [ISIS] has threatened Christians by saying that it will, quote, 'conquer your Rome, break your crosses, and enslave your women.'"
He noted:
One element of genocide is the intent to destroy an ethnic or religious group, in whole or in part. We know that [ISIS] has given some of its victims a choice between abandoning their faith or being killed, and that for many is a choice between one kind of death and another.

The fact is that [ISIS] kills Christians because they are Christians; Yazidis because they are Yazidis; Shia because they are Shia. This is the message it conveys to children under its control. Its entire worldview is based on eliminating those who do not subscribe to its perverse ideology. There is no question in my mind that if [ISIS] succeeded in establishing its so-called caliphate, it would seek to destroy what remains of ethnic and religious mosaic once thriving in the region.
"The United States will strongly support efforts to collect, document, preserve, and analyze the evidence of atrocities," said Kerry. "And we will do all we can to see that the perpetrators are held accountable."
The State Department has posted Kerry's full remarks.
The last time the United States officially declared genocide was more than a decade ago, during the violence in Darfur in 2004, CNN reports. The Washington Postrounds up reactions to Kerry's declaration, which is widely seen as symbolic.
On Monday, experts on international religious freedom gave CT six reasons why genocide is the right label.
-----
Update (Mar. 15): The US House of Representatives has unanimously voted 393–0 to declare the actions of ISIS against Middle Eastern Christians (and other minorities) officially "war crimes, crimes against humanity, and genocide."
"The vote was expected to pass, but even sponsors said they were surprised it was unanimous," reported The Washington Post in its analysis of what's next. "Congress has only faced votes a few times on the complex legal and moral questions of whether heinous crimes qualify as genocide—and division is deep about what, if anything, the label mandates the U.S. government to do."
Open Doors's CEO David Curry explained to Mission Network News why the genocide designation is important but "does not force a particular remedy."
Fox News examines the frustration among Iraqi Christians that the debate is taking so long. Crux's John Allen looks at what would give them real hope.
Experts on international religious freedom gave CT six reasons why genocide is the right label.
-----
[Originally posted on March 10 as "Do Christians Face Genocide from ISIS? US Has One Week Left to Decide"]
For two years, ISIS has been terrorizing Christians and other religious minorities in Syria and Iraq.
In one week, Secretary of State John Kerry will have to tell Congress whether the United States will officially label ISIS' actions a "genocide."
Many Christian groups have been ratcheting up the pressure for such a declaration. Today, the Knights of Columbus released "encyclopedic evidence" for Christian genocide in the Middle East at a press conference in Washington, D.C.
"If Christians are excluded from the classification of genocide, we will be responsible for a greater and more ruthless campaign of persecution against them," said Bishop Angaelos of the Coptic Orthodox Church in the United Kingdom, one of this morning's speakers at the National Press Club. "We cannot declare genocide for Yazidis and not Christians if they are suffering the safe fate at the hands of the same perpetrators at the same time under the same conditions."
"I share just a huge sense of revulsion over these acts, obviously," Kerry told a House Appropriations Subcommittee two weeks ago. "We are currently doing what I have to do, which is review very carefully the legal standards and precedents for whatever judgment is made."
Meanwhile, the House Foreign Affairs Committee voted last week to pass two resolutions: one calling for support of the creation of an international war crimes tribunal to prosecute those involved in Syria, and the other calling the crimes perpetrated by ISIS against Christians and other minorities there "war crimes," "crimes against humanity," and "genocide."
The House committee is following the lead of the European Parliament, which passed a resolution last month saying ISIS' behavior fits the definition in the UN Convention on the Prevention and Punishment of the Crime of Genocide.
According to the 1951 convention, genocide involves an intention to wipe out a national, ethnical, racial, or religious group by killing, causing serious bodily or mental harm, inflicting conditions of life calculated to bring about the group's physical destruction, preventing births, and forcibly transferring children to another people group.
The UN genocide convention calls for the prevention and punishment of perpetrators. But the language is vague, and doesn't obligate the US to a specific course of action. TheWashington Postexplains:
Genocide scholars say the administration's decision has large implications for what the word means. Bill Clinton hesitated to use the word in Rwanda, saying it would mandate action. George Bush used it a decade later in Darfur, but concluded it didn't mandate any policy change. Genocide experts want, above all, for the word to mean something.
David Saperstein, America's ambassador at large for international religious freedom, said that the label won't change the US response.
"Had we a year ago made a determination about genocide crimes against humanity, it would have resulted in what we are doing [now]," he said at a January press conference announcing Open Doors's 2016 World Watch List. "You phrase the question, 'Is there significance?' 'Is there importance?' We are doing what we would have done regardless of whether the designation had been made or not."
But others argue that the designation is an important step.
"The International Association of Genocide Scholars, over 200 members of Congress, and over 70 human rights experts and organizations, spanning the nation's religious and political spectrum, have raised their voices that the treatment of these communities by ISIS meets even the strictest definition of genocide under international law, and must be treated as such," said Kirsten Evans, executive director of In Defense of Christians (IDC).
IDC and the Knights of Columbus have used a TV ad and online petition to argue for the genocide declaration. Some of the 64,000 signatories include National Association of Evangelicals president Leith Anderson, Northland pastor Joel Hunter, Baylor University history professor Philip Jenkins, and evangelist Ravi Zacharaias. US Commission on International Religious Freedom commissioner Robert George and philosopher Cornel West have also weighed in, as has the former US ambassador to the UN for human rights, Ken Blackwell.
Indeed, some activists are calling for the genocide label to extend beyond Iraq and Syria to anywhere affected by Islamist extremists.
"We are witnessing an existential and genocidal threat against Christians in at least 60 countries," stated Samuel Rodriguez, president of the National Hispanic Christian Leadership Conference, in response to the killing of four nuns in Yemen last week.
Southern Baptist Convention president Ronnie Floyd agreed.
"There is a legitimate attempt at genocide against religious minorities in the Middle East, and I call upon the United States government and other world leaders to respond more forcefully and immediately to protect these terribly endangered people," he stated.
The Hudson Institute's Center for Religious Freedom director Nina Shea told CBN News that the genocide label is important because it's the truth.
"If we take the solemn vow of 'never again' as we have since the Jewish Holocaust under the Nazis, we have to call it as such for the Christians," she said. The label would also have repercussions for refugees who are applying to enter the US: less than 1 percent of Syrian refugees admitted to the US so far are Christians, even though Christians previously made up 10 percent of Syria's population, she said.
But not everyone is convinced that focusing on Christian persecution is necessary—or even helpful—in the war against ISIS.
"If evangelicals believe the United States has a moral obligation to support religious freedom worldwide, then why this narrow lens?" wrote Trinity University history and American foreign relations professor Lauren Turek.
"In a situation like Syria, plagued by civil war and lacking a functional government with which policymakers can negotiate, how can the United States best protect those fleeing oppression—religious or otherwise?," she wrote. "Should American policymakers elevate religious persecution, or the persecution of one specific faith community, above other human rights and freedoms in their calculus of foreign relations? What does limiting sanctuary to one religion convey to the world about American values?"
In 2014, CT editorialized on why ISIS must be stopped—but no special pleading on behalf of Christians is required.
CT has reported how terrorists such as ISIS are now officially the greatest threat faced by the persecuted church, as Christians in 50 countries continue to face record levels of persecution. Middle Eastern evangelicals have exchanged strategies, while advocates call for the creation of a safe haven.
Slivers of good news include the recent release of kidnapped Christians, an attempt in Morocco to protect Christians in Muslim countries, what $1 million revealed on Christian coping strategies beyond fight or flight, how Christian "resistance videos" of forgiveness are going viral, and Pope Francis and Patriarch Kirill breaking the century-old ice over the issue.
[Photo courtesy of Sputnik News]