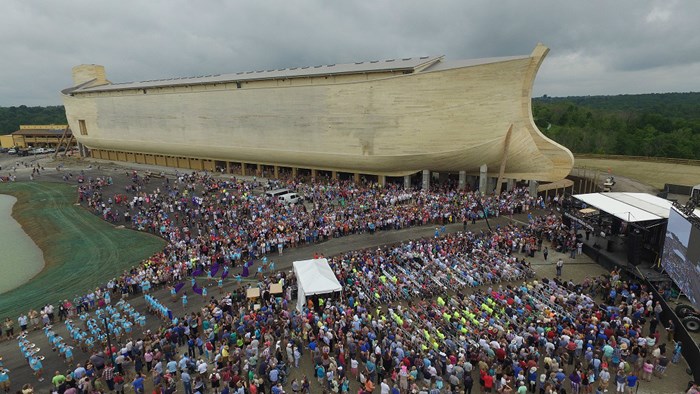 Image: Ark Encounter
Update: The Ark Encounter, a six-year, $100 million project by Ken Ham's Answers in Genesis ministry, opened its doors today. The 510-foot long, seven-story high boat is built to biblical proportions and sits on 800 acres in Williamstown, Kentucky.
Thousands came for the ribbon-cutting ceremony on Tuesday, which drew on ancient Hebrew customs of placing 12 stones, releasing doves, and playing a shofar.
"In a world that is becoming increasingly secularized and biased, it's time for Christians to do something of this size and magnitude," stated Ham.
Ham said he expects "a large percentage" of visitors will be non-Christians. Answers in Genesis predicts between 1.4 million and 2.2 million visitors will see the ark in the first year, though a consultant for the state earlier calculated that 640,000 was more likely.
Along with 125,000 square feet of exhibits on three decks, the Ark Encounter also includes the Ararat Ridge Zoo, camel and donkey rides, live entertainment, and a 1,500-seat themed restaurant.
Visitors called the park "breathtaking" with "a lot of attention to details." A group of atheists also turned out to protest.
Ham's next projects: a replica of a walled city where Noah may have lived and a Tower of Babel.
-----
[Originally entitled "How Religious Can Tourism Be? Noah's Ark Park Passes Test" on March 9]
Last month, a federal judge told Kentucky's tourism board that it can't kick the Answers in Genesis (AiG) Ark Encounter—a followup to its nearby Creation Museum—out of a tax rebate program for tourist attractions because of its Christian focus.
The Blue Grass State's program works like this: Potential tourist attractions—those that anticipate bringing significant revenue to the state—are appraised by outside consultants. If the projects qualify, the state agrees to refund part of the sales tax generated by the attraction after its first year of operation. The rebate can last 10 years, and is based on how much the attraction cost to build and how much income it generates. AiG's rebate could be more than $18 million.
AiG's own study claimed that the Ark Encounter would bring in thousands of jobs and millions of dollars. But after initial approval, sluggish funding caused AiG to miss its construction deadline of May 2014.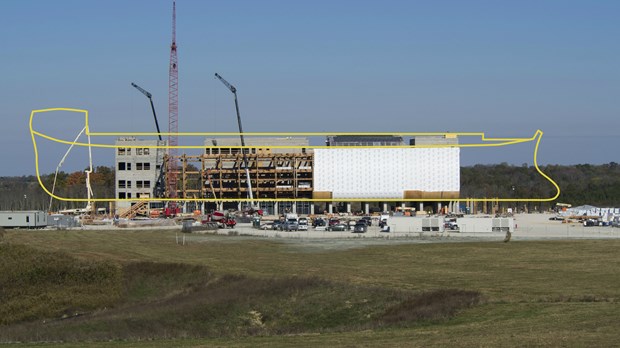 Image: Ark Encounter
However, economics wasn't why a second plan—aiming for a 2016 opening date—was denied. Instead, Kentucky's tourism secretary said that the rebate "cannot be used to fund religious indoctrination."
In addition, the state objected to AiG's decision to hire only those who can sign its statement of faith, which includes agreement that "the great flood of Genesis was an actual historic event, worldwide (global) in its extent and effect."
AiG sued over religious discrimination, and US district judge Gregory Van Tatenhove agreed with the ministry in February.
"The Court finds that the Commonwealth's exclusion of AiG from participating in the program for the reasons stated—i.e., on the basis of AiG's religious beliefs, purpose, mission, message, or conduct—is a violation of AiG's rights under the First Amendment to the federal Constitution," wrote Van Tatenhove in his opinion.
He issued an injunction against Kentucky's tourism board, telling it not to use "religious purpose and message" or "the hiring of its personnel" to exclude the Ark.
The state said it had no plans to appeal. Meanwhile, AiG may soften its stance on hiring.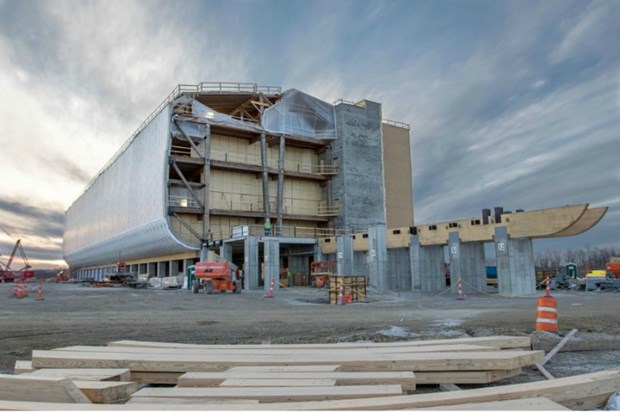 Image: Ark Encounter
By all counts, the Ark is set to have an enormous economic impact on the small town of Williamstown where it's located. Set on 500 acres, the Ark is 510 feet long and will include surrounding gardens, a 2,100-seat restaurant, and a 1,000-seat theater.
AiG is projecting 1.4 million visitors in the park's first year, though a consultant for the state said 640,000 visitors was a more likely number.
"But even if you go on the basis of [the consultant's] over-conservative figures, they're saying we still fulfill the requirements [for the rebate] and bring a net gain into the state," AiG founder and president Ken Ham toldUSA Today.
Williamstown has a population of 4,000, and has been scrambling to get ready for the Ark's projected opening date of July 7. The city offered $62 million in bonds to support the $120 million project, which will be paid back with park revenues.
Williamstown has also drawn up a comprehensive plan, added an economic development committee, and hired a consultant to help revitalize the town and plan for the expected influx of visitors.
"[AiG is] partnering with the city to help revitalize downtown," Storme Vanover, president of the Williamstown Downtown Merchants Committee, told the Northern Kentucky Tribune. "They are working to promote us as we promote them. The Ark is going to bring a lot of jobs and help a lot of mom-and-pop businesses in the area. It will bring jobs closer to home so people don't have to travel so far for work."
The Ark's religious foundation has only increased its local support, Williamstown mayor Rick Skinner said.
"Tourism dollars are among the best you can get, and a religious attraction brings in a good clientele for us," he told the Tribune. "Everyone here is very positive and anxious to help in any way. … The faith-based community is especially looking for ways they can serve."
In related news, televangelist Morris Cerullo has announced plans for a $125 million Bible theme park in San Diego.
CT has spotlighted the worldwide flood of ark parks, and noted when Noah's Ark found a new believer in the archaeologist who found the Titanic.
CT has noted previous expeditions to search for the real-life Ark. However, many amateur expeditions are "stirring up dust and little else."