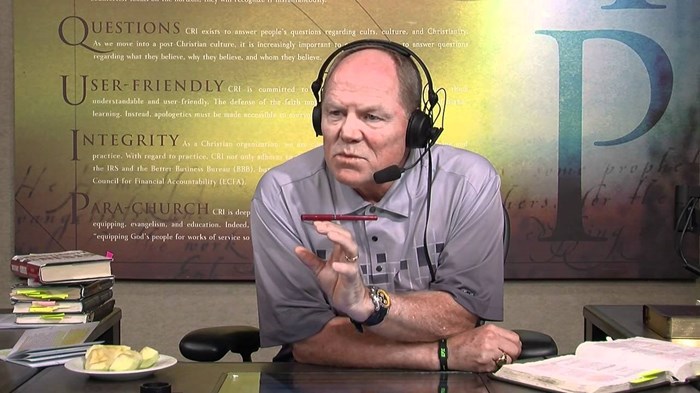 Image: Christian Research Institute
Last Sunday, 67-year-old Hank Hanegraaff and his wife entered into Orthodox Christianity at St. Niktarios Greek Orthodox Church in Charlotte, North Carolina.
The former Protestant is well known among evangelicals as the Bible Answer Man. Since 1989, Hanegraaff has been answering questions on Christianity, denominations, and the Bible on a nationally syndicated radio broadcast.
A champion of evangelical Christianity, he's best known for arguing against cults, heresies, and non-Christian religions. His 20 books include titles like Christianity in Crisis, Counterfeit Revival, and The Kingdom of Cults [revised with Walter Martin].
Part of being the Bible Answer Man also includes running the Christian Research Institute (CRI), an apologetics ministry that Hanegraaff has been president of since 1989.
This week, Hanegraaff spent some of his airtime answering questions about his decision to leave Protestantism for Orthodoxy.
"People are posting this notion that somehow or other I've walked away from the faith and am no longer a Christian," Hanegraaff said on his Tuesday broadcast. "Look, my views have been codified in 20 books, and my views have not changed."
Hanegraaff and his wife Kathy have been attending the Orthodox church for more than two years, he said on his Monday broadcast.
His journey to Orthodoxy began with a trip to China, when "I saw Chinese Christians who were deeply in love with the Lord, and I learned that while they may not have had as much intellectual acumen or knowledge as I did, they had life," he said.
On the flight back, Hanegraaff wondered if he was even a Christian. "I was comparing my ability to communicate truth with their deep and abiding love for the Lord Jesus Christ."
He began to study the work of Watchman Nee and the idea of theosis (the Eastern Orthodox teaching on seeking union with God), which led him back to the early Christian church.
"I've been impacted by the whole idea of knowing Jesus Christ, experiencing Jesus Christ, and partaking of the graces of Jesus Christ through the Eucharist or the Lord's table," he said. "Nothing has changed in my faith."
CT reported in 2009 how CRI critiques of Watchman Nee in the 1970s (prior to Hanegraaff's tenure) led other theology watchdogs to label the Chinese Christian's "local churches" movement a cult, but Hanegraaff acknowledged "we were wrong" and endorsed the movement's orthodoxy in 2008. (The Local Church sued over the cult label in 2003.)
Hanegraaff's move to Orthodoxy took a decade, and has put him and his wife on the same spiritual page, he said Tuesday.
"I have been typically more skewed toward truth and, quite frankly, Kathy more skewed towards life," he said on air. "But today we are on precisely the same page in life and in truth, and we're loving it. Daily we thank God that he has saved us by grace alone through an active faith in our dear Lord Jesus Christ."
Hanegraaff's move was welcomed by Rod Dreher, author of The Benedict Option and an Orthodox Christian.
"What astounding news," he told The Christian Post. "Many evangelicals seek the early church; well, here it is, in Orthodoxy."
The Eastern Orthodox Church is divided into 14 separate branches; last summer they attempted their first meeting since 787. Not everyone came; some boycotted over items missing from the agenda. (In more than 1,200 years, a lot of issues cropped up; the original list stretched to more than 100 items.)
Another historic meeting—between Pope Francis and Patriarch Kirill—also took place last summer, as the leaders of the Roman Catholic and Orthodox churches met at an airport in Cuba to discuss record levels of Christian persecution.
Meanwhile, Hanegraaff's conversion gives evangelicals one more bridge to Orthodoxy after the loss of two leaders in 2012. Evangelical-friendly Metropolitan Jonah resigned under pressure, and Peter Gillquist, who led around 2,000 Protestants into Eastern Orthodoxy in 1987, passed away.
Update: On his CT blog, Billy Graham Center for Evangelism executive director Ed Stetzer explores why evangelicals convert to Orthodoxy and four responses.