Black and White Christian Leaders Lament Charlottesville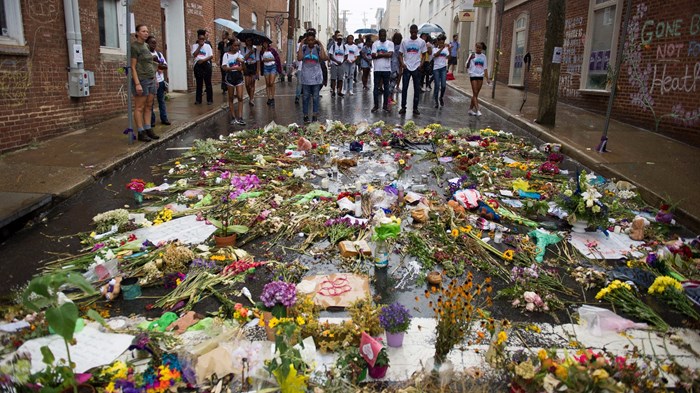 Image: Cliff Owen / AP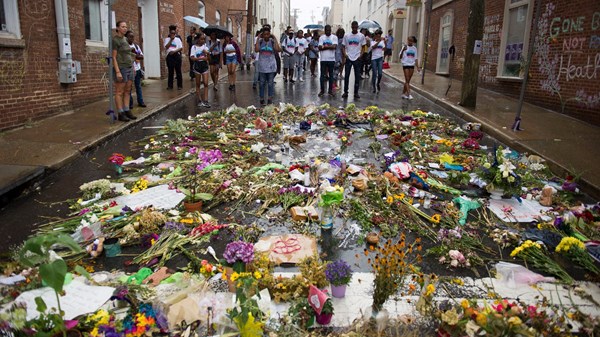 Black and White Christian Leaders Lament Charlottesville
They're angry and sad and scared.
About a dozen Christian leaders shared their reactions to Charlottesville on a Friday conference call organized by Civilitas Group president Doug Birdsall.
"We want to hear of the pain and anger from African American leaders, and we want to hear the resolve and commitment from white leaders," stated Birdsall, past leader of the Lausanne Movement and the American Bible Society, in an explanatory email. "We also want to hear the pain and anger from white leaders, and the resolve, commitment, and vision of African American leaders."
The call came amid public condemnations of white supremacy and racism issued by the National Association of Evangelicals (NAE) and the World Evangelical Alliance. "Racism should not only be addressed after tragic events, but regularly in our communities of faith," stated the NAE. "Churches in the United States can lead the way in combatting attitudes and systems that perpetuate racism."
"The greatest crisis revealed by the election and post-election reality we live in is the exposure of the white American church's participation in and identification with racism," stated Fuller Seminary president Mark Labberton in advance of the call. "That this has been historically true is an unlamented fact, and that it is and will define our future seems to me unquestionable.
"Disillusionment with the church and Christian faith has many elements," he stated, "but this fundamental inconsistency to demonstrate we are living out the faith we proclaim must be high on the list of causes."
"I feel the frustration of Moses," said Mark Whitlock, executive director of the Cecil Murray Center for Community Engagement at the University of Southern California and an African Methodist Episcopal pastor, during the call. "I want to slap the rock."
"I think everyone was angered by what was going on," Claude Alexander, senior pastor at The Park Church in Charlotte, North Carolina, told the group, which included Wheaton College president Philip Ryken, Menlo Park Presbyterian Church pastor John Ortberg, and Council for Christian Colleges and Universities (CCCU) president Shirley Hoogstra.
What's especially frustrating, said Alexander [a CT board member], is that some "saw this coming … during the electoral process of 2016." In his view, President Donald Trump's appointment of chief strategist Steve Bannon—who was fired by Trump on Friday—legitimized the radical views of white supremacists. Charlottesville was a culmination, "a coming-out party."
Whitlock shared a recent anedcote: "We had a young white man come into our church yesterday at 7 o'clock in the afternoon, dressed in black clothes, and said, 'You all are the African Methodist Episcopal Church. Why are you here in our community?'"
He explained that his community is less than two percent African American, and he is seeing black children being taunted and grade-schoolers having to ask what the letters KKK stand for. "We're now having these conversations that we've never had before," he said.
As Seattle Pacific University professor Brenda Salter-McNeil prepared to preach at her church last Sunday, she saw a young white male visitor take a seat right in front of her pulpit.
"I was afraid to stand up in the pulpit for the first time in my life," she said. Her colleagues were also concerned; they sat by the young man and agreed on a plan of action should he act aggressively toward her.
Salter-McNeil is looking for such solidarity and protection from the evangelical church at large.
"There are some of us now who are not just concerned; we are literally afraid of whatever has been emboldened and unleashed in this country," she said. "I need my friends and my colleagues who care to not minimize that, and to begin strategizing about what they do to stand in solidarity and to protect other people and to make sure that congregations aren't afraid to worship on Sunday morning."
"I am hurt and I am angry," said Cynthia Hale, senior pastor of Ray of Hope Christian Church in Georgia. "I am frustrated with the white evangelical church."
The white church has "buried the crisis, and therefore done no formation around it," said Fuller's Labberton. As a result, the white church doesn't know how to answer questions about solidarity or protecting those who are vulnerable, he said.
"The white church has never really asked the question about courage," Labberton said. "Those are questions that people of color have had to ask always. The white church has tended to say, 'We're not interested in courage. We're interested in comfort.' And that's what the white church has been built around, and it in part contributes to why this is such a crisis. It's a fundamental paradigm shift to awaken a church that was established in comfort to become a church that is committed to courage."
Such courage "is not the absence of fear," Hale said. "Courage is the ability to press on in spite of our fears."
The group tossed around possible ideas for pressing on, including meeting with Trump or Vice President Mike Pence, writing to the president's religious advisers, or urging Christian educators to address individual and systemic racism.
"I need something tangible," Salter-McNeil told the group.
Whitlock agreed: "I'm hoping … there's something we can agree on that is more than a kumbaya."
"This is a time to listen, to lament, and to pray," wrote Birdsall. "Planning and action will follow."
"I believe that our African American friends in Christ need to hear a clear voice for words of encouragement," he wrote, "to provide a context for working together, to provide for accountability, and to provide context for celebrating progress in a growing movement to drive out hate with love."
"In times of national tragedy and crisis, evangelical Christians turn to the Word of God for direction," stated the NAE. "God created human beings in his image, and thus all people share in divine dignity (Genesis 1:26). No race or ethnicity is greater or more valuable than another. Evangelicals believe that the good news of Jesus Christ has the power to break down racial and ethnic barriers (Ephesians 2:14-18)."
The NAE noted that "evangelicalism within the United States is a diverse movement, with evangelical beliefs being held by 44 percent of African Americans, 30 percent of Hispanics, 29 percent of whites, and 17 percent of people from other ethnicities" according to LifeWay Research.
08/19/2017