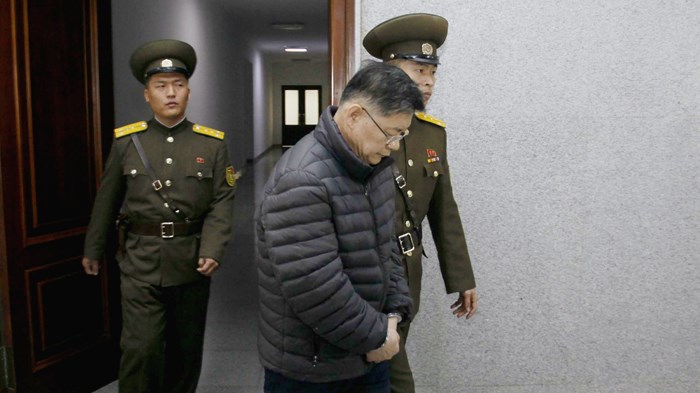 Image: Jon Chol Jin / AP
After more than two and half years, North Korea has released a Toronto megachurch pastor the regime imprisoned and accused of attempting to establish a religious state.
Though Hyeon-Soo Lim was issued a life sentence to hard labor, his health suffered and North Korea agreed to release the Christian visitor on "sick bail" for "humanitarian reasons" on Wednesday, the state-run Korean Central News Agency (KCNA) reported.
Lim is on his way home to his family, including a granddaughter he will meet for the first time, and his 3,000-member congregation, Light Korean Presbyterian Church in suburban Toronto. Canadian officials had traveled to North Korea to discuss his case a day prior to his release.
Lim, who was born in South Korea, had visited the Communist country around 100 times over 20 years to support an orphanage and nursing home his church founded. He was well-aware of the sanctions against proselytizing. In court, Lim read a statement admitting to a "subversive plot" to overthrow the government, but his church suspects that it was a forced confession.
His January 2015 arrest came just a couple months after the release of missionary Kenneth Bae, who faced similar charges as the longest-serving US prisoner in North Korean history.
During Lim's imprisonment, his only outside contact came through letters until he was allowed a phone call home in March. His family also sent the 62-year-old blood pressure medication. Especially after the fate of Otto Warmbier (the American student who died after being freed in June), they remain concerned about his health.
The family spokeswoman told CNN:
There is a long way to go in terms of Reverend Lim's healing. Therefore, in the meantime we ask the media for privacy as he reconnects with his loved ones and receives medical attention.

We want to thank the global community for the continued prayers and support and we also ask that the world does not forget the people of North Korea
Members of Light Korean held a daily prayer campaign for his protection and release.
Two other Western Christians, a pair of American professors at North Korea's evangelical-run private university, were taken into custody in April and May—the latest in a string of missionaries to get in trouble in Pyongyang.
Since 2010, most of the foreign nationals detained in North Korea have had ties to the church, including Americans Robert Park and Jeffrey Fowles and Australian John Short.
The release of Lim, the only Canadian in North Korean custody, comes while tensions between the US and North Korea are high enough for the Trump administration to issue a travel ban on Americans entering the hostile country. There will still be opportunities for missionaries to continue to visit, due to exceptions for humanitarian workers.
President Donald Trump has responded to recent threats from North Korea by pledging "fire and fury like the world has never seen" if they continue. He has the backing of one of his faith advisors, First Baptist Church of Dallas pastor Robert Jeffress.
"When it comes to how we should deal with evil doers, the Bible, in the book of Romans, is very clear: God has endowed rulers full power to use whatever means necessary—including war—to stop evil," he stated. "In the case of North Korea, God has given Trump authority to take out Kim Jong Un."