Evangelical Advisers Condemn Charlottesville Rally More Than Trump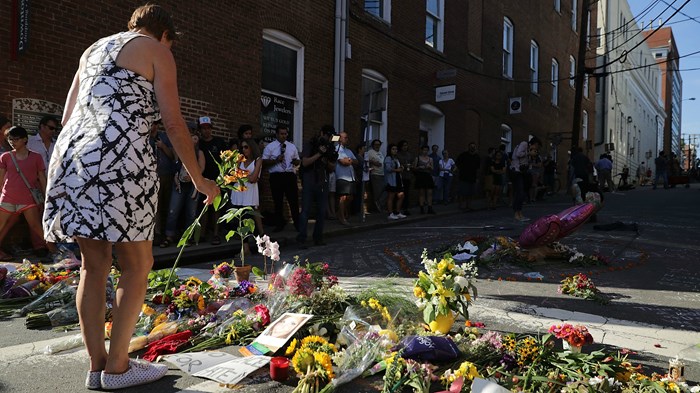 Image: Chip Somodevilla / Getty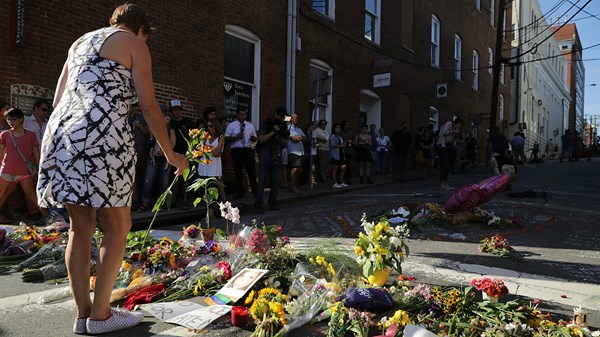 Evangelical Advisers Condemn Charlottesville Rally More Than ...
Update (August 16): Though a majority of the President's evangelical leaders and prominent pastors have spoken out against the white nationalist ideology on display in Charlottesville, few have addressed Donald Trump's suggestion that "many sides" are to blame and that there were "very fine people on both sides."
The fallout over the President's remarks has drawn attention to some of his evangelical advisers, who have been welcome to discuss policy, attend White House events, and pray for Trump's leadership.
"Could you imagine Daniel, Jeremiah, Samuel, Nathan, or Isaiah saying they'd no longer advise or speak to the king or government?," asked Tony Suarez, vice president of the National Hispanic Christian Leadership Conference (NHCLC), who has repeatedly condemned the alt-right movement that gathered in his home state.
Others on the board have spoken up to explicitly back the President's "both sides" response.
"If we're going to denounce some racism, we ought to denounce all racism, and I believe that was the point the President was making," Robert Jeffress, pastor of First Baptist Church of Dallas, told CBN. South Carolina pastor Mark Burns has also defended Trump's approach on multiple news networks.
Jerry Falwell Jr. praised Trump in his first mention of the Charlottesville incident on Wednesday: "Finally a leader in WH. Jobs returning, N Korea backing down, bold truthful stmt about #charlottesville tragedy.So proud of @realdonaldtrump"
Johnnie Moore, an evangelical consultant and fellow adviser, included members of the Trump administration among those who have fumbled messaging over Charlottesville:
The way that some in the media and in the administration as well as other politicians and also activists—Republican and Democrat, liberals and conservatives—have handled the Charlottesville incident has at times been unhelpful, too emotional, and insensitive. We all must condemn bigotry and hatred in pursuit of national healing and unity without exacerbating further conflict.
Outside of the board, certain conservative evangelicals have joined criticism over Trump's latest comments. Southern Baptist Theological Seminary professor Denny Burk wrote on his blog:
President Trump addressed the nation in a press conference in which he said that the white supremacist protestors were "very fine people." His full remarks were more than disappointing. They were morally bankrupt and completely unacceptable. People who protest while chanting Nazi slogans are not "very fine people."
Original post (August 14):
While many American politicians and citizens criticize President Donald Trump for not specifically calling out white supremacists for the deadly violence in Charlottesville over the weekend, his evangelical advisers have been more vocal.
All but a handful of the two dozen evangelical leaders on the President's advisory board posted in response to the "Unite the Right" rally that drew white nationalists and neo-Nazis to the historic Virginia city on Friday and Saturday, spurring counter-protests from interfaith groups.
One noticeable exception was Liberty University president Jerry Falwell Jr., who was silent on the incident even though his school is only an hour from where the rally took place.
Among the advisers, evangelicals who meet with and pray for Trump in the White House, most restated their condemnation of the ideologies represented by the protesters and offered prayers for the victims, Charlottesville, and the rest of the nation.
"These protesters do not represent in any form or way the Christian faith or the values followers of Jesus stand for," said Ronnie Floyd, past president of the Southern Baptist Convention which passed a resolution condemning the alt-right in June. "In fact, white nationalism and white supremacism are anathema to the teachings of Christ, who called us to love and to serve our neighbor—regardless of skin color, gender, or religion—to give up our life for our friends and to even love our enemies."
Trump's initial response blamed hatred "on many sides"—repeating the phrase for emphasis—and did not explicitly name the groups responsible for the protest. Several Republican members of Congress criticized his remarks. On Monday, he read a prepared statement that made specific mention of "the KKK, neo-Nazis, white supremacists, and other hate groups," calling them "repugnant to everything we hold dear as Americans." The following day, he reiterated his earlier sentiment by saying there was "blame on both sides" and calling out the "alt-left."
Especially since some participants claimed to support Trump, wearing his Make America Great Again hats or invoking his name like rally speaker David Duke, some like Charlottesville mayor Michael Signer accused his campaign and presidency of emboldening white supremacists to shout their views in public.
Even amid a greater push to racial reconciliation and healing over the past decade, white and black evangelicals have grown further apart on how they approach race, culminating with the election of Donald Trump, where evangelicals of color were shown to favor Hillary Clinton nearly as strongly as white evangelicals favored Trump.
In the midst of the violence, Ed Stetzer, director of the Billy Graham Center for Evangelism at Wheaton College, challenged Trump's evangelical advisers to encourage the President to speak more directly against the alt-right supporters behind this movement.
A couple evangelical advisers defended the President against the blame. Franklin Graham spoke out on Facebook, referencing plans to remove a Robert E. Lee statue which drew the group to Charlottesville in the first place:
Shame on the politicians who are trying to push blame on President Trump for what happened in #Charlottesville, VA. That's absurd. What about the politicians such as the city council who voted to remove a memorial that had been in place since 1924, regardless of the possible repercussions? How about the city politicians who issued the permit for the lawful demonstration to defend the statue? And why didn't the mayor or the governor see that a powder keg was about to explode and stop it before it got started? Instead they want to blame President Donald J. Trump for everything. Really, this boils down to evil in people's hearts. Satan is behind it all.
Pastor Mark Burns, an African American leader of a small congregation in South Carolina, posted a video distancing Trump supporters from the Ku Klux Klan and other hate groups involved in the Charlottesville rally. "Even though they mention the name Donald Trump as though they are doing Donald Trump a favor, that is a lie straight from the gates of hell," Burns said.
Several advisers referenced the ideologies and hate groups involved:
Others spoke more generally about the sin of racism:
Trump's evangelical advisers were among thousands of Christian leaders being looked to for a response. "Our voice is necessary to remind those under our care and those listening from outside that when there is wrong in the world, we fight for what is right," Stetzer said to pastors. "Call this what it is and then call it wrong."
About half of Protestant pastors say they have preached on racial reconciliation in recent months, according to a LifeWay Research survey released earlier this year.
Outside of the Trump advisers, Jemar Tisby, president of the Reformed African American Network (RAAN), argued that white pastors in particular are essential to putting an end to the movement.
"We are waiting for the day that the racists in Charlottesville at least feel enough shame to practice their hatred in secret," he wrote for The Washington Post. "But black Christians cannot do this alone. White pastors, now is the time for courageous action in the face of white supremacy."
Bruce Ashford, a Southeastern Baptist Theological Seminary professor and author of One Nation Under God: A Christian Hope for American Politics, wrote for Fox News:
Throughout American history, there are many ways in which white conservatives have admirably represented Christ and his gospel. I am convinced, however, that overcoming racism is not yet one of the ways that we represent him admirably or consistently.

Events like the one in Charlottesville give good-willed conservatives—especially Christian conservatives—an excellent opportunity to begin rectifying the situation by speaking a good word in the midst of a bad moment.
Al Mohler shared an apt reflection from Berlin, a city determined to ensure "that the ghosts of the Nazis do not reappear in neo-Nazis."
"Even a secular observer can see the lessons of history from Berlin. The evidence is pervasive, irrefutable, terrifying, and still visible," the Southern Baptist Theological Seminary president wrote. "But Christians must see much more than the lessons of history, though we dare not miss them. We must see claims of racial superiority—and mainly that means claims of white superiority—as heresy."

08/13/2017