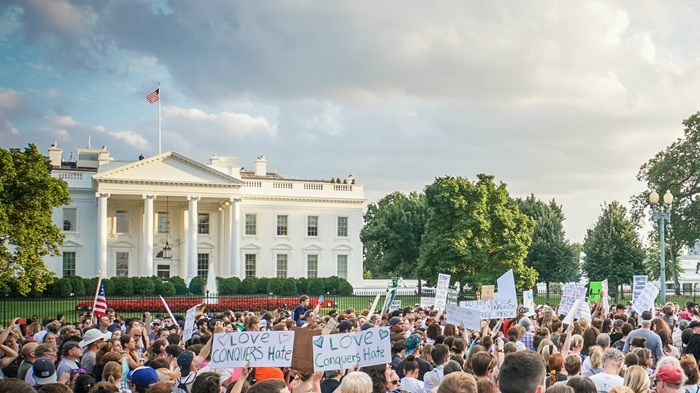 Even before the fallout over President Donald Trump's remarks on the Unite the Right rally in Charlottesville, a growing number of Americans hoped to see the country's 45th leader impeached. However, white evangelicals—a group that largely voted for Trump—were among the most likely to want him to stay in the White House.
A PRRI poll conducted in early August found that 40 percent of Americans believe the President should be impeached, up from 30 percent who said so in February.
Among white evangelicals, 79 percent oppose the calls to impeach Trump—more so than white mainline Protestants (63%), white Catholics (61%), and nones (45%). Overall, about half of Americans say Trump does not deserve to be impeached.
The findings fit with broader trends in Americans' approval ratings of the President, which have lagged behind those of previous administrations. Evangelical leaders have cheered Trump's US Supreme Court appointee, challenged his immigration and refugee policy, and awaited much-anticipated changes to the healthcare system. But Trump has also faced ongoing criticism over his rhetoric, turnover among White House staff, and investigations into his campaign's ties to Russia.
"There is an effort to do whatever is necessary to take this president down," said Robert Jeffress, one of Trump's evangelical advisers and head pastor of First Baptist Church of Dallas, on CBN this week to describe the negative media coverage of a president whom Jeffress views as "very honest" and who "refuses to be politically correct."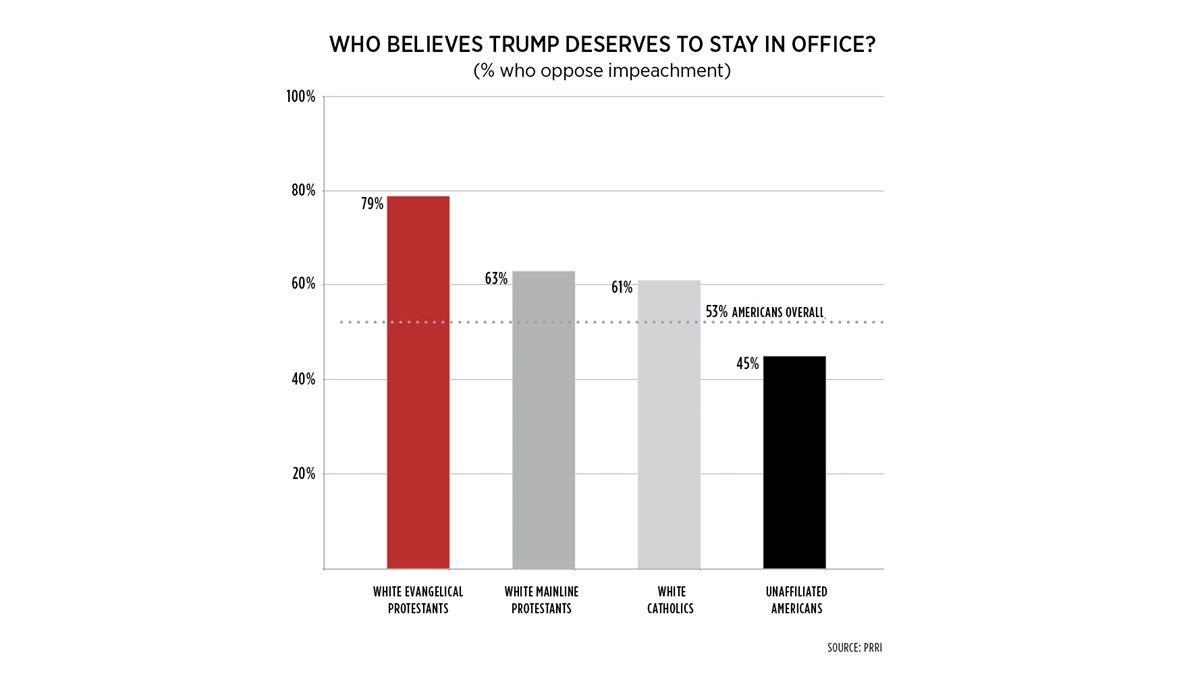 Last month, a different poll by USA Today/iMediaEthics found that about half of all evangelicals strongly opposed his impeachment and about a quarter strongly favored it.
Back in May, Christians were also less likely than other faiths to believe Congress should take steps toward removing Trump from office, according to a Politico/Morning Consult poll. More than half of all Christians, including 58 percent of Protestants and 53 percent of evangelicals, were against impeachment efforts.
Among Americans and Christians who wanted Congress to conduct impeachment proceedings, most believed Trump has proved himself unfit for office "regardless of whether he committed an impeachable offense or not," Politico/Morning Consult found. Fewer than half said he had "committed an impeachable offense, such as treason, bribery, or other high crimes and misdemeanors."
As investigations continue, white evangelicals remain the least suspicious over Russia. PRRI found that 70 percent of white evangelicals, compared to 43 percent of all Americans, do not see evidence of Russia's involvement in the election. (Still, a majority of all major religious groups, including nones, hold a negative opinion of the former Soviet nation, according to PRRI. Russia ranks among the worst violators of religious freedom in the world.)
Even after an initial batch of polls this week following the Charlottesville incident, it's unclear whether the President's response changed (or confirmed) people's impressions. Though white evangelicals continue to make up one of the GOP's steadiest voting blocs, the first-time politician's reputation has lagged in comparison to the Republican heavyweights that came before him in the new PRRI report.
White evangelicals hold President Ronald Reagan in extremely high regard, with 92 percent expressing a favorable view. They also remember President George W. Bush favorably, with a 78 percent approval rate.
Trump's rating among white evangelicals is significantly lower at 65 percent. One area where Trump does exceed Bush is among those who hold a "very favorable" opinion—36 percent of evangelicals for Trump compared to 26 percent for Bush.