What Arab Church Leaders Think of Trump Prioritizing Persecuted Christian Refugees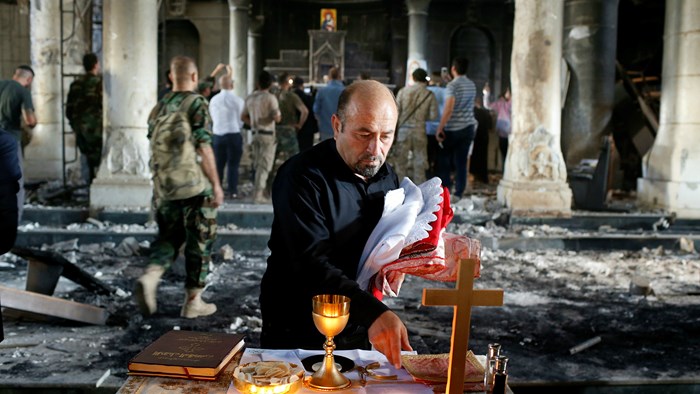 Image: Ahmed Jadallah / Reuters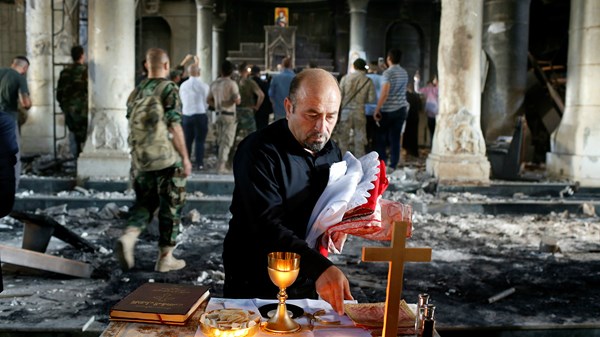 What Arab Church Leaders Think of Trump Prioritizing ...
Married in December to a Syrian woman with American citizenship, Fadi Hallisso went to Beirut to apply for a green card.
A Syrian Christian, Hallisso has worked with refugees in Lebanon since 2012. Funded by different American agencies, he was no stranger to the US government. He even testified about the situation in Syria to the US State Department and to Harvard Divinity School.
But this week, Hallisso was told he was no longer welcome to apply. The new US administration said so.
"It is very humiliating to be put in the category of potential terrorist," said Hallisso. "Just because I carry a certain passport."
As more details of President Donald Trump's new security policies emerge—including a promise to prioritize Christian refugees for resettlement in America—much appears lost in translation.
"This executive order has created a new atmosphere very hostile to people in the region," said Chawkat Moucarry, World Vision's director for interfaith relations—and Hallisso's uncle. "Unwritten rules seem to be implemented as a result."
Is Trump's executive order on refugees a de facto "Muslim ban"? Is it not? Is it prudent? Is it overdue? As American Christians debate these questions from the small towns of Middle America to the nation's major airports, so also Arab Christians are trying to figure out what is going on.
"I read the executive order," said Adeeb Awad, chief editor of al-Nashra, the monthly magazine of the Presbyterian Synod of Syria and Lebanon. He remarked upon its temporary nature and—in his estimation—its reasonable restrictions and its actual improvement upon the upper limits of refugee acceptance. He particularly appreciated that the order did not contain discriminatory religious language.
Instead, Awad lashed out at the actions of President Barack Obama and previous US presidents, and the damage they did to the region. "It was the policies before Trump which hurt Middle Eastern Christians and other minorities more than anything else," he said. "Especially in Iraq and Syria."
Moucarry, born and raised in Syria and author of several InterVarsity Press books that help evangelicals engage Islam, is also critical of the region's wars. But also of the potential outcome of Trump's executive order.
"This policy will encourage Christians to migrate," he said, "which is exactly what Christian leaders in Syria are fighting against.
"It is important for Christians to live in Muslim countries," he said. "Because through them, Muslims will learn to accept the other. We must learn this principle in order to have a democratic society.
"Extremists say there is only one way to think or believe," Moucarry continued. "So keeping Christians in the area is an indirect way to counter extremism and learn that diversity is good."
Chaldean Patriarch Louis Raphael I Sako, primate of the Eastern Catholic Church, went further. In remarks to Agenzia Fides, the news agency of the Vatican, he criticized Trump's orders harshly.
"Every reception policy that discriminates the persecuted and suffering on religious grounds ultimately harms the Christians of the East," said Sako.
Such rhetoric feeds into tensions with Muslims, and paints Christians as lackeys of the West. "[It is] a trap," he told Fides. "We do not want privileges."
Bishop Angaelos, leader of the Coptic Orthodox Church in the United Kingdom, agrees that placing religious categories on refugees, immigration, and travel has the potential to provoke greater antagonism and give rise to reciprocal actions. (Already, Iraq has responded by banning Americans from visiting.) Thus, vulnerable Christian minorities in the Middle East could be adversely affected.
But he also believes it is "patronizing" to tell beleaguered Christians to stay in the Middle East. "It is a choice of life and death," said Angaelos. "It is not about maintenance of the church or their community. We have to support them no matter what their decision."
Above all, he urges that this discussion take place with sensitivity and respect for the biblical values of indiscriminate hospitality, love, acceptance, forgiveness, and mercy.
"Without these values, our world will become a much more hostile place," said Angaelos. "They safeguard against our human tendencies to seek revenge, or to act in ways no different from those who seek to harm us."
Andrea Zaki, president of the Fellowship of Middle East Evangelical Churches, warned of the danger to American moral leadership.
"The US is considered the superpower of the world," he said, "but it will lose its credibility and be considered as a nation that discriminated against Islam. There should be no double standard."
Similar to all the Arab church leaders interviewed by CT, Zaki—who also leads the Protestant Churches of Egypt—recognizes the right of governments to protect their borders and their people.
He agrees that, though there should be no blanket list of restricted visitors, it might be appropriate to publicly state "reservations" about certain countries. But he believes that this must not be based on any religion—even regarding radicals.
Unlike other leaders, though, Zaki thinks the impact of Trump's executive order on Middle East Christians will be minimal. But if anything, it will hurt Christians more than help them.
"When you talk about religious discrimination of Christians alone, it does not help us," he said. "Only if you discuss discrimination against all minorities."
Moucarry agrees. "Favoring people [like Christians] on the basis of their faith rather than their needs is definitely discriminatory and contrary to the Bible's teaching," he said.
Bishop Mouneer Hanna Anis, primate of the Anglican province of Jerusalem and the Middle East, was also critical of the executive order. He called Trump's solution "naïve." Based on generalization and discrimination, he said, it will not help American security in any way.
Instead, Anis called upon the United States to accept more refugees. "Much poorer nations like Lebanon, Jordan, and Egypt have been accommodating the thousands that the United States is turning away," he said.
Jesus was also a refugee, said Anis, and the Bible demands a compassionate welcome. But in his heart, he does not want to see his fellow Arab Christians leave.
"The Middle East will not be the Middle East without Middle Eastern Christians," he said. "The beautiful mosaic will suffer, as will the witness to Christ's love among all the peoples of the region."

01/30/2017