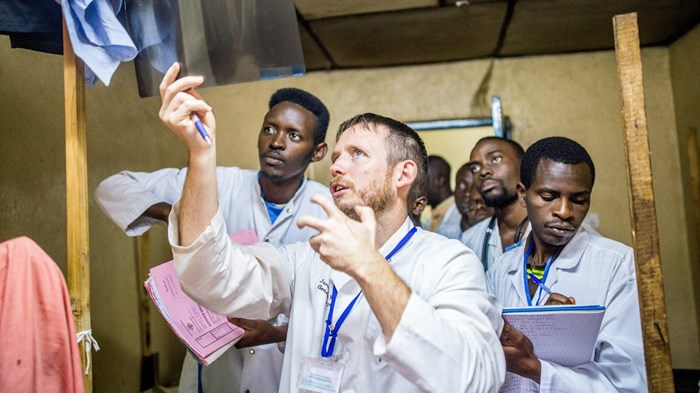 Image: African Mission Healthcare Foundation
A missionary surgeon to one of the world's poorest countries has won the first-ever $500,000 Gerson L'Chaim prize for outstanding Christian medical service.
Jason Fader, whose parents were also medical missionaries, is 1 of 13 surgeons serving the 10 million people in the sub-Saharan African country. Three-quarters of the population is malnourished, making Burundi the world's hungriest country in 2016.
Fader, who grew up in Kenya, has been in Burundi since 2013. In addition to caring for about 25,000 patients a year with his team, he trains local doctors.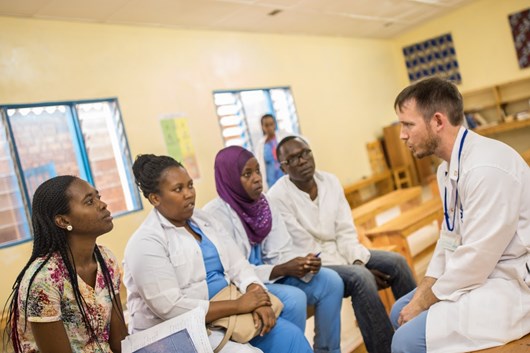 Image: African Mission Healthcare Foundation
"Jason is doing surgeries that no one else has done before in Burundi," fellow doctor Rachel McLaughlin said. "The students haven't had a chance to see it. He's teaching them surgical skills. He's teaching them surgical management. And the students love it."
The prize money will be used to create the country's first postgraduate medical training, add 48 new beds to the 172 at Kibuye Hope Hospital, and improve lower-limb fracture care—a crucial need in a country that travels by foot.
"Literally hundreds of people will walk because of this prize," Fader said. "Thousands of people will be cared for. And tens of thousands will be helped by the doctors we train here."
Fader is part of a recent resurgence of medical missionaries. Attendance at the Global Missions Health Conference in Louisville, Kentucky, has ballooned more than tenfold over the past 10 years. Meanwhile, attendance at the Christian Community Health Fellowship conference has quadrupled. And the Southern Baptist Convention's International Mission Board reported an all-time high of 300 medical missionaries on the field in 2013.
But the field is still small, and the need made it hard to award the prize (which received 26 applicants from 12 nations), wrote Jon Fielder, director for the African Mission Healthcare Foundation (AMHF) and co-founder of the Gerson Prize:
[Fader's] three co-finalists' needs are no less practical or haunting:

Dr. Stephen Foster, in Angola for 38 years, has headed a growing medical center. In a country of 12 million and almost no modern healthcare, an internship could help him upgrade new Angolan physicians—training 24 M.D.s, each one to see 4,000 patients a year. Dr. William Rhodes, in Kenya, a reconstructive surgeon, has performed 15,000 surgeries. He wanted the prize to help him mentor two young Kenyan surgeons and thus double the hospital's operations. The money also would expand services outside his region and buy much-needed basic surgical equipment. For Dr. John Spurrier in rural Zambia, where the money could improve HIV care for 4,000 patients in rural areas, add electricity and water for his mission hospital and provide suitable housing for staff.
AMHF was created in 2010 by Fielder and entrepreneur Mark Gerson to promote health care in Africa, where Christian mission hospitals provide about a third of all medical work.
Fader wasn't the first humanitarian in Burundi to win an enormous prize in 2016. Marguerite Barankitse of Maison Shalom and REMA Hospital saved orphans during the genocide and conflict. She received $1.1 million dollars (handed over by actor George Clooney) as the first recipient of the Aurora Prize for Awakening Humanity, which is rooted in memories of the Armenian genocide.