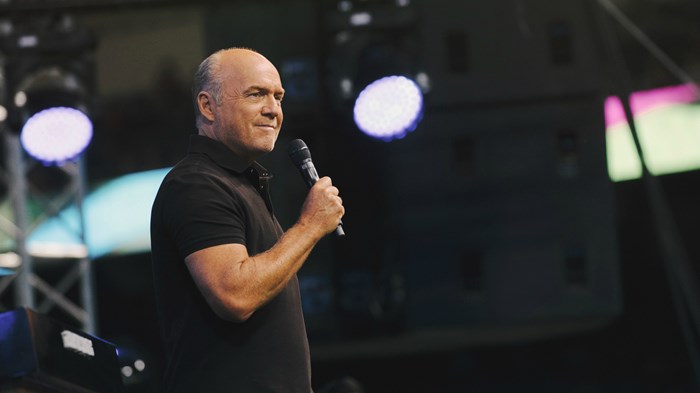 Image: Vitaly Manzuk / Harvest Ministries
Following another year of declining membership and baptism, the Southern Baptist Convention (SBC) just gained one of the biggest evangelists and megachurch pastors in the country: Greg Laurie.
The day after Laurie's annual Harvest America crusade, he announced that his church would be joining the SBC, which was also holding its annual convention in Phoenix.
Laurie is among the best-known leaders of the Calvary Chapel movement, and the one-time heir apparent to its late founder Chuck Smith. Though his 15,000-member Harvest Christian Fellowship in California will remain affiliated with the 1,000-plus church network even after moving into the SBC, the move makes Laurie's shift toward mainstream evangelicalism official.
Smith, a "Jesus People" leader who mentored Laurie from his first years in the faith, emphasized Calvary Chapel's distinctives from broader evangelicalism; and pastors, in turn, favored the network's own teachers, authors, and worship leaders.
Over the years, Laurie's ministry has outgrown Calvary Chapel enough that his Harvest crusades, which fill stadiums and drawn in tens of thousands online, have earned him a comparison to America's most famous Southern Baptist: Billy Graham. He has also partnered with fellow Southern Baptists among President Donald Trump's faith advisers.
"I've invested my life in the Calvary fellowship of churches while working with countless Christians from nearly every other denomination. I'll continue to do just that, and I also look forward to continuing to build bridges between our communities," the 64-year-old Laurie said in a statement. "I appreciate the SBC's focus on evangelism, and I look forward to partnering with them and all believers who have a passion for evangelism. The need in our country and the world is so great."
While congregations in the SBC remain independent—with local pastors free to govern their church's affiliations and approaches to ministry—the dual affiliation of Southern Baptist and Calvary Chapel is pretty unusual, and Laurie's congregation is the most high-profile example that belongs to both. One's a traditional, historic, Bible-belt stronghold; the other, a laid-back SoCal movement started by hippies in surf shirts.
His announcement assured his congregation that joining the SBC "does not change our theology, philosophy of ministry, or our history."
That "philosophy of ministry" language hints at the way Calvary Chapel churches tend to do things, including their emphasis on the end times, embrace of spiritual gifts, and verse-by-verse expositional preaching.
Last year, the leaders of the Calvary Chapel Association accused Smith's successor, his son-in-law Brian Brodersen, of moving away from the movement's distinctives, and the disagreement ultimately led Broderson to leave the association and start his own network. The movement takes its philosophy seriously, and while Calvary Chapel and Southern Baptists share conservative religious and political values, they're not the same.
"I am really curious about a move from a charismatic affiliation (Calvary Chapel) to being a member of a non-charismatic denomination," said Richard Flory, senior director of research and evaluation at the University of Southern California Center for Religion and Civic Culture. "The theological shift strikes me as indicating some deeper shift for Greg Laurie and/or his church, whether framed as theological or as more cultural."
"Certainly both Calvary Chapel and the Southern Baptists are committed to a pretty conservative religious/cultural/social/political perspective, but there are enough differences between the two that it raises questions as to why this move," said Flory, noting that Laurie bucks the trend of prominent leaders moving toward more independence, as chronicled in his recent book, The Rise of Network Christianity.
The SBC move also coincides with Laurie's political involvement. As part of Trump's Southern Baptist-heavy advisory board, he spoke at the president's inaugural prayer service and attended the White House gathering for last month's National Day of Prayer.
"We need a national revival as much as at any time in our nation's history. We must pray for it, work toward it, and do everything possible to prepare the ground for it," said Laurie, likening the upcoming revival to what he experienced as he joined Smith during the Jesus People movement in the '70s.
Southern Baptists are particularly eager for revival right now. Ahead of their annual convention, the denomination reported that dipping membership numbers reflect their need for more effective evangelism. Since 1990, more than 7.7 million have attended Laurie's Harvest America events and nearly a half-million of those have made professions of faith.
Laurie's full statement explaining his decision to join the SBC is available here.