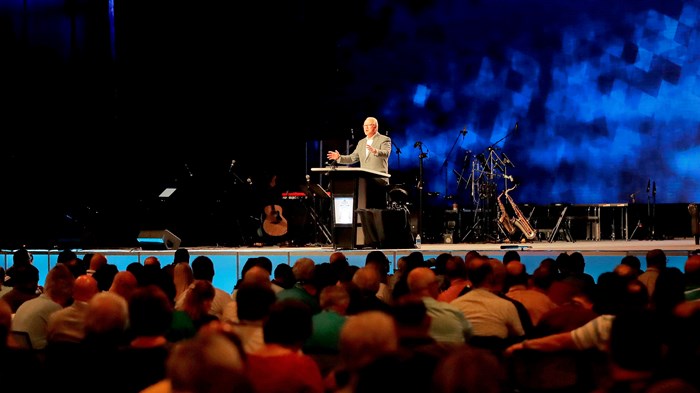 Image: Matt York / AP
The most-talked-about resolution at this year's annual meeting of Southern Baptists initially didn't even make it to the floor.
But after some late-night scrambling the night before, about 5,000 denominational leaders voted Wednesday to explicitly condemn the alt-right movement.
Earlier in the day, a wave of tweets from the biggest names in the Southern Baptist Convention (SBC), from Washington pastor Thabiti Anyabwile to Houston Bible teacher Beth Moore, made their convictions on the issue clear. They know what's at stake. Such a resolution could send a powerful message on their Christian opposition to hatred and bigotry; skipping over such a proposal could do the opposite.
For years, Southern Baptists have grappled with their denomination's past history of racism, and continue to work towards racial reconciliation. Failing to take the chance to condemn white supremacy could imply to outsiders—and the growing non-white minority within the SBC—that America's largest Protestant group won't speak out against the racists of today.
The tension stems from the lack of understanding of the alt-right, a term that only came into existence around the election of President Donald Trump. It refers to the "alternative right" ideologues who gained momentum online, promoting white supremacy and transgressive political beliefs.
"There were a lot of people who just weren't familiar with what the alt-right is. And then there were others who assumed the alt-right was just a fringy group of people that they didn't want to dignify by even mentioning them," said Russell Moore, president of the SBC's Ethics and Religious Liberty Commission. "What I point out is just how dangerous and present the alt-right is…. When people recognize what it is that the alt-right believes, I haven't talked to anyone who doesn't immediately reject that."
Most Americans don't know anything about the alt-right, according to Pew Research Center surveys, with just 17 percent of the population claiming to know "a lot" about the label. The alt-right shows up for protests and events organized by leaders like Richard Spencer, the white supremacist who coined the movement's name; but it mostly rallies support online, where proponents regularly attack those opposed to their political aims. Over the last several days, they incorporated the annual meeting's hashtag, #SBC17, to insult Southern Baptists for even proposing a resolution against them.
Moore, who champions diversity within his denomination, has been a target of alt-right trolling, as have many fellow advocates, evangelical leaders of color, and interracial and adoptive families within the church. The movement frequently uses derogatory insults with sexual overtones.
"If you don't think Christians ought to condemn the alt-right, then you need to see their disgusting emails that fill my inbox." tweeted Karen Swallow Prior, a Southern Baptist writer and Liberty University professor.
When attendees realized yesterday that a committee had declined to hear the proposed alt-right resolution—one of several being considered at the meeting—they gathered after-hours to vote to reintroduce the issue this afternoon. Moore said that from the platform, he couldn't see a single voting card opposed to bringing the alt-right resolution to the floor. On Wednesday afternoon, the measure passed.
It states: "Racism and white supremacy are, sadly, not extinct but present all over the world in various white supremacist movements, sometimes known as 'white nationalism' or 'alt-right.' The messengers to the Southern Baptist Convention … decry every form of racism, including alt-right white supremacy, as antithetical to the gospel of Jesus Christ…. We denounce and repudiate white supremacy and every form of racial and ethnic hatred as of the devil." (Full text here.)
The original version of the resolution, proposed by Texas pastor Dwight McKissic, went into even more detail:
There has arisen in the United States a growing menace to political order and justice that seeks to reignite social animosities, reverse improvements in race relations, divide our people, and foment hatred, classism, and ethnic cleansing… this toxic menace, self-identified among some of its chief proponents as "White Nationalism" and the "Alt-Right," must be opposed for the totalitarian impulses, xenophobic biases, and bigoted ideologies that infect the minds and actions of its violent disciples.
McKissic, who leads Cornerstone Baptist Church in Arlington, said he wanted the SBC to "go on record to abate darkness that's invading our nation right now."
Among the opponents, some were frustrated at the methods used to reintroduce the topic late last night; others balked at the idea of the SBC calling out a right-wing ideology in particular, knowing the alt-right's affiliation with Trump. They argued the denomination had already made its stance clear against racism (a 1995 resolution apologized for its racist past; one last year repudiated the Confederate flag), and suggested liberal politics were behind the recent move.
One attendee tweeted the resolution committee did the right thing when they declined to bring the alt-right resolution before the group in the first place: "The res committee and their response is exactly right. It will only be criticized by race baiters and ppl pushing left-wing social issues."
Faithful and vocal Southern Baptist leaders fell on both sides of Trump's candidacy, with several joining his evangelical advisory board and others speaking out against him. After the election, Moore ended up apologizing to fellow members of his denomination for what some read as insults against all Trump voters, including the majority of white evangelicals who cast ballots for him.
"It is, in part, a concern that alt-right will be a label applied to non-racist conservatives who, for example, simply voted for Donald Trump," said Ed Stetzer, executive director of the Billy Graham Center for Evangelism at Wheaton College, who blogged on the resolution for CT. "However, I think that concern is past its time—the alt-right is the klan without the robes, and Southern Baptists need to speak up on it."
Another resolution that the SBC passed Tuesday "expressed gratitude for leaders who live consistently moral lives, urged all leaders to abide by God's moral standards, and pledged prayer for the country's leaders to resist temptation." Trump was not explicitly mentioned.