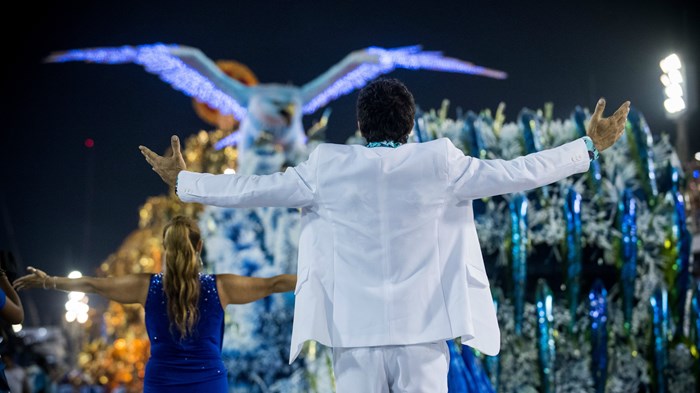 Image: Raphael Dias / Getty
The mayor of Rio de Janeiro has always features prominently in the city's raucous Carnival, a licentious celebration that runs the five days before Ash Wednesday.
But this year, for the first time in memory, the mayor skipped it.
That's because, for the first time in its 450-year history, Brazil's second-largest metropolis is being run by a pastor.
"In my case, it would have been demagogy," Marcelo Crivella explained in a statement.
The 59-year-old was elected in October to govern the city of 6.5 million that is known for both the beauty of its beaches and for its violence, largely controlled by organized crime connected with drug trafficking.
Crivella is a licensed bishop of the Universal Church of the Kingdom of God (UCKG), the largest—and most controversial—denomination that belongs to the so-called neo-Pentecostal movement. He's also the nephew of the UCKG's leader and founder, Edir Macedo.
With a theology based on positive confession and on the importance of giving money as a way to obtain divine favor, the UCKG claims about 2.5 million followers. Its churches are spread throughout Brazil, as well as more than 50 other countries.
The UCKG also controls various businesses, such as radios, newspapers, banks, and TV stations—including Record, Brazil's second-largest network.
The church has a clear ambition for political power, embodied by the hundreds of politicians in the Brazilian congress and in state and municipal legislative houses that number among its members.
Crivella himself is a senator, elected by the Brazilian Republican Party (PRB), which is strongly connected to the UCKG. He was the Minister of Fisheries and Aquaculture during the first term of former president Dilma Rousseff (2011–2014).
In some of his messages from the pulpit and on TV, he has explained what he calls the need of the evangelical community to elect a believer as president of Brazil.
Crivella's election in October came at a time of instability in Brazilian politics. Intense ideological polarization coexists with successive denunciations of corruption at the highest levels of power.
Former presidents, well-known businessmen, governors, and politicians from virtually every party are in the sights of a major operation by the federal justice department that has already locked several of them behind bars. In August, Rousseff was sidelined by impeachment.
In addition, Brazil's economy is in chaos, with 12 million people unemployed.
"It is the ideal scenario for the success of candidates linked to conservative platforms," ​​said Luiz Henrique Gurjão, a political scientist from the Federal University of Rio de Janeiro.
"Crivella surfed the conservative wave that grows across the country," said Maria das Dores Campos Machado, a sociologist and author of Politics and Religion: The Participation of Evangelicals in Elections.
That wave is bolstered by Protestants, who are growing more visible in the world's largest Catholic country. In 2010, more than 42 million evangelicals made up 22 percent of the population.
In Brazil's Congress, about 80 congressmen (more than 15%) identify themselves with the Evangelical Parliamentary Front (EPF), a multi-partisan group of Baptists, Presbyterians, Assemblies of God members, and other believers that tends to vote cohesively—and contrarily—on topics such as the civil rights of homosexuals and restricting drug use and abortion.
At the same time, the group has several members involved in a wide range of corruption allegations.
While it is Protestant, the UCKG is not evangelical. Its theology is detached from biblical orthodoxy, and its main platform is searching for personal blessing from the Lord. For this, its followers prove themselves to God through their tithes and offerings. At the same time, they are not encouraged to read and study the Bible.
"[The UCKG] practices a syncretism where superstitions, popular beliefs, and the distortion of biblical texts enter to justify their actions," said pastor and researcher Paulo Romeiro. "It's not evangelical even in its name."
Crivella has guaranteed neither the church nor Macedo, his uncle and mentor, municipal power. But as a senator, he surrounded himself with people connected to the UCKG and interfered directly with the federal government to ensure that a fellow pastor, George Hilton, would take over the Ministry of Sports, whose budget more than tripled during the Olympics.
"The time has come to take care of people," read the slogan of his victorious campaign. Nearly 60 percent of Rio voters apparently agreed.
A genial, soft-spoken man, Crivella has a background as a civil engineer. He gained popularity as a gospel singer sponsored by the UCKG. One of his albums, The Messenger of Solidarity, sold more than 5 million copies.
Crivella founded Fazenda Canaã (Canaan Farm), a social project that works in the poor backlands of Bahia and serves the needy community, though he is suspected of misusing public money in connection with the project.
The new mayor used the campaign to present himself as moderate and against intolerance, though his book Evangelizando a África [Evangelizing Africa]—written in the late 1990s when he was a UCKG missionary in Africa—states that homosexuality is a deviation of character that is influenced by evil forces and must be fought.
The Carnival parade, which is partially funded by the city's $10 billion budget, was tricky for Crivella. Many criticized his refusal to attend the opening ceremony to hand the key of the city to the parade's "king of carnal delights," or to attend any of the festivities. The more superstitious said his absence was a curse when two float accidents injured more than 30 people.
But the mayor visited victims in the hospital, and said he was meeting with officials to make sure future parades were safe.
"People of Rio reject a mayor with a mask," Crivella said when explaining his absence, "even during Carnival."
Marcos Simas is editor of Cristianismo Hoje, Christianity Today's Brazilian edition. Additional reporting by Sarah Eekhoff Zylstra.