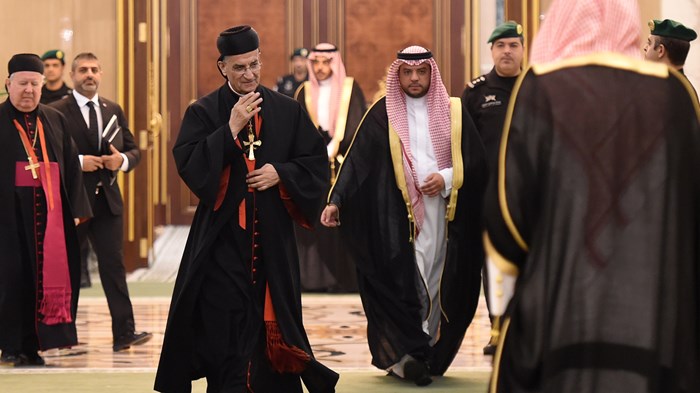 Image: FAYEZ NURELDINE / AFP / Getty Images
Before the crown prince of Saudi Arabia stunned the world with his sudden arrest of dozens of fellow princes and millionaires on corruption charges, he stunned many Christians with his stated desire to moderate its version of Islam, commonly dubbed Wahhabism.
Saudi Arabia was founded in 1932 as an alliance between Bedouin warriors of the al-Saud tribe and strict Salafi Muslim scholars following Mohamed ibn Abd al-Wahhab. Discovering oil six years later, it also became one of the Muslim world's wealthiest nations. The combination has led many religious freedom advocates to blame Saudi petrodollars for funding a worldwide rise in Islamist extremism.
But last month, Mohammad bin Salman said his conservative Muslim country would return to "what we were before: a country of moderate Islam that is open to all religions and to the world."
Extremist ideas would be destroyed, the crown prince proclaimed, blaming Iran for sparking Saudi Arabia's notoriously tight religious control. He pledges now to reverse this and stamp out extremism.
"What happened in the last 30 years is not Saudi Arabia," bin Salman said. "What happened in the region in the last 30 years is not the Middle East. After the Iranian revolution in 1979, people wanted to copy this model in different countries; one of them is Saudi Arabia. We didn't know how to deal with it."
But many aspects of Saudi Arabia's closely regulated enforcement of Abd al-Wahhab's version of Sunni Islam were in place long before Shiite Iran's revolution.
Many analysts—including Christians—are skeptical of the scapegoating. In terms of faith, Saudi leaders have long applied the deathbed instructions of Muhammad that two religions should not coexist in Arabia.
Hrayr Jebejian, general secretary of the Bible Society in the Gulf since 1990, offers some nuance.
"From the religious perspective, Saudi Arabia has always been closed to the Christian presence," he said. "But politically and socially, things did change, and Sunni-Shia tension with Iran is now reaching a climax."
Bin Salman's promise cannot be removed from its context. Stated at the launch of a $500 billion megacity overlapping the borders with Egypt and Jordan, such talk of moderation could encourage investors in the diversification of a lagging economy long dependent on oil revenues, which are now falling.
Talk of moderation could also mask a power grab, as many analysts interpreted the recent arrest of 11 princes and dozens of current and former officials on charges of corruption. Other analysts say the Saudi royal family is finally being held to account.
So is Saudi Arabia's religious establishment, which is being turned on its head. Clerics have been arrested, and the Saudi foreign minister said thousands of extremists have been dismissed from their posts.
In addition, Saudi Arabia's feared religious police have been stripped of their powers to arrest, and a committee has been appointed to review the religious corpus and remove extremist texts.
The proposed religious adjustment is already anticipated socially. This summer, women were promised the right to drive, effective June 2018. Soon they may be allowed to attend soccer matches, as gender mixing and music are slowly being tolerated. Promotional materials for the new megacity show women jogging in leotards; a woman shown in hijab wears a fashionable pink.
The 32-year-old crown prince is clearly making a play toward youth: 49 percent of Saudi citizens are under 25; 30 percent are under 15. (His father, King Salman, the son of Saudi Arabia's founder, is 82.)
But in addition, out of a total population of 32 million, 12 million residents of the kingdom are foreigners. Economically dependent on their labor and expertise, bin Salman's reforms may also appeal to this international constituency.
According to the Pew Research Center, about 4 percent of Saudi Arabia's residents are Christian. While far fewer than Muslims (93%), that makes Christianity the No. 2 religion in the kingdom. But per its traditional interpretation of Muhammad's instructions, the Saudi government has not permitted a single church building. The kingdom ranks No. 12 on Open Doors's annual list of nations where it is hardest to be a Christian.
"The days of a religious monopoly in Saudi Arabia are over," said Daoud Kuttab, an award-winning Christian Palestinian journalist. "No more pushing Islam down every citizen's throat."
Kuttab suspects the Saudi motivations may be mixed and not necessarily principled. But recent unprecedented actions—both reforms and arrests—suggest that non-Muslim residents may soon be able to worship publicly.
"There is a lot of hype," Kuttab said, "but we now know the crown prince is serious."
Andrea Zaki, president of the Protestant Churches of Egypt, is similarly hopeful.
"A sign of toleration is to give all religions a place of worship," he said. "I hope it will lead Saudi Arabia and the region to a more open society."
Zaki saw evidence of Saudi seriousness even before the announcement.
For example, King Salman visited Egypt in April and received Pope Tawadros II in the first-ever encounter between a Saudi monarch and a Coptic Orthodox patriarch.
According to local media, Tawadros thanked the king for the welcome given to thousands of Egyptian expats, many of them Christians. He also spoke of religion as a relationship between man and God, promoting coexistence.
But Zaki said that's not the reputation that Saudi Arabia has in Egypt.
Over the last several decades, as Egyptian workers returned home, many brought with them the Saudi religious practices. "The hijab, the niqab, relations with non-Muslims, Islamization of the public square—these are [also] the features of Wahhabi Islam in Egypt, 100 percent," he said.
Jordan has experienced similar developments, said Imad Shehadeh, president of Jordan Evangelical Theological Seminary (JETS). He is encouraged by bin Salman's announcement, and called it a step in the right direction.
"But it is so late in the game now, after billions have been spent to spread Wahhabism," he said. "And like much in the Arab world, we really don't know what is going on."
His colleague Philip Madanat, adjunct professor of sociology at JETS and a researcher of Islamic movements, explained Saudi Arabia's recent changes—which also include easing restrictions on Skype and WhatsApp—as a hedge against future destabilization. In his view, bin Salman realized that burgeoning youth, ascendant women, and a culture of corruption demanded top-down radical change.
"Saudi Arabia is atrophying, and they had to move away from the political-religious establishment," Madanat said. "Even if he fails, it will be better than if the country collapses from within."
But if the reforms are real, neighboring countries will also breathe easier.
"If our [Jordanian] government wants to secularize and move toward a civil state, it can do so without pressure from Saudi Arabia," Madanat said."There will be no pressure to Wahhabize society from now on."
However, not everyone is as optimistic.
"Saudi Arabia is still far from reformation," said Maan Bitar, pastor of the Presbyterian Church of Hama, Syria. "I doubt it will happen. We wish and we wait, but we will wait a long time."
Enduring six years of ongoing civil war, multi-sect Syria sits within the sights of Shia-majority Iran, while Saudi Arabia has led the campaign to oust president Bashar al-Assad, who hails from a Shia sect called the Alawites. Fighters—both foreign and domestic—are said to receive support from both regional powerhouses, in addition to Russian and American sponsorship.
Bitar thinks bin Salman's reforms are pushed by the United States to remake Saudi Arabia's image. Saudi extremism makes Iran look like a better friend to the region, he said, and perhaps also to some Americans.
"There is no new mentality, only a new order," Bitar said. "'This is not in your interest,' America tells them, 'and neither in ours.'"
For Martin Accad, director of the Institute of Middle East Studies at the Arab Baptist Theological Seminary in Beirut, Saudi meddling may be making a new political play for his native Lebanon.
Lebanese Prime Minister Saad Hariri recently announced his resignation during a visit to Saudi Arabia. Since Hariri is a Saudi-backed Sunni leader in a coalition government with Iran-backed Hezbollah, many analysts believe his hand was forced. He denies this; however, he has also not yet returned to Lebanon.
Since then, Maronite Patriach Bechara al-Rahi visited Riyadh, backed Hariri's resignation, and returned with a reported promise that a recently discovered 900-year-old church in Saudi Arabia would be restored and turned into an interfaith dialogue center. (Like Copts, many Lebanese Christians also work in the kingdom.)
But Accad sees signs that a new war is being prepared, which would be a terrible blow to the Christians of Lebanon, one of their last bastions in the region.
"Whatever good for the region might come out of bin Salman's 'reform plans,' the magnitude of what he is attempting feels like a bit of a ticking bomb," he said. "And frankly, the only thing that might save Lebanon, and its Christians, from another conflict at this point might be if this dangerous bomb blows up in his hands."
Back in the Gulf, Jebejian celebrates that Wahhabi religious interpretation has largely not interfered in surrounding states. Saudi Arabia is the only Gulf nation that has never had a Bible society, he said.
But neighboring Bahrain just issued a declaration of individual religious freedom. In Kuwait, the Christian presence is well respected. Even Qatar, where Abd al-Wahhab's movement is the state religion, allows churches. Today 17 Gulf cities house 40 churches, which in 2013 distributed 41,000 Bibles to the 2.3 million Christians in the Arabian Peninsula.
Jebejian said that if a church is allowed in Saudi Arabia, the first one will likely be Catholic given that is the leading denomination among thousands of migrant workers from the Philippines and other Asian nations.
Other denominations would likely follow, he believes. But regardless of order, the Bible Society in the Gulf will seek government authorization to open any distribution centers within.
Last May during UNESCO meetings in Riyadh, Jebejian represented the United Bible Societies, a member organization. He marveled at the young, well-educated Saudis with a different mentality than previous generations.
"This country will gradually open up to the rest of the world," he said. "I just pray the many political rivalries will not affect this spirit of reformation.
"For this, we have to wait and see. Things are happening so fast."