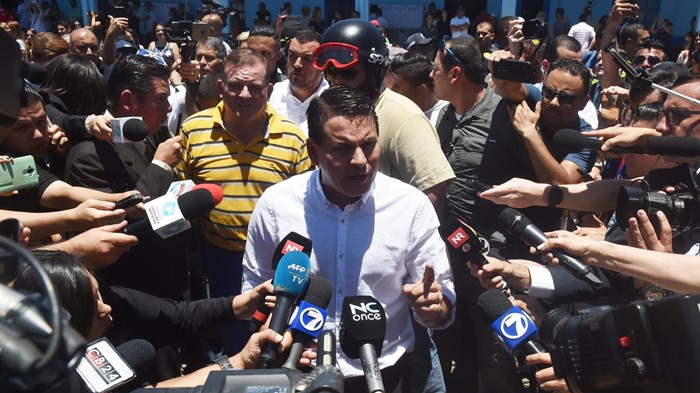 Image: Rodrigo Arangua / AFP / Getty Images
A contemporary Christian singer will not be Costa Rica's next president.
Evangelist, performer, and former CBN Spanish news host Fabricio Alvarado Muñoz decisively lost Sunday's presidential runoff to former minister, Carlos Alvarado Quesada. who received 61 percent of the vote.
"We're not sad, because we made history, because our message touched the deepest fibers of society of this country," said Alvarado Muñoz in his concession remarks.
The evangelical candidate had emerged from obscurity to take a plurality of the vote in the first round of the presidential race.
Just weeks before Costa Ricans went to the polls in February, the Inter-American Court of Human Rights (IACHR) in San José, the capital and largest city, had called for equal civil marriage rights for same-sex couples. But the court's decision proved very unpopular in the Central American country where, according to the Pew Research Center, less than a third of the population favors same-sex marriage.
While all the rest of Costa Rica's candidates stated their support or willingness to respect the court's decision, Alvarado Muñoz declared that he would not only not enforce the ruling, but also threatened to withdraw Costa Rica's status as a signatory of the IACHR. Weeks later, he won 24.8 percent of the popular vote, qualifying him for the Easter Sunday runoff against runner-up Alvarado Quesada.
Over the course of his campaign, Alvarado Muñoz wooed voters with promises to eliminate sex education in schools and to replace the National Women's Institute with one that centered the family. In the weeks leading up to the race, polls showed the candidates neck and neck.
Alvarado Muñoz represents the National Restoration Party (NRP), and has been its only lawmaker since 2014. But his party picked up more than a dozen seats in January's elections, bringing their total to 14 out of 57 members of the national legislature.
Alvarado Muñoz's defeat was also a disappointment for the National Liberation Party (NLP), which had thrown its support behind the NRP. A longtime presence in Costa Rican politics since the 1940s, the party backed Alvarado Muñoz after its own candidate failed to gain traction in the first electoral round.
But the NLP's endorsement may not have been the most consequential. The candidate was also supported by the popular and controversial Rony Chaves, a Pentecostal minister connected to the New Apostolic Reformation movement, noted Virginia Garrard-Burnett, a Latin American history professor at the University of Texas.
In January, Chaves praised the candidate for "valiantly defending divine truths" about life and family to his more than 430,000 Facebook followers.
"I know who Fabricio Alvarado is," wrote Chaves. "… Fabricio is a man who loves his God."
Chaves has previously drawn criticism for his harsh remarks about Catholics. He has also suggested an ambivalence for democracy and that "it may be necessary to do undemocratic things in order to carry out God's will," said Karla Koll, a professor of history, mission and religion at San José's Latin American Biblical University. (Chaves would not be alone in those feelings; one-third of Costa Ricans (35%) prefer a strong leader to a democracy, according to Pew.)
But despite Chaves's anti-Catholic stance, Alvarado Muñoz remained popular—at least in the final weeks—with many of the country's Catholics due to his socially conservative stances.
"It's not possible to breakdown support along strictly religious lines," said Koll. "Because of his stance on the so-called 'natural family,' there are many Roman Catholics who are willing to vote for an evangelical because they are in agreement with his position on these moral issues."
Costa Ricans are deeply divided on the role of religion in politics: 47 percent told Pew that religion should be kept separate from government politics, while 50 percent said government policies should promote religious values and beliefs.
The growth of Protestantism in Latin America is one of the biggest religious stories of the 21st century. In the neighboring countries of El Salvador, Guatemala, Nicaragua, and Honduras, Catholics make up no more than half of the population.
Yet that storyline hasn't played out as strongly in Costa Rica, where Roman Catholicism is still recognized as the state religion in the constitution. Nearly two-thirds of Costa Rica's population still identifies as Catholic (62%), while only a quarter identifies as Protestant.
Despite his loss, Alvarado Muñoz's success is "a cultural game changer," says Douglass Sullivan-González, a University of Mississippi Honors College dean who has done religious research in Central America.
"[Evangélicos] are now going to be seen a political challenge thanks to the success of Fabricio Alvarado," said Sullivan-González.