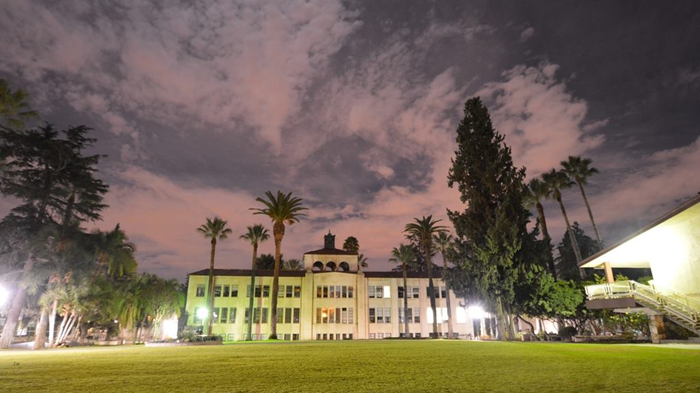 Image: WCIU
Update (March 28, 2019): The Pasadena, California, campus that housed the former US Center for World Mission officially has new owners.
A year after Frontier Ventures and William Carey International University (WCIU) announced plans to sell 15 acres of the property to EF Education First, an international education company, their deal has been finalized. The ministries did not disclose the selling price, but estimates in the Los Angeles Business Journal place the value of the whole property around $40 million. USCWM founder Ralph Winter famously raised $15 million to buy the site in 1976.
Frontier Ventures and WCIU will continue to operate out of the portion of campus it retained, while launching new hubs Chiang Mai, Thailand and other overseas locations. Last year, CT reported on the trend toward a more decentralized strategy for missionary training and missions think tanks.
EF has moved forward with plans to open a boarding school on the property in 2020.
--------
Ralph Winter, late founder of the US Center for World Mission (USCWM), drew experts to its longtime headquarters in Pasadena, California, to think through cultural and linguistic strategies for sharing the gospel around the globe.
The former campus of USCWM, now known as Frontier Ventures, will be used for a different kind of international education pending its sale in July 2019.
Frontier Ventures and William Carey International University (WCIU), which runs the campus, announced plans today to sell about 15 acres of property to EF Education First, a global education company.
WCIU and Frontier Ventures made their intent to sell the property public last fall, citing the high cost of maintaining the Southern California property (which it partially rented out to office and residential tenants) and a new, decentralized approach to Winter's mission of reaching unreached people groups.
The sale includes about 14 acres of WCIU's campus proper, 16 homes, and a soccer field. The agreement between WCIU, the current owner, and EF is expected to close next July, following a permit process with the City of Pasadena.
WCIU president Kevin Higgins declined to disclose the amount of the sale. The school opted to let the market determine the price for the property, and EF was among the top offers, he said. Winter initially bought the site for $15 million in 1976; by some estimates, the value is now quadruple that.
The pending sale has frustrated hundreds of alumni and supporters, including a group called Save the Campus which considers the sale a violation of Winter's ministry vision to have a single, self-sustaining think tank headquarters.
A representative of the group posted a response to the news of the pending EF deal on Facebook last night.
"They are secular, they are focused on business and government and they are focused on preparing people to work in those realms in a global market," said David Clancy, who used to work in human resources for the ministry. "This is not at all about the gospel. This is not at all about reaching unreached people groups."
Selling to a secular business has been "the most controversial aspect" of the deal, according to Higgins. "People see this place as tied to God's purposes."
Late last year, the school entered a nonbinding agreement with Providence Christian College, which currently resides on the WCIU campus; however, the college was unable to procure enough funds for a down payment.
Higgins said WCIU engaged in talks with about a dozen faith-based organizations before considering an offer from EF about a month ago.
"For me … somebody gave me a passage from Isaiah on God raising up Cyrus for his purposes," he said. "I thought, 'Let's see what God will do here.'"
EF, a privately held company with 46,000 employees around the world, plans to launch a boarding school on the site in 2020. The school will employ about 150 teachers and eventually enroll 1,000 students from 80 different countries.
As CT previously reported, leaders of Frontier Ventures and WCIU have defended their plan to sell the campus and keep only a small portion of the site, including the campus building where the ministry is headquartered:
Already, all of WCIU's degree programs are offered online through distance learning, and a majority of Frontier Ventures' 200-person staff work elsewhere. All but about 60 of these staffers raise their own funding as missionaries, totaling between $3 million and $4 million a year.

"The world doesn't come from one place," said [Frontier Ventures president Fran] Patt, who is based in Pennsylvania. "That, combined with the strong stewardship issues, has meant that success has pushed us out of Pasadena."