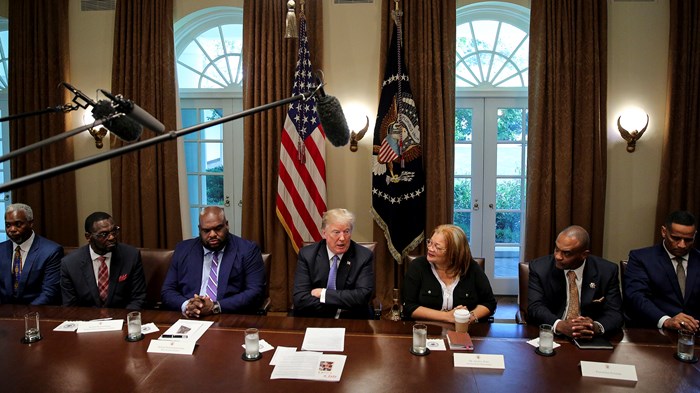 Image: Pool / Getty images
At the beginning of August, Donald Trump convened a gathering of pastors at the White House. While many of the president's loudest supporters have been Christian leaders, these were not the predominantly white male group that make up his informal faith advisory council.
Instead, at the table was a group of African American pastors invited to discuss criminal justice reform. At the president's right-hand side was South Carolina pastor John Gray, who opened the meeting with a prayer.
"God, we thank you for an opportunity to speak about the hearts of those who sometimes cannot fight for themselves," the Relentless Church pastor prayed. "We thank you for this moment to be able to share our hearts with the president. Dr. King said, 'We cannot influence a table that we are not seated at,' so we pray that this conversation will be fruitful and productive and honoring of the best traditions of this nation."
Conservative media quickly praised Gray's action; Fox 10 Phoenix described footage of the moment as "POWERFUL PRAYER." But few in Gray's community responded as positively.
Days after the meeting, a black ministers coalition issued an open letter expressing "heartbreak" about Gray and the other pastors' dialogue with an "amoral" leader.
"We need not remind you of the posture of the Prince of Peace, our Savior from the streets, when He stood before Herod and Pilate," stated the letter, signed by more than 50 pastors. "He didn't even pray for them."
Gray is a trusted voice in some evangelical circles and hosts a popular TV show on the OWN Channel. He's largely kept a distance from politics—and later said his wife and others urged him not to go to the White House.
"They are using you as a prop," CNN host Don Lemon later told Gray to his face.
Gray responded to the charge the same way he has now done dozens of times. "Sitting at a table is neither affirming, endorsing, agreeing or aligning," he said.
Gray has also pointed out that a criminal justice reform bill—ostensibly, the reason for the White House pastors meeting—may yet make it through Congress due to their combined efforts.
But his trip to the White House and its subsequent fallout reveal a deficit of good faith when issues of race and polarized politics intersect—even among brothers and sisters in Christ.
When at the White House...
Christian speaker and educator Jemar Tisby has long sought to enlighten white evangelicals on the troubling history of racism in America—particularly in the church. He serves as president of The Witness: A Black Christian Collective, a resource for leaders and churches on race, culture, and justice issues.
Christians looking for advice on how to act when summoned by the powerful should look to Martin Luther King Jr.'s behavior, said Tisby.
"When King took a seat at the table in order to influence it, he did so by speaking truth to power," said Tisby, who is currently completing his PhD in history at the University of Mississippi. "The most effective civil rights activists have always used their influence to challenge those who held political power."
The words and actions of those at the White House meeting seemed too obliging to some observers.
Among those present at the meeting were three longtime backers of Trump including Alveda King, a pro-life activist and niece of the late civil rights icon, Darrell Scott, the pastor of New Spirit Revival Center in Ohio, and Maryland minister Harry Jackson.
"You can't be a prophet to the culture while you're standing outside of the room," Jackson said in an interview later. "The greatest civil rights issue of our generation [is] the overcriminalization of minorities. What are we, the church, going to advocate for?"
But many fellow black faith leaders who watched the meeting saw more deference than defiance.
"The role of the prophet is never to comfort the king but to challenge the leader," said Jamal Bryant of Empowerment AME Temple in Baltimore in a Facebook video. "Preachers, when you went around that table, after you stopped Uncle Tomming … [all] you just had was a photo-op."
Tisby agreed that the pleasantries the leaders exchanged with Trump seemed to displace substantive talk.
"The president gained a valuable opportunity to claim his own 'racial innocence' while the ministers present could not or did not advance the cause of justice by speaking plainly about the president's responsibility in fomenting racism nationwide," said Tisby. "At best, this meeting was a missed opportunity. At worst, it was an instance of public pandering."
The meeting title itself—President Trump Meets with Inner City Pastors—was seen as ignorant of its guests.
"As I look across that table, there are very few pastors who would qualify as being in the 'inner city,'" said Tyler Burns, who co-hosts the popular Pass the Mic podcast with Tisby. "[Most] wouldn't qualify as being 'inner city' church planters or ministry leaders in the least. They are actually suburban megachurch pastors."
That would be true in the case of Gray, whose Relentless Church regularly attracts over 3,000 people on Sundays. Gray was recently installed as senior pastor, in a church service that included Joel Osteen, producer/director Tyler Perry and popular singer Fantasia.
A 'Step' Towards Criminal Justice Reform
While Gray maintains he was sent by divine leading to the White House, he now seems to lament not taking a stronger stance in the meeting.
"[I] had everything to lose and nothing to gain by being obedient to the God who sent me," said Gray on Instagram. "That I didn't voice the accumulated pain of 400 years of REAL BROKENNESS in our black and brown communities is something I wish I could do. Some moments call for a level of wisdom that my emotions would rather do away with."
A fellow megachurch minister backs up Gray's explanation for participating in the meeting.
Jentezen Franklin, senior pastor of Free Chapel in Gainesville, Georgia, was by his own account authorized to issue invitations to the White House pastors meeting. He is a longtime friend to Gray and member of the informal faith leaders' initiative chaired by controversial charismatic minister Paula White.
"I invited John [Gray] because I knew three things," wrote Franklin for The Christian Post. "First, I knew he was passionate about matters related to racial inequality in this country, as was the case for every pastor at that table. Second, I knew that when it came to the topic of prison reform, he was not only passionate, he was informed. And lastly, I invited John knowing he is the last man to run from a fight on this topic."
The specific battle on criminal justice discussed at the White House concerned the FIRST STEP Act, an acronym for Formerly Incarcerated Reenter Society Transformed, Safely Transitioning Every Person. The bill provides incentives for inmates exiting prison to undergo substance abuse counseling and job training before reentering society, among other provisions.
The FIRST STEP Act passed the House in May. Although the bill never made it to the Senate floor, legislators are currently working to combine the House-passed prison reform bill with sentencing reform provisions from the Senate's Sentencing Reform and Corrections Act.
Gray and other ministers say getting this bill across the finish line was their desired outcome from the White House meeting.
"I don't agree with many of the [Trump Administration] policies, but it doesn't stop me from having conversation," he told CNN. "My faith guides me. I am committed to fighting for people who cannot fight for themselves."
Following the meeting, Trump met with Senate Judiciary Committee Chairman Chuck Grassley (R-IA), Senators Mike Lee (R-UT), Lindsey Graham (R-SC), and Tim Scott (R-SC), and his son-in-law Jared Kushner, who has led White House criminal justice reform efforts. Franklin, who also attended the pastors meeting, drew a direct line from that public function to the closed-door strategy session.
"You will notice that two of the senators key to this legislation are from the state where John Gray now resides and pastors, South Carolina," wrote Franklin.
Two days after the White House pastors meeting, Trump and his allies called for the Senate to pass the FIRST STEP Act with additional sentencing reform provisions. The legislation has also earned the endorsement of the late Chuck Colson's ministry, Prison Fellowship, praising the revised bill as ensuring justice for prisoners and greater safety in neighborhoods.
"We should applaud any policies that lead to positive reforms in our criminal justice system," said Tisby. "At the same time, we know where this president and his administration stand on issues of racial justice. Based on their repeated words and actions, they are not allies to racial and ethnic minorities. If laws that result in more racial equity are passed, it will largely be in spite of the president and his staffers, not because of them."
Tisby isn't alone in tracking the president's long list of incendiary racial rhetoric. The pastors' open letter notes Trump's disparaging of certain African nations as "s*** hole countries" and calling black NFL players "son of b*****s" when they knelt during the national anthem in protest of minority individuals shot by police officers.
Crossing Divides for the Common Good
So what does it mean for a black pastor—in the name of passing policy that benefits his or her community— to partner with a politician who has made numerous incendiary remarks against that community? For Gray, it doesn't mean he's condoning anything Trump has done.
"I believe that our president has fostered a culture and a climate that has allowed for what was there and has been there for years to bubble up," said Gray on CNN. "It has empowered people in a horrific way, absolutely. If you're looking for someone who is a fan of the administration, that's not me. I am a man of God."
Whether that much-discussed White House meeting leads to the FIRST STEP Act becoming law remains to be seen. With November elections looming, both the House and Senate will be in recess much of this fall. It could end up another case of "across the aisle" discussion without any resulting legislation. (This past January, the White House promoted its bipartisan effort on immigration reform. Seven months later, no substantive reforms have passed both chambers.)
But this week, reports indicated that the FIRST STEP Act may yet have hope of passage. Senator Chuck Grassley said that he and several other leaders are working to achieve an "important bipartisan win for the country." No. 2. Senate Democrat Dick Durbin has also announced that he would back the legislation.
Having long advocated for such bills, Tisby would regret another legislative failure on criminal justice reform. But it would not come as a surprise to him.
"I grieve when black pastors submit to tokenism or accommodationism in predominantly white spaces rather than acting as a prophetic voice of black solidarity," he said. "I grieve when white Christians conflate partisanship and religion thereby conveying the sense, whether on purpose or inadvertently, that all 'true' Christians are white and Republican. I grieve especially for everyone who looks on and cannot see the glory of Christ amidst the distortions his followers have created."
Josh M. Shepherd covers culture, faith, and public policy issues for media outlets including The Stream. A graduate of the University of Colorado, he previously worked on staff at The Heritage Foundation and Focus on the Family. Josh and his wife live in the Washington, DC, area.