Evangelicals from Max Lucado to Pat Robertson Urge Action on Gun Safety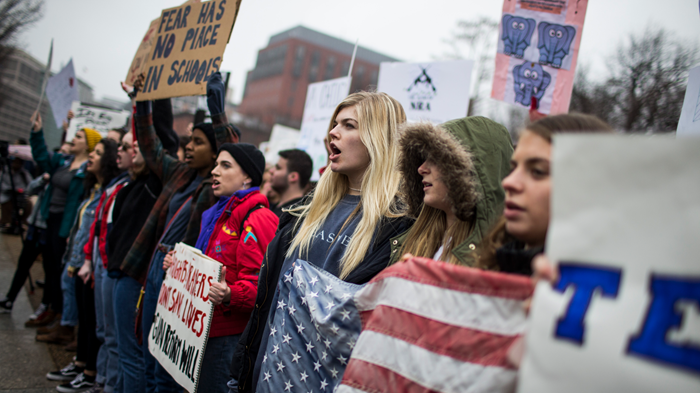 Image: Zach Gibson / Getty Images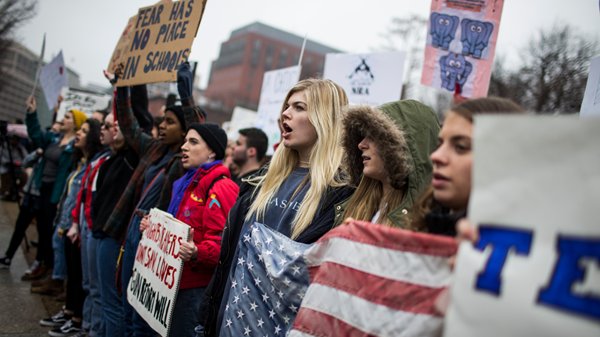 Evangelicals from Max Lucado to Pat Robertson Urge Action on ...
Though white evangelicals are less likely than the average American to push for stricter gun laws, the recent school shooting in Parkland, Florida, has prompted pastors to advocate for "sensible" gun restrictions to help prevent more attacks.
Pat Robertson spoke out on Tuesday in favor of banning automatic weapons and bump stocks, which allow semi-automatic rifles to fire more quickly.
"I've got no opposition whatsoever to shooting, but for heaven's sakes, I don't think that the general population needs to have automatic weapons," said the Christian Broadcasting Network (CBN) founder, himself a politically conservative gun owner and a defender of the Second Amendment.
"We can ban those things without too much trouble. And they have what they call bump stocks … that you hit and it goes automatic. We can stop that."
Robertson's statement came just before President Donald Trump backed a ban on bump stocks.
The host of The 700 Club also voiced his support for tighter background check measures around mental health and psychiatric concerns.
Meanwhile, Max Lucado, Joel Hunter, and Lynne Hybels were among 15 evangelical leaders who launched a petition for gun safety in America days after the latest shooting.
"We call on our fellow Christian believers, church leaders, and pastors across the country to declare that we will decisively respond to this problem with both prayer and action," they stated.
The petition cited a "biblical responsibility" to lobby for common-sense gun legislation, to encourage gun owners to secure their own firearms, and to help those with severe mental illness get professional help.
Other initial signers include Dietrich Bonhoeffer Institute president Rob Schenck (subject of a gun reform documentary), author Preston Sprinkle, Texas Baptist leader Gus Reyes, and Murdock Trust director Romanita Hairston-Overstreet.
Most Americans believe that stricter gun laws (58%) and better mental health services (77%) could have prevented last week's shooting at Marjory Stoneman Douglas High School in Florida, according to an ABC News/Washington Post poll released today.
Earlier surveys have shown evangelical leaders are more likely than the people in their pews to push for new gun laws. Last year, the National Association of Evangelicals (NAE) found that though most of the ministry leaders surveyed owned a firearm themselves, 55 percent agreed that gun laws should be more strict, while 40 percent said current laws "are about right" and 5 percent said gun laws are too strict.
As CT reported in 2017, about a third of white evangelicals want to see the US adopt stricter gun regulations, compared to half of Americans overall, according to Pew Research Center data.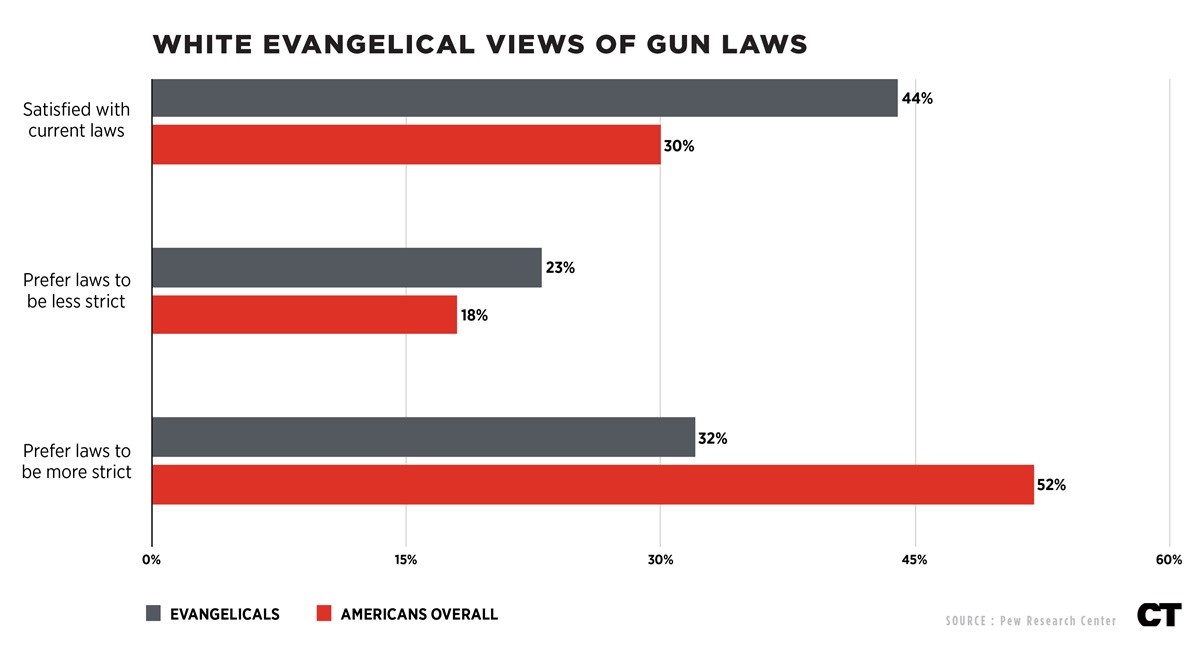 Additionally, research by PRRI showed that evangelicals were the only religious group "in which a plurality (40%) say that putting more emphasis on God and morality in school and society is the most important thing that could be done to prevent future mass shootings."
White evangelicals in the US are more likely than other faith groups to own guns. Most evangelical gun owners, Pew found, cite protection as their top reason for owning a firearm; 77 percent believe their homes are safer with a gun than without one. They are also more likely than the average American (71% vs. 61%) to have talked with their children about gun safety.
Fewer than half of white evangelicals say they worry about being caught in a mass shooting (38%), according to Pew. They are more worried about a terrorist attack (66%) or other violent crime (61%).
One Pennsylvania congregation, belonging to the Unification Church founded by Sun Myung Moon, made the controversial decision to move forward with an event next week to bless hundreds of gun owners carrying (unloaded) AR-15 rifles, the same kind of weapon used in Parkland as well as other mass shootings. Rod of Iron Ministries leaders cite parallels with Revelation, the last book of the Bible, where Christ is said to rule the nations with an "iron scepter" (2:27).
Four in 10 evangelicals support an assault weapons ban (40%), according to Cooperative Congressional Election Study (CCES) survey data analyzed by Ryan Burge, political researcher at Southern Illinois University and Religion in Public. Mainline Protestants (45%) and Catholics (46%) are slightly more supportive. Overall, Burge found that political affiliation is the stronger influence, with Democrats favoring an assault weapons ban by a 2-to-1 margin over Republicans (42%).
Following last year's high-fatality shootings in Las Vegas and Sutherland Springs, Texas, authors Jen Hatmaker and Karen Swallow Prior discussed how Christians on the left and right could come together on gun legislation, including improving the background check process and issuing tougher sentences.
Kay Warren, who lost her son to suicide by shooting and advocates for those with mental illness, tweeted several articles last week advocated gun reform. When faced with pushback for her stance, she responded, "You don't have to see eye to eye to walk hand in hand. The Body of Christ is made up of people with wildly divergent points of view about everything under the sun. We're still family."
The rise in mass shootings also has impacted the scope of crisis ministry over the past few years. CT reported last week about how chaplains increasingly respond to manmade violence, in addition to natural disasters and other events.

02/20/2018