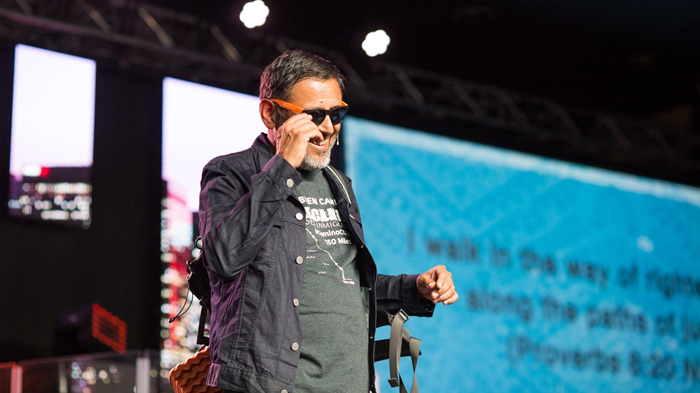 Image: CCDA
Last week's national conference of the Christian Community Development Association (CCDA) was entitled "Rooted," but it left some attendees feeling the opposite—confused, torn, and disconnected—amid allegations of hostile conduct surrounding the urban ministry's top leadership.
The concerns, which centered on CCDA president Noel Castellanos, were referenced by speakers on stage, on unsanctioned flyers distributed during the sessions, and in a statement of repentance posted on the CCDA website.
Then, on Tuesday morning, CCDA announced that Castellanos had resigned prior to the 30th annual gathering, but the ministry's board decided to wait until afterwards to announce his departure in a "sincere effort to keep the focus on this tremendous milestone as well as honor the life and commitment of our founder, Dr. John Perkins."
Castellanos, who led the Christian justice ministry for more than a decade, spent the past two years engaged in a reconciliation process with former coworkers, according to CCDA.
"While my resignation was offered in part due to our inability to resolve the conflict with former staff, it was also a decision that I have been contemplating for the last year to allow me to pursue other passions and opportunities," he wrote in his resignation letter.
"My heart is full of gratitude for the immeasurable number of friends I have made along this journey and hope to continue in the future."
The CCDA board privately accepted Castellanos's resignation at a regularly scheduled meeting on October 31. The next day, the beginning of the three-day annual conference in Chicago, corresponded with the launch of a public campaign from six former staff members calling for him to be removed from leadership.
Several women described an "abusive" work environment at CCDA's national office on a website called 3 Rs Revisited, #RememberRepentReconcile. The name and tagline are a play on the three Rs at the center of CCDA's justice work: reconciliation, relocation, and redistribution.
The "CCDA community has not always been aware of the toxic environment staff endure," the former CCDA employees wrote, going on to list alleged issues including "unpredictable emotional explosions, mismanagement of finances, manipulation and intimidation of staff, urging staff to do unethical things, and Noel being found unfit for large portions of his role, and continued support from CCDA's board of directors."
The women claim their concerns span a dozen years, and that the ministry failed to adequately investigate or respond to their allegations, despite repeated efforts to report misconduct.
The 3 Rs Revisited authors told CT that as of this year, the CCDA's reconciliation efforts were in early stages and focused on listening to concerns rather than engaging in the reconciliation process between the parties. Of the handful of former staff who were invited to "listening sessions" with the CCDA board's reconciliation task force, not all chose to participate, they said.
Ahead of the Rooted conference, their campaign garnered the support of dozens of CCDA partners. Two former board members tweeted to confirm that the board did not do enough to check CCDA leadership in the wake of the allegations.
"As a former board member who left the org due to its (mis)handling of staff complaints, I stand with the courageous former staff who are calling @iamccda to #RememberRepentReconcile," said Chanequa Walker-Brown, an author and pastoral care professor at Mercer University.
"CCDA Chair @mayranolan committed to do better on past hurts not handled well. I was asked to support past staff. Looking forward to reconciliation and I stand with former CCDA staff calling board to action over workplace injustice within organization. #3RsRevisited #rootedccda," tweeted former board chair Leroy Barber, who also apologized during his plenary talk at the conference in Chicago.
"I did respond but did a poor job. @mayranolan is handling it much better."
The ministry's statement of repentance references its ongoing efforts to acknowledge mistakes in the past and to build a better environment for its staff going forward. In the statement, CCDA apologizes for how "organizational dysfunction" has hurt former staff members and reiterates its commitment to women in leadership.
"There have been times when our leaders have failed in the stewardship of their power and this has led to painful experiences for some in our family," the statement reads. "We grieve that this is also a part of our history and would like to extend an apology to those for whom pain has resulted."
Tuesday's email from the CCDA board said, "It is with a mix of sadness, grief, and lament that we bid farewell to Noel and thank him for his many contributions to CCDA."
Castellanos became CEO and president of the organization in 2007, but last year the board created a separate CEO position, now filled by Ava Steaffens.
"We have great faith and confidence in her and the very talented and dedicated staff team that she will continue to lead," CCDA board chair Mayra Macedo-Nolan stated. The website lists a dozen staff members, and all but one are women.
The ministry said in its announcement that the reconcilation process with Castellanos will continue.
"For over two years the board has been diligently working to address personnel and organizational issues. A future communication will outline the steps we have taken thus far and the work that we have yet to do," said Macedo-Nolan. "Our board will continue to create accountability systems and structures that ensures CCDA moves towards becoming a healthier organization."
Castellanos joined CCDA in 2004 with the launch of the CCDA Institute, an initiative to provide deeper theological training around the gospel core of its community development work. With a background in Latino urban ministry, he served on President Obama's Council for Faith and Neighborhood Partnerships and wrote books including A Heart for the Community: New Models for Urban and Suburban Ministry and Where the Cross Meets the Street: What Happens to the Neighborhood When God Is at the Center, which Castellanos discussed in a 2015 interview with CT.