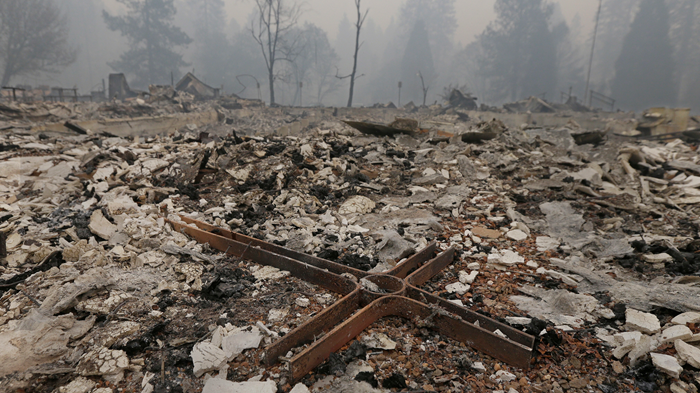 Image: Rich Pedroncelli / AP
The wildfire that left Paradise, California, in grim, dusty ruins this week destroyed more than half of about two dozen houses of worship in the town, along with thousands of homes and other structures.
From safer ground in nearby Chico, pastors have worked to coordinate physical and spiritual relief for their now far-flung congregants. They've also been tasked with delivering updates on their church buildings, as Paradise residents hope for any indication that their homes, schools, or sanctuaries may have been spared from the worst.
"Though the physical attributes of our earthly Paradise are destroyed, the spirit of Paradise has spread across the country and around the world, as people are moved to volunteer resources to help," wrote leaders from Paradise Adventist Church, whose building was burned in the Camp Fire, the deadliest in California history.
In the community of around 27,000 people, most congregations lost buildings, including Our Savior Lutheran Church (LCMS), Ridge Presbyterian Church (PCA), Paradise Church of Christ, First Assembly of God, Craig Memorial Congregational Church, Paradise Foursquare, New Life Apostolic Church, Paradise Pentecostal Church of God, Community Church of the Brethren, and Hope Christian Church. A Church of Jesus Christ of Latter-Day Saints (LDS) meetinghouse and a Center for Spiritual Living were also destroyed.
"Building was burnt down, but cross and rock still standing," wrote Hope Christian's lead pastor Stan Freitas. "The church is still alive."
Freitas and church members had constructed a new worship space just this year, building a tall wooden cross in front of the new structure. This week, he shared a picture of the hand-carved cross, bearing the motto, "Love God, Love People"—which remained erect though the rest of the building had crumbled.
At over a century old, Craig Memorial Congregational Church was one of the most historic churches in Paradise, built in 1909 to replace an even earlier building that had been destroyed in a fire.
Its leaders remembered the stained glass lilies in the historic sanctuary: "These flowers represent the resurrection—which draws us to the words of 1 Corinthians 15, verse 42: 'So it is with the resurrection of the dead. What is sown is perishable, what is raised is imperishable.'"
So far, more than 60 people died in the blaze, and more than 600 remain unaccounted-for. Baptist Press reported that at least one Southern Baptist congregation in the area confirmed one of its members is among the dead. In the midst of grief and loss, Paradise's Christians continue to hold gatherings at churches in Chico or other neighboring cities, proclaiming messages of hope, renewal, and revival.
"Our building has been lost ... but our hope and our trust in Jesus has not!" declared a Facebook post by First Assembly of God. New Life Apostolic, which lost its parsonage and church building, quoted Psalm 30:5 (NKJV), "Weeping may endure for a night, but joy comes in the morning!"
Some churches were damaged but not destroyed. Jubilee Church lost its sanctuary, but its office and new construction survived. The Adventist Review reports that both Paradise Adventist Academy and Adventist Health's Feather River Hospital were mostly intact, with only some portions burned down.
Given the limited access to return to Paradise, multiple congregations initially relied on reports from others on their status; Paradise Nazarene and Congregation Harei Yeshua, a Messianic community, first got the news that their buildings burned down, only to later hear confirmation that they were still standing.
Even churches whose buildings were spared face the same harsh reality as the rest of Paradise; the vast majority of their pastors, staff, and congregation have lost their homes.
After last week's evacuation, church leaders spent the past several days checking in on families, coordinating an overwhelming wave of relief supplies, and rethinking what ministry will look like in the short-term.
"Our church is spread out all over California and the surrounding states. That's been the hardest part because being the shepherd, you now have no idea where your people are even at," said Josh Gallagher, pastor of Paradise Alliance Church.
He left Paradise last Thursday, initially for a shelter at Neighborhood Church in Chico. He later learned that his family had lost their home, along with 18 of 21 families on the church's staff—a proportion that corresponds with the degree of loss across the community.
Gallagher spoke with CT about ministry in the aftermath of the wildfires.
What was going through your mind as you evacuated?
I knew it was serious, but I had a peace about what was going on.
My first instinct was help my neighbors, and we did that, then get my family to safety. … Once my family was heading down to Sacramento, I felt like I could go into serving and helping mode. It was this overwhelming sense that I needed to stay near the need. There were a lot of people from our congregation that came to the shelter, and more importantly, I was able to be there for the community.
What's the message that you want your congregation to hear right now?
I would tell them to grieve well. This Sunday, I told them we serve a God who understands the "ands." We can love him and still be mad at him. We can have faith and still question him. We looked at Psalm 88, where he declares, "God I know that you're God and you can save me," but the whole rest of the psalm, he blames God, he questions God, he's scared, he's raw with his emotions. I said, "This is our psalm right now."
That was the hardest message I had to deliver because we found out confirmation that we had lost our home, and we didn't grab a whole lot. … God's been faithful with helping me take it one step at a time. I need to grieve well with my family, then I need to grieve well for myself, then with our church, and then with our community.
What do you imagine for your congregation going forward?
That's the big question that we're all wondering. We go from a church of roughly 3,000, and now they're spread everywhere. Who's going to come back? When will they come back? Thank the Lord the church building is still standing. The other big structure that's still standing is the high school. Between those two areas, that'll probably be the rallying point for the community. We want to use that as best we can to serve the community, and the needs that they're going to have.
Long-term we're just going to have to assess, week by week and month by month, where our congregation is at and what this church is looking like moving forward. We're going into a little bit of a "church plant mentality." I planted a church before this, so I'm familiar with that.
You've been at Paradise Alliance for just over three months. After the fire, do you still feel called to serve there?
I do feel called to this church and this community for this season. God has confirmed that over and over again in my mind and my heart. My goal is to be the most faithful lead pastor and community member that I can during this time.
The word or the theme that God laid on my heart during this season where our congregation and our community is everywhere is engage. In some ways God may have been preparing us, since our church has been big on how we connect during the week. I'm going to be putting out weekly devotionals, and they're going to be getting text messages with daily Scripture readings, questions to be discussing about God's Word, prayers to be praying. Since those platforms are in place and our people are used to that, we're going to capitalize on those to keep our people close to God and close to each other.
What would you want the Christian community to know about the church in Paradise?
One of our city representatives was able to meet with FEMA, and he shared that conversation with me. They said, "We've never seen an entire city completely wiped out like this." They said that for the best chance of reviving this city, the faith community needs to be engaged moving forward because the faith community is where people find belonging, they find acceptance, they find hope.
After we had that conversation, our [denominational] district superintendent came up to me and said, "Josh, you're maybe here not to bring revival to a church but to an entire community." We've been praying for revival like many people do. I feel like God has given us an opportunity to experience revival on a church-wide level, but also a community-wide level. He's put all of the churches in Paradise, not just ours, at the center of that revival.
I would say, pray for revival—in a spiritual sense, absolutely, but also in an economic sense, in a building sense, across relationships, all of it.