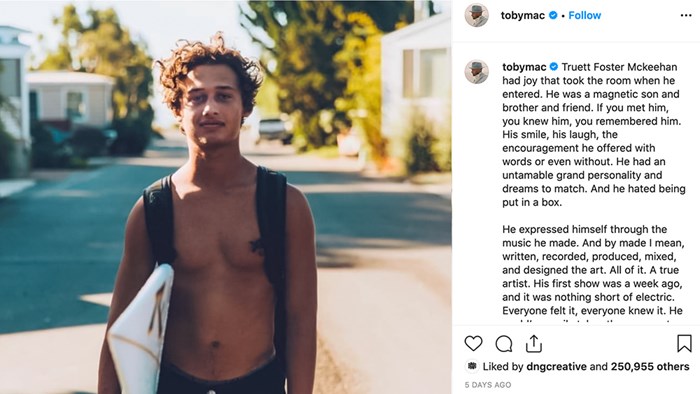 Image: TobyMac / Instagram
Truett Foster McKeehan, eldest son of Christian hip hop artist TobyMac, died suddenly at his home in Franklin, Tennessee, on Wednesday. McKeehan was 21.
The cause of death is not yet known. The Nashville Fire Department responded to a report of cardiac arrest and the death is under investigation by the Nashville Metro Police, according to reporting from the Tennessean.
TobyMac, whose real name is Kevin McKeehan, posted about his son's death on Instagram Thursday.
"Truett Foster Mckeehan had joy that took the room when he entered. He was a magnetic son and brother and friend," he wrote. "He was by no means a cookie cutter Christian but give me a believer who fights to keep believing. Give me a broken man who recognizes his need for a Savior every time. That's who Truett was and how he should be remembered."
McKeehan was an aspiring musician who collaborated with his father multiple times over the years, rapping on "TruDog: The Return," in 2004, ...
1