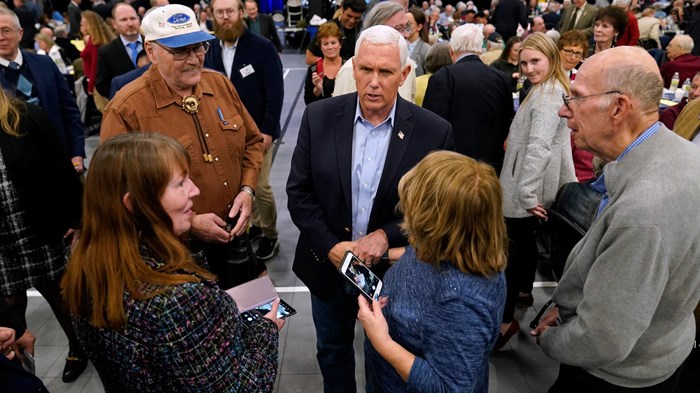 Image: Charlie Neibergall / AP Photo
Sitting in rows of rectangular tables and eating boxed dinners from Chick-fil-A, over a thousand evangelicals in Iowa got their first look at 2024 Republican presidential hopefuls.
The Iowa Faith and Freedom Coalition's Spring Kick-off event on Saturday represented the first cattle call of the year, a forum for GOP candidates to court an indispensable voting bloc.
From the podium, candidates celebrated recent anti-abortion victories in the states and in the legal system. Former vice president Mike Pence, Sen. Tim Scott of South Carolina, and former Arkansas governor Asa Hutchinson spoke of the importance of religious liberty, decried "wokeness," and expressed concern over the southern border and the threat of China's economic ascendance.
The audience paid attention as the politicians recounted their faith experiences and emphasized their commitments to conservative values, but many voters had no top-of-mind policy issue they wanted the candidates to address. A small exhibition gallery off the main event hall housed display booths for candidates, local businesses, and advocacy groups focusing on issues like abortion and parental rights.
"I'll be honest; it's hard to pick one," said Kevin Branstetter, a 56-year-old project manager from Waukee. "I just want somebody who is going to tell me the truth."
When asked what she is most concerned about this election cycle, Jolene Rosebeck, a former teacher from Waukee, said, "Everything."
Other Iowans at the event echoed the view that there are too many important issues and crises; they just want someone who can fix things. For many evangelicals, the ideal person for that job is still former president Donald Trump, who offered a message over video. (Florida Gov. Ron DeSantis did not attend.)
Jacob Taylor, a 24-year-old lighting tech from Oskaloosa, is hopeful for a strong leader who will address top issues like gender, inflation, trade, energy independence, foreign policy, and abortion.
"Christians always think that you should have a nice person that you're voting for, that plays nice with everyone," Taylor said. "I had friends that didn't like Trump because of the things he would say. He was putting America first. He didn't put up with any … I guess 'BS' is what I'll say."
Although there was no singular policy concern on the minds of the state's evangelicals, the themes of fear and uncertainty permeated remarks from the microphone and comments by those in the audience.
Some attendees didn't mention favoring any particular candidate but expressed worries about the threats facing the country and the perceived failures of the current administration. Speakers framed appeals to Christian faith and the example of Christ with embattled rhetoric about the Left or the media.
Cris Christenson, treasurer of the Iowa Faith and Freedom Coalition (IFFC), encouraged the audience to look to Jesus as a guide for how to act during the event and to "not let the press divide us."
"Our motto is 'What would Jesus say and do in this room tonight?' What would he do if he was sitting in a chair next to you? Don't give in to the media," Christenson said.
In his remarks at the beginning of the event, David Barker, a member of the Iowa Board of Regents and of the Iowa GOP's central committee, speculated about a frightening future under "leftist" control, in which "you tell your electric car to take you to church, [and] it might say, 'I'm afraid I can't do that,' if your church is on the wrong list."
Although the IFFC event is billed as one of the largest gathering of conservative evangelicals in the state, spiritual language throughout the event, from attendees and speakers, was broad. References to "conservative values" were more frequent than references to Christian values or beliefs.
When asked how faith informs their approach to political engagement, some were most comfortable speaking broadly about morals and principles.
"If you have faith, moral issues are going to be important to you as a politician," said Elizabeth Horn, a 24-year-old from Newton. "My faith says that there are some things we should not do. You have to be principled and stand for certain things."
"I'm a born-again Christian," said Jacob Taylor, who attends a small nondenominational church. "If you can choose someone who is a believer in office, that's really important. But if you don't get that choice, even someone who has a respect for God—that can be a unifying thing, an anchor."
The most explicitly "evangelical" message of the evening came from Pence, who quoted John 3:16 and briefly shared his testimony—the story of his conversion to Christ at a Christian music festival at Asbury University in Wilmore, Kentucky. Hutchinson name-dropped evangelical mainstays John MacArthur and Chuck Swindoll.
The chaotic Iowa caucuses of 2020 contributed to the Democratic Party's decision to reconfigure its primary schedule for the 2024 presidential contest. But the GOP appears committed to maintaining Iowa's "first in the nation" status as the field grows crowded.
Iowa's evangelical voters have not chosen the eventual GOP nominee in the last few election cycles, but they do usually determine which Republican candidate wins the Iowa caucus. Caucusing Republicans delivered Mike Huckabee's victory in 2008, Rick Santorum's in 2012, and Ted Cruz's in 2016.
Iowa serves as an early testing ground for the messaging to GOP voters. As issues prove to have mobilizing power among the state's Republican voters (especially among its evangelical bloc), they will shape how candidates position themselves and refine their stump speeches in coming months.
Steve Scheffler, IFFC's president, said in his opening remarks, "Today's society is crazy versus normal." Conversations with event attendees reflected the same alarm conveyed by the speakers.
George Kurtinitis, a retired IT project manager, is preoccupied by the specter of global conflict. "We're escalating toward nuclear war. I grew up during the Cold War. I used to think, That will never happen. Now here we are again."
Kurtinitis, seated next to his 13-year-old grandson, listed concerns about border security, public health, government overreach, education, and foreign policy. "It's all spiraling out of control," he said.
Even though attendees most readily discussed their personal anxieties, they did articulate concerns in a few recurrent areas: foreign policy and gender.
During the Q&A, Mike Pence voiced his unequivocal support for continued US aid to Ukraine in its conflict with Russia, quickly pivoting to insist that a strong leader would be able to support Ukraine, rebuild the economy, and secure the borders simultaneously.
Pence's remarks about Ukraine were met with a lukewarm response from the room. Many in the audience said they hoped the US would soon end its financial and material assistance to Ukraine.
"They're using our resources," said Keven Arrowsmith of Waukee, who would like to see the US decisively end its involvement in the conflict.
Some argued that Ukraine is hopelessly corrupt and authoritarian, saying that Ukrainian president Volodymyr Zelenskyy routinely arrests clerics and raids churches. (Such claims have been platformed in outlets like Fox News.)
"I think it's a huge scam," said George Kurtinitis. "They keep saying, 'We're trying to save this democracy,' but he [Zelenskyy] is a dictator."
Madonna Johnson also wants to see the US withdraw its support of Ukraine, saying that the money is being pocketed by the wealthy and powerful in the country.
"They're eating oysters and caviar over there," said Johnson, an insurance broker from West Des Moines.
While Pence's commitment to the fight in Ukraine didn't receive warm applause, his position on gender issues seemed to draw attention and support.
"The battle over gender ideology is a battle for religious freedom," Pence said.
Iowa governor Kim Reynolds also raised the issue of transgender rights in her opening speech, delivered via video, celebrating recent legislation in Iowa that bans gender-affirming medical care for minors and requires students to use school bathrooms that align with their biological sex.
Multiple attendees mentioned their concern about schools helping students transition from one gender to another without parental consent.
"It's incomprehensible to me that we would let anyone outside the family be involved in such personal things," Kevin Branstetter said.
Pence was recently in eastern Iowa in support of a lawsuit against the Linn-Mar school district in the Cedar Rapids area. The suit addresses a policy that allows students to adopt new pronouns and new names without involving their parents.
Pence and other speakers at the event placed parental rights and transgender rights under the umbrella of "religious liberty," making the case that these issues are part of a bigger battle to make sure that Christians can live according to their beliefs without constraint or interference.
Trump, Pence, Hutchinson, and others touted their pro-life positions, with Hutchinson claiming that he helped make Arkansas "the most pro-life state."
Although candidates made sure to foreground their pro-life bona fides, abortion seemed to be a peripheral issue for some attendees in light of the Supreme Court's decision to overturn Roe v. Wade.
"The pro-life issue is a big deal," said Jacob Taylor. "But that's pretty much back with the states now."
Abortion is currently legal in Iowa up to 20 weeks. Earlier in April, the Iowa Supreme Court heard arguments concerning Governor Reynolds's request to reinstate a fetal heartbeat law. The court is expected to issue its decision in June.
For many of the likely voters at the IFFC's Spring Kick-off, issues were less important than posture. Those feeling fearful and distrustful seem to want a leader who will speak to that anxiety and reassure them that the country's direction can be changed.