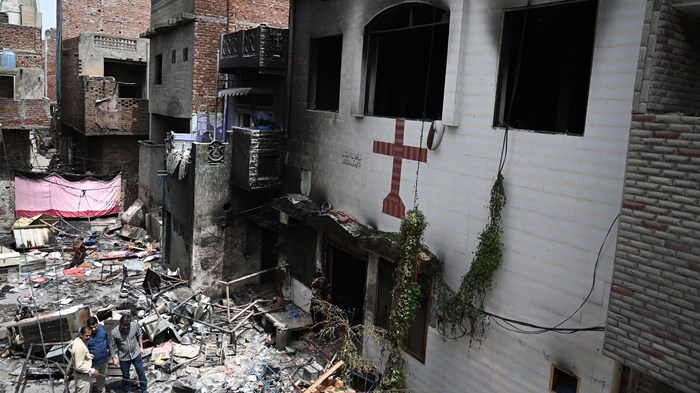 Image: Aamir Qureshi / AFP / Getty Images
Sister Mumtaz's church was full on a Monday.
Her congregation gathered August 14 to celebrate Pakistan's 76th independence day by singing national songs and praying for prosperity for the Muslim-majority country. It had been a trying summer, with Pakistani churches like hers condemning the recent Quran burnings in Sweden, hoping to secure their safety by maintaining communal peace.
Yet two days later, she was startled to see an angry mob advancing toward her church wielding sticks, hammers, and iron rods.
A chilling roar echoed through the streets of Chak 120 of Jaranwala, a remote town of Faisalabad, the South Asian nation's third-largest city, on August 16. While most of the men had already gone to their work on that hot, humid Wednesday morning, Mumtaz, along with other Christian women and children fled to nearby sugarcane fields.
"Gasping for breath, we ran about a mile in the fields and stayed there until two in the morning without food, shelter, or water," she said. "Whenever the mob's noises grew close, mothers stuffed cloth into their babies' mouths to muffle their cries, fearing the attackers would discover and harm us."
Christians in Pakistan, comprising less than 2 percent of the population or about 3 million people, have long lived under a shadow of fear. Across the country, most of them live in sheer poverty, consigned to menial roles such as sanitation, agricultural labor, and other low-wage jobs.
Pakistani Christians are often faced with derogatory reminders: accusations that their faith is misguided, their Bible is tainted and obsolete, and Jesus was merely a prophet who did not die on the cross. Thus, the use of the cross as a Christian symbol is viewed as a misrepresentation. Additionally, church music, deemed haram or forbidden to most Pakistanis, is often mockingly likened to dancing in a pub.
While such prejudices have been constant in her life, Mumtaz was particularly concerned if the attack was a reprisal following the Quran burning in Sweden. Since this incident in June, several instances of communal tension had taken place—especially in Sargodha, a district about 200 kilometers from Lahore—and each time, cases were lodged against Christians under Pakistan's blasphemy laws.
Christians are mostly located in Punjab province, and in the past few years the hardline Tehreek-e-Labaik Pakistan (TLP) has emerged as one of the main political parties, in the aftermath of Asia Bibi's blasphemy acquittal and the execution of policeman Mumtaz Qadri, who assassinated Salman Taseer, then governor of Punjab, who had supported her release in 2010.
With elections on the horizon in just three months, the TLP, known for its aggressive activism and instilling fear in many within the Muslim community, has ramped up its activities. Their impassioned political and grassroots campaigns, particularly in response to the recent Quran burning incident in Sweden, amplified the sense of urgency and tension in the region.
Always seen in white local attire with dopattas over their heads, Mumtaz and her assistant Saika refer to themselves as "sisters," though they have no ties to Catholicism. Their nondenominational evangelical church, Sat Sangat Duwaiya Church (True Fellowship Prayer Church), became a beacon of hope for 55 families who eked out modest livings.
The two believers had, through determination, acquired a patch of land in this remote village in northeastern Pakistan. They had built walls and half of the church was roofed, though no plastering or painting had begun yet.
"From toiling in fields to sweeping roads and cleaning public toilets, we are doing all sorts of menial labor while united in our Christian faith," said Mumtaz. Her church was adorned with musical instruments, and even a sound system. "Despite being poor, every item was funded penny by penny by this tight-knit community. In a mere three days, we were to complete the roofing."
Instead, they found their church burned and its walls torn down after tensions surged in Jaranwala when torn pages of the Quran surfaced in the town center. Mosque loudspeakers broadcasted urgent announcements, leading groups from nearby villages within a 50-kilometer radius to quickly gather. Christians from these villages, speaking to CT under the condition of anonymity, identified the TLP as a major force behind the mass mobilization, which saw hundreds, if not thousands, traveling towards the epicenter of the unrest. From motorcyclists to passengers in buses, trucks, and lorries, a vast array of transportation means was utilized as they all converged on the city with a shared purpose.
Mobs rampaged through various villages, including Chak 61, Chak 126, Chak 238, Chak 20, Chak 120, Chak 22, and Chak 19. Their primary targets were churches, though in some cases, they also attacked Christian homes. In Chak 238, the mob first ransacked a Presbyterian church and then Alice High School about 100 meters away. Before setting fire to any furniture in the school, the mob first looted it of all valuables. Notably, this school, operated by Christians, offers education to 200 students from both the Christian and Muslim communities.
Remarkably, these groups, though arising from various locations, displayed a striking unanimity in their actions. As they advanced toward the town, they methodically sought out and targeted churches in every village they passed, no matter how small or densely located. These sanctuaries were first raided for valuables. After the plunder, they desecrated crosses, burned Bibles, destroyed musical instruments, and wrecked furniture. Roofs and walls bore the brunt of their fury. In some instances, they employed cranes to pull down church barriers.
Rakhal Bibi, wife of pastor Ashraf Masih, leader of the Khushkhabri (Good News) Church affiliated with the Pentecostal denomination in Chak 61, was at home when the attackers descended upon her residence. Displaying incredible bravery, she prevented them from entering through the gate. Undeterred, they sought access through a window and attempted to ignite a fire.
In a bold move, she threatened to self-immolate alongside the Bibles if they continued with their destructive intentions.
"I also cautioned them that, if they pursued setting the fire, I would ensure one of them would be trapped with me," she told CT. This daunting declaration deterred the assailants, sparing the church from flames.
In the Yahawa Yari (Jehovah Jireh) Church located in Chak 61, a young man named Shaan Masih, just 21 years old, displayed immense courage. As flames engulfed the church, he quickly doused a bedsheet with water, wrapped it around himself, and dashed into the inferno. Through his brave act, he managed to rescue at least 20 Bibles that hadn't yet been consumed by the fire.
The Amazing Grace Church, located in Chak 126, stood in humble simplicity, marked by only a boundary and sheltered under a tent. A cross had not yet been erected. However, this did not deter the attackers. They demolished the church's boundary wall, seized its iron gate, and took the tent. "We had plans to construct a school and a more permanent structure for the church," pastor Ashraf Masih informed CT. "But the local residents seemed uncomfortable with our religious services. Even though they never openly voiced their objections, this incident reveals their underlying sentiments."
Recounting the harrowing events of that fateful day, Rahat Abbas, a member of the Presbyterian Church in Chak 61, shared that only women were present when the hostile mob descended upon them. "They forcibly removed the cross, tied it to a motorcycle, and dragged it mercilessly through the streets before discarding it into an open sewer," he told CT, his voice thick with emotion. "The scene was so brutal and chaotic that young Christian girls, struck with terror, ran from their homes in a desperate bid for safety. As they fled, some men on motorcycles followed, revving their bikes and performing lewd and indecent acts, further heightening their fear and trauma."
In a parallel distressing incident at the Salvation Army Church in Chak 61, the mob didn't just resort to brute force; they came prepared with a crane. They used it to demolish the church wall, then proceeded to set the sacred space ablaze. Asghar Masih, a 61-year-old man whose home is adjacent to the church, attempted to intervene and halt their actions. However, his efforts were met with violence, as the mobsters lashed out and beat him. "To add insult to injury, after breaking the cross from the church, they dragged it through the open drains, ensuring it was defiled with fecal sludge," he told CT.
"After the onslaught on the church, they turned their rage toward our homes," recalled the somber resident. "As they advanced, our men, women, and children fled in desperation to the nearby fields. Their threatening chants echoed behind us: 'Chuhras (a derogatory term for Christians), we won't spare a single one of you.'"
"Our women, clutching their infants as young as two days old, sought refuge in the sugarcane fields, spending an agonizing night there."
Masih paused, reflecting on the bitter irony of their situation. "It's heart-wrenching to think that we, who clean up their filth as sanitation workers, are subjected to such cruelty and humiliation at their hands."
According to a TV journalist, Iqrar-ul-Hassan, at around 5 a.m. pages from the Quran had been discovered with handwritten messages insulting Islam, its prophet, and its followers. The note purportedly came from Raja Amir, a 23-year-old sanitation worker, likely illiterate, and his brother, Rocky Masih.
The author asserted fearlessness, providing Raja's phone number, national identity card number, and the names of both his father and grandfather. It included photos of him and his father. Hassan reports that when Raja came to know this, he was seen arriving at the scene and tried to snatch these papers. Later reports say that he, along with his family members, fled from the scene.
By 9 a.m., the majority of Christians from the Christian Colony and the adjacent Isanagri (Jesus Neighborhood) had evacuated their homes in fear. From the Jamia Masjid Mehtab, a mosque of significant importance located near the Christian Colony, an announcement was made. According to the First Information Report (FIR) filed at the City Jaranwala Police Station, the call to action declared:
A Christian from Christian Town has desecrated the Holy Quran. All clerics and Muslims are to assemble in front of the Jamia Masjid Mehtab. While you're preoccupied with your breakfasts, shame on your commitment to Islam. It's as if you should die (for such negligence). The roads should have already been blocked. If law enforcement doesn't take action, we must protest.
According to the FIR, a mob of 500 to 600 individuals, armed with petrol bottles, rods, and sticks, was led by Asif Ullah Shah Bukhari, a leader of the TLP. This mob congregated in front of the mosque before launching its assault on the nearby colony and the Catholic church situated within it.
A Catholic priest, Khalid Mukhtar, told CT that as soon as he came to know about the incident, he arrived at Christian Colony and negotiated with religious leaders of various Muslims sects. But all discussions failed.
"I was in Christian Colony when I got wind of the mobs attacking the parish house in Nasrat Colony, which is just five kilometers away." The sheer pressure and anxiety of the situation caused his blood pressure to spike dramatically, leading to blood pooling in his eye. Though he was still recuperating, he rushed to the church, even while it was ablaze.
The mob's fury toward Christian symbols was palpable. After plundering, vandalizing, and igniting the Presbyterian Church, the Full Gospel Assemblies Church, Bibles, and homes in Isanagri, their rampage did not stop. They crossed over to the opposite side of the main road, targeting the Christian graveyard. There, they shattered the crosses marking the entrance and even desecrated the crosses atop the graves.
During the turmoil, the police presence was notably absent, especially in the villages. In the few areas where they were on site, they often stood by passively. Some officers even pleaded with the attackers, urging them not to usurp law and order, while simultaneously assuring the mob that they shared their outrage and would ensure the culprits faced justice. With the police's inability to contain the protesters, the situation escalated to the point where the Rangers, a paramilitary force, had to be summoned. They arrived late into the night. By that point, the police department had managed to apprehend the suspects. With the situation finally under control, the mob began to disperse.
Across Pakistan, many raised questions regarding the perceived negligence of the police during the attacks. However, Usman Anwar, the Punjab inspector general of the police, maintains a different stance. He firmly believes that the police performed their duties effectively. He emphasized that resorting to gunfire was not an option, as it could have potentially escalated tensions and violence throughout Punjab.
Chief justice designate Qazi Faiz Isa visited Christian Colony and the burned houses where he was told that, despite such a huge catastrophe, only one senior police officer had been deployed. He ordered other police officers to be deployed to conduct an investigation.
Currently, Pakistan operates under a caretaker setup which possesses limited powers. The caretaker prime minister, Anwaar ul Haq Kakar, expressed his deep distress on Twitter over the images from the attack, vowing stern action. Concurrently, the caretaker chief minister, Mohsin Naqvi, pledged the restoration of the churches and compensation within a short span of "three to four days" and two million rupees ($6,700) for each family. (This compensation is apart from that of churches.)
Yet these promises seem to be diluted at the local administrative level. Their version of "restoration" appears to be merely a cosmetic attempt to erase evidence of the violence, as crews have been dispatched throughout Jaranwala to whitewash and paint over signs of the attacks. This minimal effort, though, focuses predominantly on the primary churches in the city, overlooking the many other churches that suffered extensive damage.
"These renovation workers come equipped with a few hundred rupees' worth of whitewash. Wherever they spot burn marks, they just paint over them, erasing the evidence," said Shaan Masih from Chak 61. "The very individuals from our neighborhood—those involved in the attacks—walk around freely. They mock us as they pass by, ominously hinting that things won't remain peaceful and that they'll 'teach us a lesson' in due time."
While hundreds of Muslims participated in the attacks and arson against Christian properties, there were pockets of resistance where neighboring Muslims rose to the defense of their Christian counterparts. In Chak Pathan, for instance, the entire Muslim population of the village united to repel the attacking mob, ultimately forcing them to retreat. Similarly, in the Christian colony, houses on one street were spared thanks to intervention from Shiite Muslims. Naseer Ahmad told CT that they blocked the entrance to the street. "In this struggle, many of us were beaten by the mob but we did not let them enter."
They misdirected the attackers by claiming the homes belonged to Muslims, even placing verses indicative of Islamic ownership to further convince the assailants. These acts of solidarity demonstrate that amid the chaos and hostility, there were still instances of unity and shared humanity.
Over 100 suspects have been detained in connection with the recent attacks, but historically, perpetrators in such cases have often evaded punishment. There is a troubling pattern of impunity for such heinous acts.
For instance, in the 2009 Gojra incident, more than 100 houses and seven churches were set ablaze, resulting in the deaths of six Christians trapped in the inferno. Yet, despite the severity of the incident, no one was held accountable.
In another incident in 2013, the police took the role of the complainant after 112 houses were torched in Joseph Colony, Lahore. However, all the accused were eventually released due to a lack of evidence.
Now, with the police once again acting as the complainant in the current FIR case, there is widespread skepticism regarding the prospects for justice, especially given the increasing popularity of the TLP in the wake of Governor Taseer's assassination and the subsequent lionization of his killer, Qadri.
Shoaib Suddle, the former inspector general appointed by the Supreme Court of Pakistan as a commissioner to oversee the implementation of its June 2014 judgment on the rights of religious minorities, expressed his concerns in an interview with CT. He revealed that just two weeks before this tragic event, he had warned all inspector generals of police about the escalating tensions between Muslims in India and Pakistan. Moreover, he had pointed out the recent Quran burning incident in Sweden as an indication of inflamed sentiments.
"Sadly, it seems my warning went unnoticed," said Suddle.
He further speculated on the root causes, suggesting that it might have been an intelligence oversight, or the situation escalated too rapidly for intelligence agencies to react promptly. Suddle firmly believes that an unbiased and thorough inquiry is essential to prevent such calamities in the future. Moreover, he emphasized the pressing need for fostering interfaith harmony, building mutual respect and understanding for various religious beliefs, and ensuring that the fundamental rights outlined in the Constitution are genuinely upheld and respected.
Under mounting pressure from the TLP, the Pakistani government in June was compelled to concede to a 17-point agenda, which notably included the prosecution of blasphemy suspects under anti-terrorism charges. The repercussions of this capitulation became apparent quickly, with a sharp uptick in cases following the Quran burning in Sweden.
After the distressing episode in Jaranwala, anxieties have only intensified as conditions deteriorate rather than improve. In a single month, Sargodha district alone witnessed the registration of three such cases, with police forces trying to prevent Muslims from instigating communal violence. Soon after Jaranwala, another case surfaced in Sargodha, followed by one in Sahiwal, situated approximately 155 kilometers from Lahore and roughly 120 kilometers from Jaranwala.
In recent incident in Faisalabad, a Muslim resident left a water-drenched Quran on the dividing wall between his and a Christian family's home. While the Christian family promptly informed the police, who secured the Quran, the Muslim household claimed that the religious book was placed there because it had become wet. This seemingly trivial act, however, was enough to put the Christian family in jeopardy.
A Christian leader, Aamir Bashir of Voice of Minorities Pakistan, based in Multan, conveyed his concerns to CT. Highlighting the forthcoming elections, he observed, "The rising influence and mobilization of TLP is geared toward capturing more votes. We had anticipated this, and regrettably, foresee no immediate end to our tribulations."