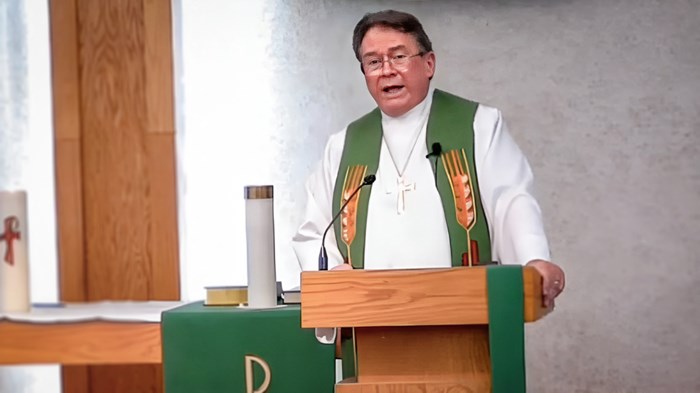 Living Word Lutheran Church in suburban Chicago had expected to be without its pastor on Sunday since he surrendered to authorities in Georgia days before.
Chaplain Stephen Lee bought a one-way ticket to Atlanta and turned himself in Friday on charges related to election interference, the last of 18 people indicted along with former president Donald Trump. He wore a clerical collar in his booking photo.
Prosecutors allege that Lee went to the home of a Georgia election worker in an attempt to sway her testimony.
Lee ended up being released on bail, backed by the prayers of his congregation and financial support from a Christian advocacy group.
"I just have to say this. I am just so proud of you folks. … We were planning on possibly my absence today, but you didn't skip a beat," Lee told the congregation in Orland Park, Illinois, where he has been serving for three and a half years amid a pastoral vacancy.
Last Sunday morning, he preached from Isaiah and Romans, and the church lifted up his family with "prayers of guidance and blessings as they work through their current struggles, and a prayer of thanksgiving for support."
Part of that support came from the Illinois Family Institute, which set up a legal defense fund to help cover 10 percent of his $75,000 bond for release. The Christian group has partnered with a company called Make Honey Great Again, which agreed to donate a portion of sales. Its honey comes in bottles shaped like Trump's head.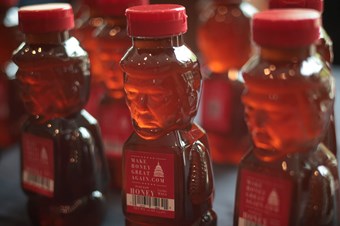 Image: Win McNamee / Getty Images
"You may like or dislike the bottle design, but it's filled with healthy, pure, raw honey and we hope the uniqueness of the packaging will generate awareness, prayers, and donations for Chaplain Lee," the Illinois Family Institute wrote.
Between Monday and Thursday of last week, the Illinois Family Institute's fund had raised $4,000, and Herneitha Richardson, the host of a pro-Trump podcast called Diamond and Silk, covered the remaining $3,500 of his bail, according to Lee's attorney David Shestokas. He called it a miracle that the pastor didn't have to spend time in jail.
Lee's indictment stems from his visits to the home of a Georgia election worker whom Trump falsely accused of pulling out "suitcases full of ballots" to interfere with the vote. He has been charged with violating Georgia's RICO act as well as conspiracy to solicit false statements and writings, criminal attempt to influence witnesses, and influencing witnesses.
In the aftermath of the contentious presidential election in 2020, Lee went to Ruby Freeman's house twice, and she called the police. Reuters reported that he told the officers, "I'm a pastor, and I'm also working with some folks who are trying to help Ruby out. And also get to some truth of what's going on." He had driven to Georgia from Illinois.
Shestokas and Lee's supporters see his outreach to Freeman not as political maneuvering but as genuine pastoral concern.
"If this case in Georgia is successful and criminalizes election contests, providing legal advice, lobbying legislatures, free speech, freedom of religion, or even offering pastoral services—the basic underpinnings organizing society will be severely damaged," read a press release from Shestokas.
The attorney said that as a former police chaplain, Lee was compelled to offer on-the-ground assistance at national crises, having ministered after the Columbine school shooting, September 11 attacks, Hurricane Katrina, the 2017 mass shooting in Las Vegas, and several natural disasters.
"If you consider Reverend Lee's history of traveling to unusual settings, and offering this combination of law enforcement and pastoral experience to assist people that are under stress, it's not out of character," Shestokas told the Daily Beast.
"And it may not be something you do, or I do—I wouldn't—but I don't have the same history that he has. … You know, so many of the big stories that are headlines around the country in the last 30 years, he's been there. He's kind of the Forrest Gump of crises in America."
The indictment, however, charges that Lee—along with Willie Lewis "Harrison" Floyd III of Black Voices for Trump and Trevian Kutti, a publicist—were there in an attempt to sway Freeman as Trump fought Georgia's election results.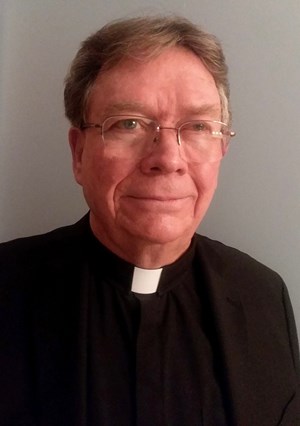 Image: Courtesy image
The prosecutors allege that Lee, Floyd, and Kutti misled Freeman "by stating that she needed protection and by purporting to offer help, with the intent to influence her testimony."
According to the Northern Illinois district of the Lutheran Church–Missouri Synod, Lee is a retired pastor, emeritus, a designation given to pastors over 55 who "no longer serve under a call." His church is currently searching to fill its pastor position. When queried by CT, the district declined to comment further on Lee's case.
Illinois Family Institute executive director David E. Smith said the legal fund raised over $10,000 as of Tuesday. He told CT that there has been a lot of interest in Lee's case, which he believes has implications for religious liberty.
"I think it's fairly evident to people that the government is being weaponized," Smith said. "It appears to me that Reverend Lee's only mistake was knocking on a door … this is a precedent that cannot be permitted to stand."
Shestokas says he and Lee regularly pray together, with the pastor thanking God for his provision and repeating that no matter the outcome "God is on his throne."
Lee is awaiting the court arraignment in the case.
As of Monday, Trump's arraignment has been slated for September 6. According to news reports, trial dates are uncertain in the Georgia case as individual defendants pursue varying legal strategies.