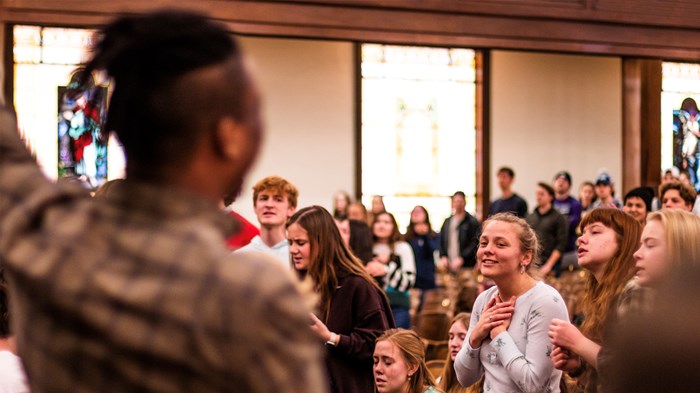 Image: Sam Reed
Today's college students know their generation can be skeptical—cynical, even—when it comes to big Christian movements. Young believers recognize that claims of God at work can be faked or manipulated, so they would rather ask questions and do their research before adding their "yes and amen" to the cause.
For Generation Z, this sense of discernment can be a strength when it comes to how they approach the revivals taking place on college campuses across the US this month.
When a week-long revival broke out at Samford University in Birmingham—one of several schools whose chapels filled following news of spiritual outpouring at Asbury University—Bethany Walters wanted to stop and pray before jumping in.
"I think with any type of social movement I am more skeptical," said Walters, a first-year student. "I did not go because I was afraid that it was me wanting to be a part of something without really pausing and thinking about how that would affect me or my relationship with the Lord."
Christian college students across the country told CT that they were impressed that Asbury and other schools prioritized student-led worship and resisted calls to livestream the events. They said they were encouraged to hear reports of reconciliation and revival and stirred to seek the Spirit's work in their own lives.
But they still had questions—and didn't immediately assume that what happened elsewhere should take the same format at their school.
"Whenever you're trying to copy something that's happening at one school and bring it to another, that does raise the question of, 'Is this genuine stuff that's happening, or is it being kind of forced?'" said Dallas West, junior marketing major at Louisiana State University, where Christian fellowship groups have pushed to hold worship nights.
Beneath those questions, young Christians see a desire among their generation for authentic faith.
"I think people of my generation are hungry to know the truth and are hungry for something deeper," said Lydia Kang, a senior international relations major at Wheaton College in Illinois.
For people ages 10 to 24, suicide rates increased almost 60 percent between 2007 and 2018, according to the Centers for Disease Control, and Gen Z is about twice as likely as Americans over 25 to battle depression and feelings of hopelessness, according to the Walton Family Foundation and Murmuration.
As the least-religious generation in the US, Gen Z may not seem to be a likely incubator of spiritual revival. One-third of Gen Z identifies as religiously unaffiliated, and they are leaving the faith of their childhood earlier than other generations, many well before leaving for college, according to the American Enterprise Institute's American National Family Life Survey.
But the recent string of revivals can also be a reminder of God's presence and ministry through Generation Z.
Sarah Christensen, a student at Grand Canyon University in Phoenix, had been skeptical when she first heard about the Asbury revival through a group chat. As she researched, however, she started to really admire the student leaders in their commitment to not broadcast the services. She felt convicted by what God was doing with people her age 1,800 miles away.
"His sovereignty is not based around me," said Christiansen, first-year Christian studies major. "It allowed me to really check myself and be like, 'Okay, I'm not putting God in a box, because that's a very small God if that's the case."
Braden Myers, junior accounting major at Geneva College, felt similarly.
"When we see God move in such a powerful way, it can give us peace and comfort," he said. "It is our king who is reigning."
Gen Z students also pointed out that revival doesn't have to take place in college chapels or in large gatherings, though those can be powerful. The news of revival has them seeking the Holy Spirit in their own contexts, in the stillness of dorm rooms or the bustle of campus.
"I don't think that [Asbury] should be a beacon call for every college campus, every church to do exactly the same thing," said Sam Stockfisch, sophomore at Grand Canyon University. "What we may need is people on campus asking people, 'Hey, how can I pray for you?'"
Days before hearing about the campus revivals, Esther Foster, first-year English writing major at Wheaton College, had been praying to ask God to be the center of her life again. After she joined a group of students on a trip to Asbury, she reflected on God's calming presence and voice, as described in 1 Kings 19:11-13.
"I've been thinking a lot about that passage, the one where God comes with a still, small voice," Foster said. "I think technology has kind of damaged [Gen Z] to kind of be expecting big and exciting things. But God doesn't always move in the most exciting and thrilling ways. My prayer is that we are just more open to looking for God in everyday life."
During the trip, arranged through the college's chaplain office, she got a message from a friend at Michigan State University, and the students stopped to pray for the campus amid the active shooter incident that claimed three lives.
"That was really impactful for me," Foster said. "They were really excited about going to the revival but were able to become serious suddenly and change their emotions to, 'Yeah, wow, we need to grieve right now.' I definitely saw God working in that."
Students at Asbury can now testify—revival can and does happen in the midst of the everyday.
For Samuel Reed, junior at Asbury University, it began just like any other Wednesday chapel. He directed the broadcast in sweatpants and a sweatshirt. Panning the camera, he focused on Zach Meerkreebs, the assistant soccer coach, who preached on Romans 12 and love in action.
"The chapel was great," Reed said. "I definitely was very moved by it, and I felt that many other students felt the same way. I cut the feed, and we all moved on."
Reed promptly left chapel, worked a shift at the Bistro, a fast-food cafeteria, and grabbed some lunch. Sitting in his Spanish literature class, he cracked open a copy of Literatura Española when a breathless chapel intern swung his head into the classroom and told the class that worship never stopped.
When class ended, Reed made his way to the almost 100-year-old chapel. At first glance it simply looked like extended worship, but Reed recognized something different. "You could see it in their eyes," he said, photographing his classmates singing praises and lamentations unto the Lord.
In the days to come, he watched the student body experience the peace and transformation they'd called for. A dozen people prayed over a friend who had contemplated suicide. He saw students making amends with each other, as Scripture readings emphasized Matthew 5:23-24 and seeking reconciliation. "It was incredible to watch," Reed said.
On Sunday, Wheaton moved its monthly all-school communion from the chapel to gym. Student leaders conducted foot-washings and prepared to receive prayer requests. Three students from Asbury came to share from the revival there, and one told the crowd, "Be expectant for God to move, but don't have expectations for how God will move."
Students prayed over one another and held each other while crying and repenting of their sins. J. T. Reeves, student chaplain of worship, told the students, "Just because it started in Asbury doesn't mean that it's inauthentic to come to Wheaton."
Near 1 a.m., students began to approach the mics in the front of the auditorium, repenting of addictions such as pornography and lust and testifying to Lord's deliverance in areas of mental illness. They plan to gather again in the gym Monday night.
At the campus chapel at Cedarville University in Ohio, Lalitha Gadde spent over 11 hours singing, praying, reading Scripture, and playing the piano. Her friends prayed together over the situations causing them anxiety and despair.
Gadde said it reminded her of the Holy Spirit's intervention in her parents' lives in India and how they continued to seek out the Spirit in their church in the states. Gadde's father, an elder, would lead all-night prayers where he'd read an entire book of Scripture.
A first-year pharmacy student at Cedarville University, Gadde prays that ultimately what comes out of this revival for Gen Z is the same lesson that Paul taught Timothy. "He told him, 'Let not anyone look down on you for your youth, but be an example,'" she said.
At Samford, first-year student Sarah Noe played the guitar as part of a rotating student worship team at its revival that began one week after Asbury's. The band picked songs as they went along, pulling up chords on an iPad. The first night, students stayed in the chapel for worship until 3 a.m.
As special as it was to be a part of the campus's extended worship, she believes that revival isn't just what happens in their chapel and isn't contained by four walls.
"Revival is how we live our lives," Noe said. "It's how we come out of an experience like this changed."
Anna Mares is a freshman at Wheaton College studying international relations with minors in English and Spanish. She is features editor of the Wheaton Record and enjoys London Fogs and collecting flowers.