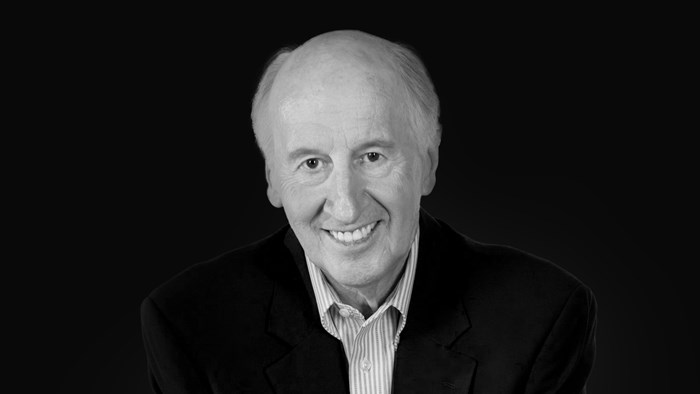 Image: Jack Hayford Ministries / edits by Rick Szuecs
Jack Hayford, the Foursquare Church leader who taught evangelicals that God is enthroned in the praises of his people, died on Sunday at the age of 88.
Hayford was the longtime pastor of the Church on the Way in Van Nuys, California; the author of "Majesty" and more than 500 other praise and worship songs; and the fourth president of the International Church of the Foursquare Gospel. He regularly led weeklong seminars for pastors that expanded and shaped evangelicals' view of worship. He convinced a wide range of people not only to occasionally raise their hands while praying and accept glossolalia as a special prayer language but also, more importantly, to see worship as central to the work of the church.
"Worship has often been misunderstood as the musical prelude," Hayford wrote, "rather than the means by which we, as the people of God, invite the dominion of his kingdom to be established on earth. Psalm 22:3 says that the king of kings is literally 'enthroned' in our praises. Wherever God's people come together to worship, we become a habitation for his presence."
Hayford was a Pentecostal bridge-builder and a pastor to pastors who did much to promote charismatic renewal practices. Even people who had historically been skeptical of Pentecostalism were drawn to Hayford.
"I think pastors sense in him what they are longing to be," Lloyd Ogilvie, a Presbyterian minister who worked closely with Hayford, said in 1989. "He is rooted in historic Christianity, has the fire and dynamism of a charismatic, understands the relevance of social responsibility, and can mobilize individuals. … You don't usually find those qualities combined in one person."
CT once billed him the "Pentecostal gold standard," citing Charisma Media founder Stephen Strang, who said, "Pastor Jack would fall into a category of statesman almost without peer."
Hayford was born in Los Angeles in 1934, the eldest child of Jack Hayford Sr. and Dolores Farnsworth Hayford.
His parents were not Christians and didn't turn to prayer when infant Jack developed a condition in the tendons of his neck that could have been fatal. A Farnsworth cousin, however, walked into a Foursquare church in Long Beach, California, knowing the Pentecostal denomination founded by Aimee Semple McPherson believed in miracles and that one of the four "squares" of the gospel that the church taught was healing. The cousin gave the church a note with Hayford's name and diagnosis and asked the people there to pray.
They said they would.
"The next day, my parents began to notice that things had changed," Hayford said, sharing his testimony 80 years later. "Within the next few days, the doctor said, 'This baby is well. There is nothing wrong with him.' And not only did the doctor declare me well, he refused to take the money from my parents for the few payments he was going to charge, because, he said, 'I had nothing to do with the healing of this baby. This has to have been something God did.'"
Hayford's parents praised God for the healing. A year later, they went to the same church and went forward to accept Jesus as the congregation sang, "Whoever Will May Come."
Jack Hayford Sr. quit church a short time later, however, when he overheard two women commenting on his smoking habit. He stayed away from church for a decade. Dolores Hayford would not go to church without her husband, but she did attend Bible studies (eventually becoming a Bible teacher herself) and insisted her children attend Sunday school. As the family moved around, young Jack was sent to Quaker, Methodist, Presbyterian, Christian and Missionary Alliance, and Foursquare churches.
Hayford personally accepted Jesus at age 10. He discerned a call to ministry in high school but doubted his call as his teachers pushed him to go to a state school to study science or journalism or both. At the last moment, with the encouragement of a Lutheran teacher, Hayford decided to go to Bible school instead of a state college. He returned to Southern California and enrolled at the Foursquare Church's L.I.F.E. Bible College.
He met and married Anna Smith at college. Both became ministers in the Foursquare Church and worked with the national denomination's youth department until 1969, when the Hayfords became pastors of a congregation in Van Nuys.
The church had been one of the first Foursquare churches, but by the late '60s it was dwindling and could only claim regular attendance of about 25. The place felt suffocating, and Hayford wondered, for a while, if he had made a terrible mistake.
Then he was moved to cleanse the church with praise.
"As I walked through the sanctuary," he later recalled, "I would be saying, 'Praise Your Name, Jesus, Hallelujah, Lord!' and I would clap my hands—'Praise Your Name, oh Jesus, Hallelujah'—I would literally sing the words, clapping my hands. I was conscious of challenging something in the atmosphere of that place."
Hayford did that for more than a year until, one Sunday, the church started to change and the spirit of the place felt different, like there was air to breathe again. After that it started to grow. Hayford became convinced of the centrality of worship in the life of the church.
He also had a change of heart toward non-Pentecostals, which would prove critical throughout the rest of his ministry. Hayford described it as a revelation. He was sitting at a stoplight near the Church on the Way and saw a Baptist church on the corner. He felt God tell him to pray for the church and felt an overwhelming love for the Baptists.
Then a few days later, he saw a thriving Catholic congregation and felt himself get jealous of the church. He asked God why he would allow a church that was wrong about important things to flourish. He felt God respond, "Why would I not be happy with a place where every morning the testimony of the blood of my Son is raised from the altar?" Hayford committed to building bridges from the Pentecostal church to other Christians, and connecting with them whenever possible to praise God.
Hayford's church grew to about 10,000 in weekly attendance by the end of the 1980s. His influenced reached beyond Van Nuys with his books, involvement in Promise Keepers and other parachurch organizations, and speaking engagements at worship conferences.
In A History of Contemporary Praise & Worship, scholars Lester Ruth and Lim Swee Hong say Hayford became the most well-known teacher of praise and worship theology and practice, introducing many to the Pentecostal "liturgy" that flowed from congregational singing to spoken praise, prayer in spontaneously created small groups, and biblical instruction, all aimed at the adoration of God.
Hayford's ideas about worship may have spread furthest, however, with his most popular song, "Majesty." From 1989 to 1994, the song was sung more in American churches than any other, according to Christian Copyright Licensing International data. It remained in the top 10 into the early 2000s. "Majesty" has also been published in 34 hymnals, including Baptist, Anglican, and African Methodist Episcopal publications.
"So exalt, lift up on high the Name of Jesus," the song says. "Magnify, come glorify, Christ Jesus the King. / Majesty, worship His Majesty. / Jesus who died, now glorified, King of all kings!"
Hayford wrote the song while vacationing in England. He and his wife, Anna, visited Blenheim Palace, the birthplace of Winston Churchill. That inspired Hayford to think about the "kingdom authority" of Christians. He thought about how Jesus came not only to forgive sins but also to help humanity reestablish its "royal relationship" with the King of Kings.
"'Majesty' is also a statement of the fact that our worship, when begotten in spirit and in truth, can align us with His Throne in such a way that His Kingdom authority flows to us—to overflow us, free us, and channel through us," Hayford wrote.
Hayford also exercised a growing earthly authority among Pentecostals and evangelicals. In 1997, he launched a TV series on Trinity Broadcasting Network called Teach Us to Pray, and a few years later started a radio series. In 1996, he started The King's College and Seminary in Los Angeles, which included the School of Pastoral Nurture, offering popular intensive courses to pastors once a month for more than a decade.
Hayford twice declined nomination to be president of the Foursquare Church but was finally persuaded to accept the position in 2004 when the previous president, Paul Risser, was forced to resign after losing $15 million in two fraudulent investment schemes. Risser had been brought in to replace John Holland, who also lost money in what the church deemed a "severe failure at managing according to policies." Hayford led the denomination out of scandal, restructured leadership, and established a financial foundation for the denomination.
As a pastor to pastors beyond the Foursquare Church, Hayford also agreed to help restore a number of disgraced men to ministry. He was part of the team who agreed in 2007 to work with Ted Haggard, the National Association of Evangelicals president who confessed to buying methamphetamine from a male prostitute.
"He has an ability to take pastors who are burned out or frustrated or whatever," said one of the board members at Haggard's church, "to take someone going through something as difficult as Ted Haggard's situation, and deal with what needs to be done."
Haggard abandoned the restoration process after a year. He was accused of sexually abusing several young men at his new church in 2022.
Hayford, for his part, cautioned church leaders not to rely too much on formal accountability structures. A fruitful ministry had to be grounded in prayer and fellowship with Jesus, regular Bible study, personal purity, and self-discipline. A minister's relationship to God, he said, was the only sure safeguard.
"Ultimately," he told CT, "it's the only thing that will make me accountable to anyone else—my wife, my congregation, even myself."
Randy Remington, the current president of the Foursquare Church, said Hayford was one of the great leaders in the history of the denomination.
"In our Foursquare family, we 'retired his jersey,' so to speak. There will never be another Jack Hayford," Remington told Charisma. "Pastor Jack was a Kingdom ambassador whose influence transcended denominational, generational and global boundaries."
Hayford was predeceased by his wife, Anna, who died in 2017. He is survived by his second wife, Valarie, and four children: Rebecca, Jack III, Mark, and Christa. The Foursquare Church is planning an online memorial service.