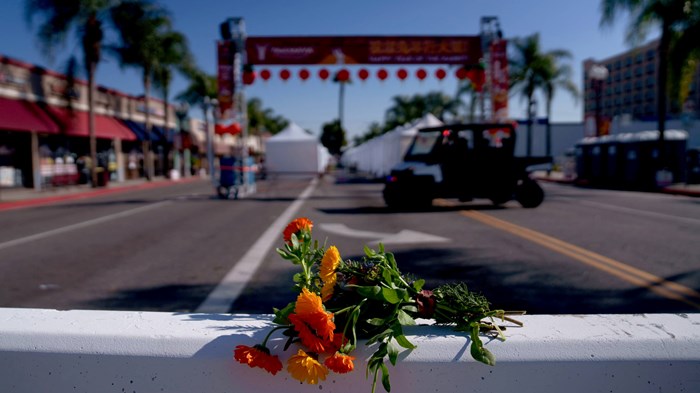 Image: Eric Thayer / Getty Images
Last weekend, pastor Jesse Chang had prepared to gather with his church in Monterey Park, California, for worship and a Lunar New Year potluck. Instead, his wife woke him up early Sunday to tell him a nearby shooting had killed nearly a dozen people.
He quickly realized everything about the service would need to change. His predominantly Asian and Latino congregation, River of Life, meets in a building just four blocks from the crime scene.
With a 65 percent Asian American population, Monterey Park in Los Angeles County is considered the nation's first "suburban Chinatown." The shooting occurred Saturday night inside the Star Ballroom Dance Studio, just an hour after the conclusion of the city's Lunar New Year festival blocks away.
The suspected gunman, 72-year-old Huu Can Tran, then entered a second dance studio in the nearby city of Alhambra and was disarmed before fleeing the scene. Tran was found later the following day in a white van in nearby Torrance where he died of a self-inflicted gunshot wound.
The mass shooting was the first of two to take place in California this week. At least 7 people were killed in two related shootings on Monday in Northern California's Half Moon Bay. The suspect, 67-year-old Chunli Zhao, was apprehended shortly afterward by police.
But on Sunday morning, many details about the Monterey Park shooter's whereabouts and motivations were still unknown, placing Chang in a difficult position.
"They hadn't found the shooter yet and because where we meet is so close to the event, we asked whether we should even meet because people might be fearful of coming down," he said.
The young church, planted in 2020, was forced to gather online and cancel Lunar New Year festivities because their location had been closed off due to the investigation. Chang shifted his sermon to focus on lament in Psalm 13, encouraging congregants to bring their emotions before God, then broke everyone into online video chatrooms for discussion.
"It was hard, but I think it was what we needed to do," said Chang, who wanted to allow congregants a space to process their "grief and lament" and "mourn as a community."
Three miles away in Alhambra, two blocks from the second ballroom, Mandarin Baptist Church of Los Angeles was also gathering for worship.
A 60-year pillar of the city's Chinese immigrant community, Mandarin Baptist draws over a thousand people to worship each week, but English pastor Garrett Ho said the celebratory holiday was marked by an uneasy dissonance.
"On the one hand, we had people who dressed up for Lunar New Year, children who were wearing Chinese dress and red outfits. We had a photo area set up so that people could take pictures," said Ho. "But there was also a somberness because that celebration had been tainted. I think that was heavy over us."
A pastor in the church's English service prayed for God's "justice and mercy" to prevail, but Ho said they wanted to be cautious before saying more because the news had broken so late at night and information was still trickling.
Several pastors who spoke with CT said they were the first to alert some members of their congregations of the shooting.
Image: Courtesy of John Lo
Back in Monterey Park, Chang worked with members of the Clergy Community Coalition, a network of pastors in the Greater Pasadena area, to host a Solidarity Prayer event outside City Hall that garnered attendance from dozens of community members.
"The church has to be on the streets, and in the parks, grieving with people, lamenting with people, being present," said John Lo, who helped organize the event and pastors Epicentre, a predominantly Asian American church in Pasadena. "Really, what happens on Sunday morning is just the setup for the church that happens from Sunday afternoon to the next Sunday morning."
Those gathered were able to pray for city officials, including the mayor and city council members. The vigil, which was put together in mere hours, was a result of longstanding ecumenical relationships Lo said the organization has built among churches in the region and city leaders.
"I feel very fortunate to have been working with pastors who are ahead of me in understanding what it means for us to engage in our community not just in crisis—but as part of the normal flow of what it means to be the church," said Lo.
According to Chang, who has pastored in Monterey Park for 15 years, the pace at which many Asian American churches, especially immigrant churches, engage on cultural issues can take a slower and more muted approach. He acknowledged that he himself isn't used to mobilizing his congregation at this speed.
Up in Alhambra, Ho says he's waiting to debrief with Mandarin Baptist's other pastors, acknowledging that the church's three congregations—English, Cantonese, and Mandarin—may be responding to the tragedy in ways particular to their demographic and cultural differences.
"I'm not sure if this is us as an immigrant church or just a more established church, but we have to be careful," said Ho. "We don't want to overreact. But at the same time, we need to respond."
"How do we lead our church members through the process of grief and their understanding of what took place? That is a question before us. I think we're still processing it."