Preaching After the Unthinkable
In the wake of murder, Stuart Briscoe talks tragedy, grief, and the difficult art of the funeral sermon.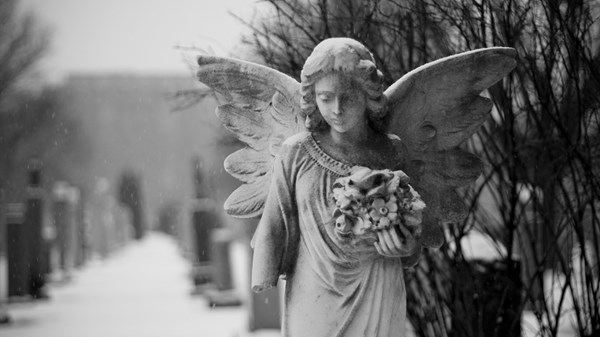 Preaching After the Unthinkable
Jennifer Sebena was a member of Elmbrook Church in Brookfield, Wisconsin, and a police officer in the local force. On Christmas Eve, she was brutally shot to death while on duty. Her church and city were stunned when her husband Benjamin, an Iraq veteran and active Elmbrook member, was arrested and accused of killing her. Veteran preacher Stuart Briscoe, a friend of Jennifer's family and minister-at-large of Elmbrook, preached her funeral sermon, which went viral in the days following her service.
Unfortunately, the story of a life cut short is a common headline. Recent murders in Colorado, Oregon, New York, and Connecticut have shocked the U.S. public. Most pastors will have to deal with tragic deaths—murder, suicide, accident—at some point in their ministry.
But in the aftermath of traumatic violence, what can a preacher say? Our editorial team sat down with Briscoe to hear why he preached what he preached to a shocked church and their community. You can find the full transcript of Stuart's sermon at PreachingToday.com.
This funeral was about as delicate as any we can think of. After a brutal murder, you have two families, including the victim's and that of her accused husband. You have 1000 uniformed police officers honoring a fallen comrade. You have the media there, and the whole community is watching you. How did you prepare?
Well, I first heard about the tragedy without thinking that I would be involved at all. It's twelve years since I was the senior pastor here at Elmbrook, and I have a roving commission now. A day or two passed after the killing before I knew that I would be speaking. So I had time to process the event.
I was thinking What do you say in a situation like that? And I fell back on this—we need to set the event in the context of worship. This is difficult for some people to grasp. But at this, or any funeral, I need to remind people that though the body returns to the dust, the spirit returns to the God who made it.
When people are at a funeral they are confronting a body that is returning to dust. Now the big issue is, is there a spirit that returns to God? The assumption upon which we operate is "yes." And if that is the case, then let us acknowledge that God. Let's acknowledge him as the Giver of life, the Sustainer of life, the One who presides over the termination of life. We set the context of worship.
But there's more than that. We needed to ask what the event of this death meant to Jennifer. We needed to ask what this death meant to the bereaved. And, extremely important in this particular event, we needed to ask what this meant to society and our community.
What happened to Jennifer is such a tragedy. Her husband, also a member of Elmbrook, is accused of her murder. How did you address his role in this?
I had to bear in mind that this was Jennifer's funeral. It was primarily about Jennifer. This is not about Ben, though Ben is certainly involved.
The thing to do was to talk realistically about the situation and then later, when talking about our response to Jennifer's death, to bring in some statement of concern for him. It would be ridiculous to ignore him, but the focus was not on him. He is a human being, and we should acknowledge that and we should demonstrate concern for him … but not at any great length.
When someone's preaching after a tragic death, what needs to be avoided?
In a situation like this, there are plenty of opportunities to put your foot in it. One of the huge mistakes is to make unwarranted authoritative statements.
What do you mean by that?
To talk into the situation with more detail or assurance than you actually have. That is a serious mistake. Sometimes we sentimentalize things like this, but we need to be very careful what we say.
I noticed this after the terrible situation in Newtown. A lot of people were talking how these little children are "angels" now, and things like that. I understand why people say that. They're struggling with a tragedy. But it's a mistake to say things that are just designed to make people feel better without any basis in truth.
Of course you don't want to make them feel worse by being thoughtless, or by expressing opinions that are nothing more than your opinions. But there are many ways that this can go wrong, that can mislead or confuse people, even with the best intentions.
With this in mind, is a funeral the place to share the gospel with the grieving?
I'm very uncomfortable when people come to me and talk about the funeral as a "wonderful opportunity for the gospel." "Boy, what a crowd we've got in here! Give 'em a real evangelistic message, Stuart!" I always say to them as good as it is, this is not an evangelistic service. This is a funeral. With that said, our hope is in the Lord, and so of course it's all about him and his work. Fine.
Remember, a funeral is not primarily about the deceased. A funeral is for the living. The deceased are in good shape if they're right with the Lord. Obviously we eulogize them. Obviously we talk about them and we thank God for them. But the issue is all the people who are there, who are remembering, who are grieving.
We're all about honoring the Lord in this situation. This means that we speak about his salvation. It does not mean that we give a rousing altar call "while every head is bowed and every eye is closed slip up your arm if you're going to say this prayer." That's not me. I think it's a misstep.
How do you handle funerals where the deceased was not a believer?
Well, you don't say things that are not true. But neither do you make definitive statements about that person's heart. In the end only God knows the reality of their faith. We all know we're in for shocks in eternity.
The spiritual reality is not always as apparent as it might be. We need to accept that. With that said, I don't believe in giving false hope. The situation is this—we are estranged from God, but he is actively in the job of redeeming us. That is predicated on the grace of God to take the initiative and the faith of man responding to that initiative. Only God knows the depth and the reality of that faith response. And so what can we say about our friend who is gone now? Well, God knows what his response was. We commit him to a God of love, of holiness, and of righteousness.
God loves this person who passed away to distraction. He is also utterly holy and will not countenance sin. But he has made means for it to be dealt with. He commits himself to being gracious but he will do the right thing. I would say that no matter the situation. It might be a mafia boss, and I say "only God knows his heart."
In a tragedy, pastors often have to speak not just to a grieving congregation, but to the whole community. What advice on dealing with the press can you give to pastors who find themselves in the public eye?
Our experience with the media has been positive. I think there are a number of reasons for that. One is that we've been very open with them.
The second is that we've been courteous with them, and have asked for their cooperation in handling the situation. We've asked them to respect boundaries and areas of privacy, but have never come down with a heavy hand to try and stop them from getting a story, or attending an event under public scrutiny. We have found that they have responded well to that.
We bear in mind that the media have an important job to do. And seeing it through this lens has had an impact for our church in the community. We've had tragic situations in the past that have been the major topics on our local talk shows. These have resulted in healthy discussion and citywide debate of important events and issues. All that has been the result of a good relationship with the press.
We had one particularly tragic event about twelve years ago. One of our "fire drum" talk show hosts, a man who seems to make a living out of creating tension covered the story. He talked about the funeral, about the person who had been involved in the deadly crime, and he said, "I heard that there were two thousand people at Elmbrook Church today for the funeral." On the air, he began to use all kinds of epithets to describe this person.
And do you know what happened? For the rest of the two-hour talk show, his phone console just kept lighting up. People from Elmbrook were calling in and talking to him about this. Our members were courteous and civil, but they put across a very strong point of view, a very healthy view, in front of the whole community.
It's been the same with Jennifer's death. After the tragedy, the local paper ran a full column editorial headed "Elmbrook Church Got It Right." The column went on to describe what we had and hadn't done.
So, treat the press as allies and coworkers. Outline your distinctives to them. Tell them what you want them to do and what you'd prefer that they didn't. Ask for their cooperation. I've found that we've always gotten it.
In the editorial you mentioned, what were some of the things that the paper appreciated?
They appreciated our openness about the situation. Accessibility, transparency, and availability. Also, our willingness to speak in down-to-earth terms about what we were dealing with, but also being firm enough to say what we believe. They appreciate straight talk.
My wife Jill was talking to somebody about the tragedy just the other day. He said to her, "You don't seem to have answers for some of these things." And she said, "I would rather tell you 'I don't know' than give you a bad answer. The best thing I'm capable of in this situation is a bad answer. So I'm going to tell you 'I don't know.'"
After Jennifer's death, with all the media coverage, somebody said to me "Elmbrook's at its best when we have something like this." I'm not sure that's absolutely true, but there's a very real sense in which this community of believers come through in these events. They behave themselves well. They're supportive and realistic. They don't say silly or hurtful things, but they're frank. That is noticed outside the church.
How do you care for your own emotional health when you preach into a crisis?
I haven't given a lot of thought to that, quite honestly. There is this certainly an emotional toll in doing this. You're concerned with saying what needs to be said and not saying what shouldn't be said. Added to this is the enormous toll of dealing with people in unspeakable grief. There's an enormous toll just in recognizing the different currents of in your congregation.
At this particular funeral, we had a lot of high school kids that Jennifer and Ben had worked with at Elmbrook. That's hard. On top of that, we had over a thousand police officers in uniform at the service. Police officers are not happy campers when one of their own is gunned down. In addition to them we had the media, plus Jennifer's mother. Sitting next to her were the parents of the young man who has been charged with killing her.
Now just imagine the crosscurrents of emotion that are there. And you have to step into them, to be aware of them; you've got to sense them. That takes a toll on you.
What do I do to handle this? What I do every time I stand in a pulpit. I stand in a pulpit and I say to myself, "Lord, this is ridiculous."
A little boy came up to me between services on one occasion and said to me, "Stuart, do you have anything significant to say today?" And so I knew what the conversation had been in his family's car that morning. But that question stuck with me. Do I have anything significant to say? I looked at the crowd sitting in the auditorium and I knew when they'd gone it would fill again and again. I knew it was being recorded for radio and TV.
In that moment, I had to ask myself that question: Is there any possibility that I, limited as I am, can have anything significant to say to all these different people? The answer, humanly speaking, is no. It's nonsense. But I have implicit faith in the efficacy of the Word of God. I believe that preaching is God's method. I believe that preaching releases the innately powerful Word of God, under the anointing of the Holy Spirit, in a community of people. And that's why I do it.
We go out sowing seeds, and somebody comes along and waters them, but only God makes things grow.
How much pastoral care can you really give from the pulpit to people who are grieving or traumatized?
Well, I understand that my sermon can't address personal grief in great detail. From the pulpit, I can speak about our shared time and place: their loved one's life, this funeral.
Since a funeral usually isn't long after the death, people are still experiencing what I call divine numbness. I was talking to the bereaved at Jennifer's service, and asked them, "Do you have a sense of numbness? And do you have a sense of being 'held'?" They all said yes. I've seen this over and over again.
I said, "What I need to warn you about is that this will be like going to the dentist. He numbs the gum and you're glad for that with all the drilling that's going on. But later, that numbness wears off. The next couple weeks will be harder for you."
In the past, I've mentioned that in an actual funeral service from the pulpit. That's appropriate. In the past I have also covered the various stages of grief in the sermon. But I don't get into a long explanation about it.
I do believe that you can really engage in pastoral ministry from a funeral pulpit. I think all pastoral ministry starts in the pulpit. For me, that's where the pastoral work begins.
What's the role of the pastor in a time of tragedy?
To talk about Jesus. But to do it carefully, tastefully. In a natural way, an un-sanctimonious way. In terms that the man on the street appreciates. Our role is to show the relevance of Jesus in this crisis.
I talk about the story of redemption: creation, fall, and restoration. A lot of people say that makes sense. The message that I bring is not that God is in the business of making everything all right for everyone. Rather, God is in the business of turning this rotten, fallen world round so that eventually he'll make all things new. That's what's going to happen. In moments like these, people resist superficial language and ideas. But they will listen when you say that there is something fundamentally wrong here, but that God is into the change business.

01/28/2013