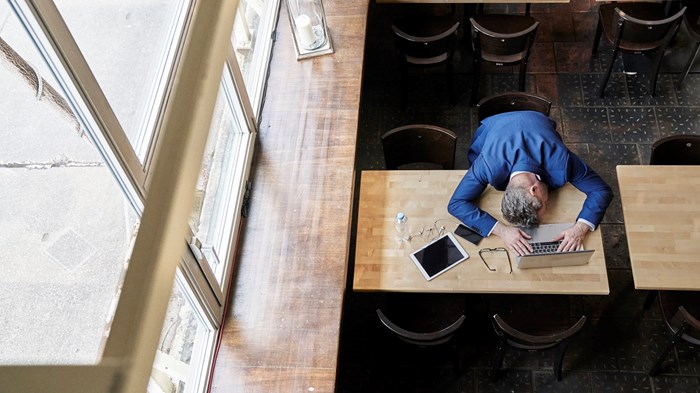 As the daughter, sister, and wife of four ordained pastors (not to mention my own ordination, marking four successive generations of 12 ministers and missionaries), my interest in the history of the clergy is hardly surprising. While observing pastors past and present, I'm always struck by how the unique challenges of ministry persist over time. Yet often our forebears had it worse—much worse. There's nothing like a glance back in time to help put your ministry into perspective and to provide a little levity to lighten the load. With that in mind, here are ten things to remember from church history when you've had a bad day in ministry.
1. When you decide to run errands in your sweats and awkwardly bump into one of your congregants at the store …
Remember Esaïe Gasc.
In 1773, Pastor Gasc made the questionable decision of wearing the costume of a dragon to a popular festival in the city of Geneva. After marching with the crowd in his dragon costume, he addressed the public with fanfare. Apparently, it was quite a thing to behold! When the Company of Pastors received word of his attire, he was reprimanded for behavior unbefitting a Genevan pastor and led to promise that he would never wear such a thing in public again.
2. When after months of interviews and after delivering your candidacy sermon, the congregation decides not to call you to the church …
Remember David Croppet.
In 1644, Croppet was nominated by the Company of Pastors to the country church of Jussy, but his nomination was rejected by the congregation. According to sources, this incident is the only time in 300 years of Genevan church history that this happened. So, be glad you're not known in history for that!
3. When your building project hits a snag with the local zoning board and city council …
Remember Robert Dunant.
After training in Geneva, Dunant accepted a position as pastor of the Reformed French Church in St. Petersburg, Russia. Over the course of 18 years, he worked tirelessly to advance the ministry there. In 1732, he spent a year traveling in Switzerland and Britain to raise funds in order to build a church, and his campaign was successful. Soon after the church was built, Empress Anna decreed that buildings along the river where Dunant's church was located must be made out of either brick or stone. Unfortunately, the church he had built was made out of wood and had to be torn down.
4. When someone discovers you're pursuing a sideline to make a little extra income …
Just be grateful you're not Pierre Clement.
Clement was living on the meager wages of a mission pastor in France and began to write comedies for the Parisian theater in order to supplement his income. Because the Company of Pastors was outspoken regarding the moral corruption of the theater, Clement was instructed in correspondence to stop his activity, which was considered unworthy of his position as a Genevan minister. Clement informed the Company that he would stop, but soon after, the Company discovered that he had in fact gone ahead and published a comedy. He was stripped of his ordination.
5. When a congregant is pestering you about the color of the new pew cushions …
Just be glad you weren't pestered by François DeLachenaz:
Francois was a man who incited controversy everywhere he went. In 1707, he single-handedly ignited a civil war within the city when he gathered signatures to petition a decision by the Genevan government. He wrote lengthy letters and poems ranting against the wigs that the clergy wore.
6. When you're overtired from preaching twice every Sunday and leading the mid-week Bible study …
Remember Jean-Francois Martin.
After 32 years of ministry in Geneva, leading five different services per week in addition to other duties, all undertaken without the benefits of modern conveniences, Martin arrived Sunday morning to preach for La Madeleine church, started the service, and died right in the pulpit.
7. When no one comments on how good your sermon was ...
Just remember March 29, 1546.
On that day, in the middle of the sermon delivered at Geneva's St. Pierre Cathedral, seven congregants interrupted the preacher, shouting, and provoked a public riot that led to their arrests. That preacher was John Calvin.
8. When you are criticized that pastoral care is not your strong suit …
Remember you're probably much better than Samuel Perrot.
In March 1685, Geneva's Company of Pastors received news that Perrot was not attending services at his country church at Russin and instead was hosting cabarets in his home. A covert pastoral visit to the church uncovered a laundry list of problems. For one, none of the parishioners was satisfied with his preaching though he bragged that his intellect surpassed any in Russin. Complaints also arose that Perrot refused to visit the sick when they called him to their bedside, and he even left widows to suffer. He neglected to arrive on time for preaching and several times he was simply absent from services. Wisely, the council determined that Perrot was not fit to preach at Russin, and he was promptly replaced.
9. When a local blogger in your church seems to have a greater influence on your congregants than you …
At least the blogger wasn't Voltaire.
Jacob Vernet was heading up Geneva's Company of Pastors when Voltaire, one of the most provocative writers of the Enlightenment, settled in the city. Vernet had hoped that he could have a positive influence on Voltaire, but that optimism soon dissipated as Voltaire proceeded to insult the memory of the founder of Geneva's clergy, spread numerous unflattering rumors about Vernet, and declared the clergy were heretics. Voltaire hosted plays in his home illegally with a following of congregants that became known in the city for their acting. Voltaire's presence and publications tainted the reputations of Geneva's clergy for centuries.
10. Above all, when your church isn't appreciating your mission and vision, remember that in 1538 even Calvin was kicked out of Geneva and sent packing.
Jennifer Powell McNutt is associate professor of theology and history of Christianity at Wheaton College and author of Calvin Meets Voltaire: The Clergy of Geneva in the Age of Enlightenment, 1685-1798 (Ashgate, 2013).