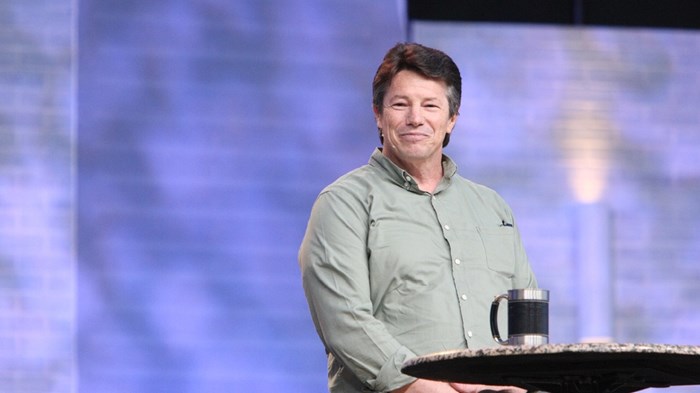 Image: Saddleback Church
At the age of 18, Danny Duchene sat in a California county jail cell, coming out of an intense withdrawal from a heavy addiction to alcohol and marijuana. He had been arrested for participating in a crime that resulted in the killing of two men, and now faced a double life sentence.
"Once I became sober, the full weight of my crimes and what I had done came crashing down on my conscience," Duchene, now 52, recently told a crowd at Saddleback Church in Lake Forest, California. "It was at my lowest point that God's mercy showed up in my life."
Locked in that California cell, Duchene never could have imagined that on April 2, 2016, he'd be standing in front of a congregation of thousands, sharing his testimony from the pulpit at Saddleback. That day, lead pastor Rick Warren and a team of his colleagues commissioned Duchene as the newest pastor of Celebrate Recovery Inside: a national prison ministry that connects inmates with biblical counseling curriculums and works to connect local churches with prison ministries and help them fight recidivism.
Duchene first prayed for forgiveness behind bars. Much like Chuck Colson, the former Nixon administration counselor famous for his prison ministries BreakPoint and Prison Fellowship, he soon saw his conversion lead him to a lifestyle of evangelism and discipleship "inside"—even despite his exposure to gang violence and a culture of severe racism.
"At 19, I was still feeling the new Christian euphoria of being free—feeling like I had a new connection with God, that I was kind of focused on him," Duchene said in an interview with The Local Church. "I was still young and naïve about the world ahead."
After two decades of participating in prison ministries, with scopes ranging from drama to leadership, Duchene heard of the "40 Days of Purpose" curriculum, which walks participants through Warren's The Purpose Driven Life. In 2003, he contacted Warren, who not only provided the curriculum to Duchene, but also led a service at the state prison where Duchene's study took place. That night, 100 men converted, and a church was born inside the prison's walls.
But Warren didn't just help Duchene with his ministry; he also wrote a letter to the prison's parole board pleading for his release. In December 2014, that plea was granted. Duchene now oversees Saddleback's inmate ministry, which has 900 programs currently running in more than 100 prisons nationwide and has distributed hundreds of thousands of books and study guides.
Celebrate Recovery not only focuses on spiritual needs of inmates, but also helps fight against relapses into criminal behavior and aids in reintegration after a prisoner's release—often by connecting the inmate with a healthy church on the outside.
"We want to be a safe place for them to come when they get out," Duchene said. "We want to help them while they're in, but we're also inviting local churches and asking for a responsive welcome."
Duchene is now known as "Pastor Danny." He's newly married to his wife, Susan, who co-leads a Bible study with him in their home.
"It's still really over my head now. You feel like you're worth something," Duchene said. "So much of your life in there, men and women don't feel like their lives are worth anything. To have someone like Rick Warren show you mercy like he did, and show the worth of what God has done in my life—it's a weight of worthlessness off your shoulders."