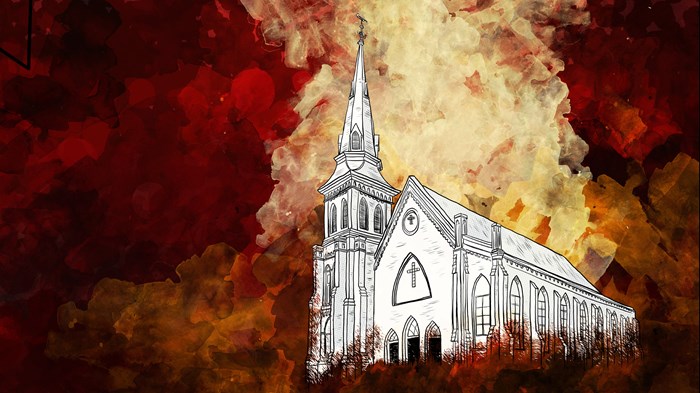 Image: Seth Hahne
"Mother dear, may I go downtown
Instead of out to play,
And march the streets of Birmingham
In a Freedom March today?"

"No, baby, no, you may not go,
For the dogs are fierce and wild,
And clubs and hoses, guns and jails
Aren't good for a little child."

- from "Ballad of Birmingham" by Dudley Randall
Some 60 years ago, the burning of black churches was a common form of racial violence; according to civil rights historian Taylor Branch, at the height of the civil rights movement, a black church was bombed or burned every week. Most historians agree that back then, opponents of black civil rights saw the burning of black churches as a way to reinforce pre-Civil War power structures, some of which had been legally dismantled with the abolition of slavery. The law may have granted black people their freedom, but racial violence reinforced the idea that white people still controlled where, how, and even whether they lived.
And yet, even in the ostensibly "post-racial" United States of the 21st century, the image of a burning black church was no less chilling to black Christians last June than it would have been in 1954. After a white shooter opened fire during a prayer meeting at a black church in Charleston, South Carolina, on June 17, five predominantly black churches across the South were set ablaze. Local law enforcement suspected arson in three of the fires.
That shouldn't be surprising, said the Reverend Sharon Ellis Davis, an affiliate professor of pastoral care at McCormick Theological Seminary. "I think people don't understand that trauma is something that exists when you wake up in the morning, when you turn on the news," she said. "Trauma is a living experience, and not a lived experience—especially with people who know they are being targeted, and that any particular day and any particular hour, it could be them."
The trauma many black Americans experience after any instance of racial violence—whether they were attacked directly or not—is real, psychologists say, and it can manifest itself as ongoing feelings of anger, depression, anxiety, or even guilt. "In general," said Davis, "the African American community is impacted when they hear about these crimes because they understand that collectively, it is an attack against African American people. It's a collective traumatic experience."
In addition to that collective trauma, racial violence against black Americans can also trigger intergenerational trauma, said Alex L. Pieterse, an associate professor of race psychology at the University at Albany. According to Pieterse, "When a black American or a person of African descent responds to or experiences one incident of racism—because of the cumulative history of racism—they are responding to that event, but also responding to the history associated with racist events."
In fact, Pieterse noted, stories of racial violence are even passed down from generation to generation. That's why, for example, many black millennials are familiar with the lynching of 14-year-old Emmett Till in 1955 and the bombing of a Birmingham church that killed four black girls in 1963, despite being born 30 years after these crimes occurred.
"But, mother, I won't be alone.
Other children will go with me,
And march the streets of Birmingham
To make our country free."

"No, baby, no, you may not go,
For I fear those guns will fire.
But you may go to church instead
And sing in the children's choir."
Attacks on black churches are unique among traumatic racial experiences because of the role such churches have traditionally played in black communities in America. After all, in the 19th century—when the first black churches emerged in the Jim Crow South—black theologies and black self-identities were nearly inseparable. Eschewing the white God who (so they'd been taught) had ordained and orchestrated their enslavement, black Americans sought to forge a church that better articulated what it meant to be both black and made in the image of God.
"Historically, the [black] church has always been a base of activism, even a form of resistance," Pieterse said. "So acts of violence perpetrated at the church are more than symbolic—they're targeted."
There's limited research on the specific effects of church arson as a form of racial violence, but anecdotally, most experts have come to the same conclusion: the burning of a church is often catastrophic for black communities.
In 1999, three years after 145 predominantly black churches were burned in the United States, Carolyn S. Carter—then an assistant professor of social work at Arizona State University—wrote about the burning of black churches for the National Association of Social Workers' academic journal. "Because of the important functions associated with churches in African American communities," she noted, "residents were often devastated by church burnings." According to Carter, members of an attacked church often felt "immobilized" and commonly expressed emotions ranging from sadness and embarrassment to shock and outrage.
A church arson can be particularly trying for pastors of attacked churches because, in addition to whatever personal trauma they may be experiencing, they must also meet their congregations' dramatically increased need for leadership during the building reconstruction process. Larry Bates, a religion psychology professor at the University of North Alabama, is one of the few scholars who has attempted to study the psychological effects of church arson. His 2007 study of church arson survivors in Alabama was too small to be conclusive, but based on the interviews Bates and his research team conducted, the period after a church arson is full of unexpected stressors for pastors.
"The pastors were just overwhelmed with interviews and trying to deal with building needs," he said.
He added that the rebuilding process often creates division among the church body's members, which pastors then have to mediate. "Some major plans have to be made about what the [new] building is going to be, and often, people have different ideas about the direction the church ought to go," Bates said. "And at those times, you're kind of forced to make that decision right then."
She has combed and brushed her night-dark hair,
And bathed rose petal sweet,
And drawn white gloves on her small brown hands,
And white shoes on her feet.

The mother smiled to know her child
Was in the sacred place,
But that smile was the last smile
To come upon her face.
All of this—the direct or collective trauma and the vocational stress for pastors—is only exacerbated, Davis said, when racial violence takes place in a setting where crimes against people of color aren't taken seriously. "How do you begin to heal from something that people won't even name?" she asked. "People will find all kinds of words for an attack on a black church: a horrific event, a terrible thing that happened, an evil that's present. But the word that many people want to hear—at least the one that I want to hear—is terrorism. Because that's what it is."
The day after last spring's church massacre in Charleston, Anthea Butler, an associate professor of religion and Africana studies at the University of Pennsylvania, penned a piece for TheWashington Post criticizing the language used in the news when white people commit violent crimes. The Dylann Roofs of the world, she argued, are almost always humanized after committing crimes, no matter how heinous. These killers' actions are identified as the result of mental illnesses or past abuses—a hastily crafted media narrative that downplays their crimes and the actual motivations behind them.
This language matters when talking about church arsons and other forms of racial violence, Pieterse said. To acknowledge a crime validates the victims' pain and says that what happened to them was real, that it mattered. "I'll give you an example," Pieterse said. "I think part of what has been helpful for the Jews as a group of people has been the collective response to the trauma of the Holocaust. It's been validated. In some countries in Europe, to question the Holocaust is a criminal action. But in the case of black Americans, there hasn't been as rapid a response to acknowledge the trauma. And I think that's one way people can be helped."
Another way victims can be helped is by being given the space to feel what they need to feel in the aftermath of racial violence. People will find the appropriate emotional space they need in order to preserve their sanity, said Sharon Ellis Davis. To try and prematurely talk them—or yourself—out of their feelings risks re-traumatization.
"As pastors, sometimes we're so busy wanting to pacify people with words about grace and loving your neighbors that we don't let people just be mad," she said. "Sometimes people just need to be angry."
For when she heard the explosion,
Her eyes grew wet and wild.
She raced through the streets of Birmingham
Calling for her child.

She clawed through bits of glass and brick,
Then lifted out a shoe.
"O, here's the shoe my baby wore,
But, baby, where are you?"
Not everyone responds to racism in the same way. "There's a lot of heterogeneity that exists within how people respond to race, how they make sense of their experience as a racial being," Pieterse said. "You can talk to two black Americans, and one will say, 'We've made so much progress!' while the other will say, 'The progress is just symbolic. At our core, we've made very little progress.' An important piece is not to treat people as a collective but to recognize that variation occurs even with people responding to the same event."
Bates saw that variation when he talked to survivors of Alabama church arsons. He told The Local Church that he was surprised to find that while many victims felt the expected devastation and despair, some saw an attack on their church as part of God's plan, or even a sign of God's favor. "Several of them said, 'This must mean that my church is special, or we wouldn't be asked to undergo this test. Therefore, this must mean that something great is going to come out of this,'" he said. "I wasn't really expecting that kind of response."
However victims respond, though, experts say it's essential to realize that an attack on a black church in the United States is a loaded event with far-reaching effects within black America. It's not an attack on that particular church; it's an attack on black Americans everywhere, shaking them at the very core of their identities.
Yet Ellis Davis believes such attacks also put church leaders in a prime position to dig into the ministries of reconciliation and justice that Christ has called them to, even as they put a spotlight on the racism that still exists in the United States.
"My job as a pastor is to dispense hope—to turn people toward their faith and not away from it in these times—and to pray," she said. "But not the kind of prayer where I'm just going to pray about it. A prayer that calls us into action to do the kind of advocacy and justice-making that we need to do."