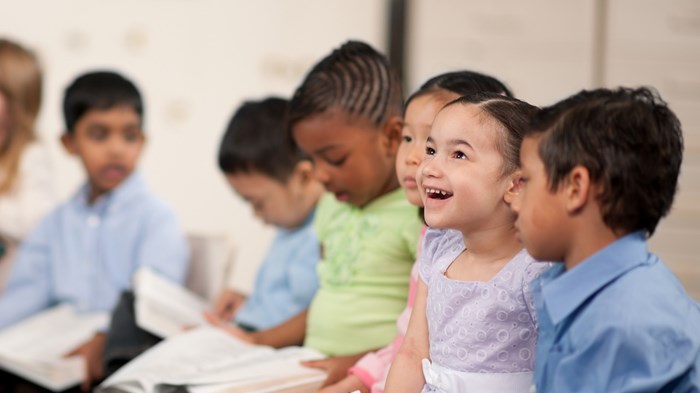 Image: FatCamera / Getty Images
I didn't grow up with children's sermons, and for my first five years of ministry, I never gave them much thought. In fact I'm not sure I'd even seen one done before. I had an idea of what they must be like: a pastor taking precious minutes of a worship service, using a forced, talking-to-children voice to give a watered-down moral for the children. The very concept sounded hokey to me. I never thought they would become a vital part of my ministry.
My opinion changed completely when I moved to plant a church out of First Presbyterian Church of Columbia, South Carolina. Sinclair Ferguson was the senior pastor at the time, and he loves children. He also knows how to speak to children. He helped me see the place and power of a good children's sermon in the worship service. Week after week, he gathered up his robe and sat down in the front of the sanctuary to get eye level with the kids. Most weeks he brought props—he once borrowed the snakeskin I had just found in my basement. He opened the Bible and spoke the gospel into the lives of us all, young and old.
I'm now six years into preaching children's sermons myself, and they have become a vital part of our weekly gatherings and the ministry of the church as a whole. You can, of course have a faithful service without a children's sermon. You can also eat a hamburger without any fries, but why would you want to?
Let the Children Come
Many churches provide an alternate service, or part of a service, for kids. I am convinced, however, that excluding children altogether from the worship service is a mistake. Even though it is done with a genuine desire to help kids and adults, it shortchanges both. In the church where I serve, we provide a children's lesson outside of the service during the sermon for our youngest kids, but we believe including children in the worship service is essential. We want our kids to grow up knowing they are part of the body of Christ, worshiping alongside the whole church so they will know their presence matters in our corporate worship. Every age matters to God. In the service, they can learn by doing, alongside adults. It's often inconvenient. Kids get bored and restless—but so do adults. We are all growing in our understanding, experience, and love of worship. And we want our kids to grow with us.
As we embrace our children in the service, we want to expand their language of worship by helping them learn hymns and prayers and Scripture. But we also pause during the children's sermon to speak carefully and deliberately to them, explaining Scripture and applying it to their lives. We want to meet them where they are and stretch them as they grow into maturing worshipers.
A children's sermon that only engages kids isn't a good children's sermon.
Here's one of the most surprising discoveries I made as I embraced children's sermons: they aren't just for the children—they are for the whole church. C. S. Lewis might have agreed. Lewis understood that good children's literature isn't just for children. He wrote, "I am almost inclined to set it us as a canon that a children's story which is enjoyed only by children is a bad children's story." In the same way, a children's sermon that only engages kids isn't a good children's sermon. What is a children's sermon really? It's a short explanation of a verse or passage in the Bible for young people in need of God's grace, wisdom, presence, and direction. Adults need these things too.
When I preach to kids, I try to be clear and concise. I seek to explain the text simply and accurately, point them to Jesus, and whenever possible use some sort of visual aid to help the lesson stick. It turns out that's a good formula for teaching everyone, not just children. In fact, over the years I've had many adults tell me that on a given Sunday it was the children's sermon that spoke to them most powerfully and God used it to drive home the gospel. The children's sermon is for everyone.
Constructing a Meaningful Children's Sermon
Here's what I aim for in my own children's sermons.
1. I always open and read from a physical Bible.
It's not enough to simply talk about a biblical truth or quote a verse from memory. I want kids to get see me getting my nose into the Bible with the hope that they'll realize everything we're talking about really comes from the Bible. By seeing Bible reading modeled here and in other avenues of life, I hope they will learn to go to the Bible themselves.
2. I sit down at their level.
At our church, I sit on one of the few steps leading up to the platform and the kids sit around me on the steps and on the floor in front of me.
3. I speak to them like people.
Small people, but people nonetheless. I try to speak warmly and with appropriate vocabulary. But I don't speak down to them, and I never use the adult-talking-to-children voice.
4. I use props whenever possible.
Jesus knew visual aids are a big help for people of all ages. "See that mountain over there? If you have mustard-seed faith you can tell it to get up and move." "Look at the birds of the air. Do they get anxious and worried?" Until it wore out, I used an old farmers' market bag to bring whatever prop I had for the sermon. That bag became a cue to the kids that something good was coming.
I've used anything and everything I could think of to help the children understand what the Bible says: a child's batman costume, a running shoe duct taped to a foam swimming noodle—"Jesus went out to them, walking on the lake (Matt. 14:25)—a football helmet with a wooden 2x4 in it—"plank in your own eye" (Luke 6:41)—and a backpack full of rocks—"Come to me, all you who are weary and burdened" (Matt. 11:28). When I talked about God's promises to Abraham and his descendants as numerous as the sand on the seashore, I couldn't find any sand. So I went with steel-cut oats instead. Use what you have.
5. I start the children's sermon with a question.
And I give them time to actually answer. Rhetorical questions don't work with children. This opening question warms up the engine as I turn them to the Bible. "Has anyone here ever been really, really scared? I have." "Does anybody have a birthday this week? What's your favorite birthday present you've ever received?" "You know, some things that happen in life are sad. What are some things that make people sad?" "Do any of you all love being outside? How about desserts? How about TV? I love all that stuff. Did you know God made our hearts to love? The problem is, sometimes we love even good things more than we love God. Can you think of anything you sometimes love more than God?" Children have answers to all those questions—and so do the adults listening in.
6. I connect the children's sermon to the adults' sermon.
Whenever possible, I try to craft the children's sermon around some portion of the text I'm using for the main sermon or at least a passage that ties in. This helps the entire church home in on one passage and see it applied directly to children and adults. Also, using the same passage sometimes helps me slip in an extra point I didn't have time to address in the main sermon. The children's sermon can be a great place to explore nuances of the text.
7. I try not to let it devolve into moralism.
This is one of the great pitfalls of the children's sermon—truthfully of all sermons. In a children's sermon, I only have a few minutes to accomplish a lot. If I'm not careful, I can accidentally reduce a passage down to a moralistic nugget, giving children a picture of something they are called to be, or think, or believe, or feel with the implied message of "now just go do it!" In other words, I can give them something other than the gospel. I have to remind myself that in the children's sermon, just as in the main sermon, my job is to preach Christ and his all-sufficient grace. Only the gospel can fuel true change in a person's life. So every exhortation has to be rooted in the forgiveness of Christ and the empowering work of the Spirit in our lives—for children and adults.
8. When I close the sermon, I pray.
I pray that the gospel truths I've been teaching would lodge in the children's hearts. I pray with words the kids can grasp and use in their own prayers.
I don't preach perfect children's sermons—or adult sermons, for that matter. Sometimes they limp along. Occasionally they bomb. But often, thanks to the work of the Holy Spirit, they hit the mark. I trust, by God's grace, that I'm getting better at preaching them. I've seen glimpses of God using them in the lives of children and adults, and in my own life. I've seen people connecting with the gospel through them. I've seen a congregation embracing the old, the young, and everyone in between during our gathered worship. And I've seen myself growing in pastoral love for our children—for these next generation of the people of God.
Brandon Barrett is lead pastor of Greenville ARP Church in Greenville, South Carolina.