How Pastors Can Reclaim the Role of Spiritual Parent
I don't wear a collar, but "Father" is still the best description of my calling.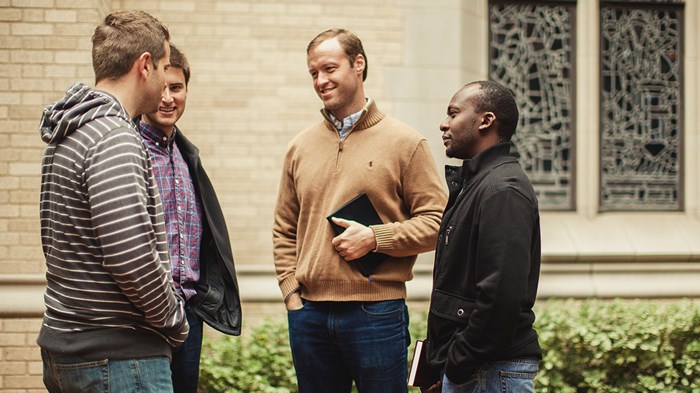 My closest friend is an Anglican priest. When he travels and speaks, he wears a clerical collar. When he celebrates the Eucharist and delivers homilies, he wears a robe. My wardrobe is a little different. I am a Presbyterian pastor who throws on a hoodie when I travel. I'll wear a suit jacket when I preach, if I am asked to. My friend and I have grown to respect, and even cherish, the differences in our particular styles of ministry. Still, one of those distinctions has always left me feeling a bit envious: people refer to him as "Father."
When someone mentions the title "father" in a religious context, it often brings to mind only Catholic or Anglican priests. I think that's unfortunate. The title was used for clergy throughout centuries of church history. It became one of the casualties of the Reformation, when reactions to the papacy forfeited many aspects of ecclesiology worth saving. Beyond this history, I realize there are additional obstacles that have made the title "father" tough to swallow for many. Perhaps chief among them is the growing number of ordained women in the church today who, justifiably, view the use of the title as a step backwards. I'm not arguing against female ordination. Whether it's "mother" or "father" (or whether we use those terms at all) I long to see us recapture a vision of the pastor as a familial role. We are called to nurture God's family. I believe that a return to an understanding of pastoral ministry as spiritual parenting is exactly what the church needs today.
I can trace my own interest in this topic back to middle school when I started attending a small Baptist church along the rocky coast of New England. That is where I met Mark, a young father and volunteer for our youth program. Mark entered my confused world amidst the kind of hypocrisy and rebellion that tends to mark many insecure teens from broken homes. On summer camping trips and youth retreats, Mark taught me about the beauty of a community that functioned as a surrogate family. He walked me through the death of my stepfather, my struggles with alcohol, the remarriages of my parents, and the gaping hole left in my heart by a father I never really knew. He taught me the value of work, the wonders of God's creation, and the power of a person who will never give up on you. He helped me understand how desperately I wanted a dad.
Mark's dedication to my young soul left an indelible impression on my life. Eventually it helped unveil my own desire to enter ministry. My calling led me to serve within the academy where I was given a front-row seat into the lives of students who consistently share heartbreaking tales about the destruction many fathers have left in their wake. I think of students like the young woman who sat sobbing in my office during her premarital counseling, sharing the sordid story of her relationship with her father, and her refusal to allow him walk her down the aisle. Or the young man who still remembers vividly the day his father walked out the front door and told him coldly, "You are the man of the house now." I heard stories of abuse, abandonment, neglect, and indifference.
The chief activity of spiritual parents is to continually strengthen the identity of their people.
Still today many people find their way to my office, burdened by fractured relationships with their own earthly fathers. Many come seeking wholeness and healing, looking for answers to daunting and difficult questions. They are people walking through life with what psychologists refer to as "the father wound." They are men and women like my friend who told me with tear-streaked cheeks about attaching a note to his father's bottle of bourbon: "Daddy, please stop."
Often they are now parents who find themselves unable to break the generational cycles of sin. They come to us looking for the fathers they never had to give them wisdom, advice, and empathy. Ultimately, they're looking for reconciliation with the one who created them, the one who calls himself Father. Our role as pastors is to embody the promises of the God who is in the business of adopting orphans. I'm convinced a growing number of people are searching for God but need healthy models of parenthood in order to understand God as their Father. They need spiritual fathers and mothers willing to embody the high ideals that God originally intended for these terms to hold.
As church leaders, the titles we embrace have far-reaching implications for the communities we lead. Minister, Reverend, Pastor, Leader, Director, Teacher, or Visionary— each moniker brings with it a myriad of expectations and practices that shape the focus of each congregation and its parishioners. They represent more than a job description or a point on an organizational chart. They shape attitudes. They communicate purpose.
The dominant metaphor used in Scripture to describe the church is that of the family. Jesus, our elder brother (Rom. 8:29), refers to God exclusively as "Father" throughout the New Testament (cf., Matt. 6:9, John 17:1). Likewise, Paul relates his pastoral role to that of a father who has begotten believers (1 Cor. 4:15–16), inviting them to embrace their adopted status as children in a new family, encouraged by the Spirit to call upon God by the name "Abba" (Rom. 8:15).
It's no surprise that the early church adopted this biblical language and used it to describe the unique responsibilities pastors embrace in the care of their congregations. The Church Fathers and Desert Fathers used this language, as did later theologians like Aquinas and Augustine who both carried the title "Father." It is a perspective on pastoral ministry as old as the church itself, and newly relevant in our cultural climate. From first century Palestine to modern day LA, every human has experienced, for better or worse, a father. While for some the thought of a father elicits a deep sense of love, trust, and security, others find that the word can bring forward a rush of emotional wounds including shame, abandonment, and fear. No one encounters the word father with emotional or psychological neutrality, which is perhaps why it is often particularly difficult language for pastors and parishioners to adopt.
How exactly does this biblical, historical understanding of the pastor shape how we minister? What do spiritual parents do?
Bestow Identity
The chief activity of spiritual parents is to continually strengthen the identity of their people. Our parents name us, and through word and deed, reinforce our growing sense of self-identity: Am I strong? Am I beautiful? Am I valuable?Am I loved? Pastors share this calling of identity formation as their life and witness becomes a mirror of the heart of God, reiterating the biblical truths of our adoption, acceptance, and worth.
Spiritual mothers and fathers model a life of ministry that can truly be imitated.
I remember receiving a phone call late one evening and being told that a friend and father in our community had committed suicide, leaving a wife and three children to grieve the sudden loss. For years after the incident, I met regularly with his oldest son. I made sure to spend time with him each year on the anniversary of his father's death. We talked about his father, but mostly we just talked about life: dating, college, marriage, and work.
While the young man never called me father, it was obvious that he was desperate for someone in his life to affirm his identity. At a crucial time in his development, his guide disappeared and left a gaping hole his pastor was able to fill. I could never replace the father God gave him, but I could assure him that he wasn't alone and that he didn't have to be like his own father, that he could become the man God envisioned him to be.
Teach
When pastors think of instruction, they often focus on the formal times of teaching they engage in each weekend. This is a central task and essential to the mission of church. But we know that's not where most learning occurs for our people. Just like the teachable moments I take advantage of with my own sons, pastors need to make themselves available for times outside of the pulpit where moments of intentional learning can occur—moments like the day I sat in a padded room with a young man who had just tried to take his life, or the night a tearful wife called and asked me to pick her drunk and adulterous husband up at the bar. It is the last conversation at a hospital or our response to the words, "It's cancer." It is how we react to the news of a miscarriage, infertility, infidelity, or the news of a prodigal child. We're just there.
Something visceral happens in times like these, when lives are vulnerable, broken, and raw. In those moments, the façade of Sunday morning disappears and the truth of our humanity is laid bare. That's when our guidance and counsel are heard with increased clarity. That's often when it finally "sticks."
Provide a Model
Ralph Waldo Emerson said, "What you do speaks so loudly that I cannot hear what you say." As parents to their spiritual families, pastors serve as models for the way in which the Christian life is to be lived. One of the inadequacies with pastoral metaphors such as shepherd, potter, or gardener is the distance it implies between the leaders and followers. Sheep never become shepherds. Pots don't become potters. Soil never becomes a gardener. Spiritual mothers and fathers model a life of ministry that can truly be imitated. As Paul did with the Corinthians, we urge others to follow us as we follow Christ. We want to see our congregants become our replacements. This is the same work I do daily with my own sons: building a legacy of character and passion for Christ that will outlive my own story.
As long as bad fathers exist, calling pastors "father" will be a hard sell for many. The title touches the deepest, and sometimes most painful, parts of our heart. Yet, I'm convinced that it provides a powerful way for pastors to think of what they do in leading God's people. As millions of Americans pour into congregations each week to find healing from the wounds caused by distant, abusive, or absent fathers, we have an opportunity to show them how their Heavenly Father longs to embrace them. As mediators of the divine, pastors are uniquely positioned to help restore a vision of God's ideal for parent-child relationships. If we are willing, we can play a part in the divine promise to "turn the hearts of fathers to their children, and the hearts of children to their fathers" (Mal. 4:6). I can't imagine a higher calling than that.
Stephen L. Woodworth is the associate coordinator of the International Theological Education Network and has over a decade of experience in pastoral ministry, church planting, and education. He lives in Columbia, South Carolina.