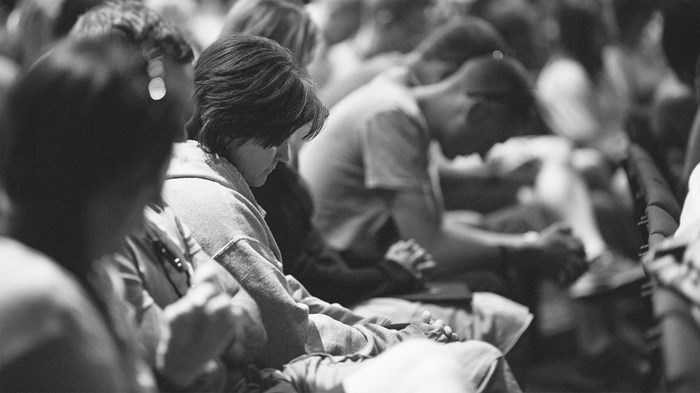 In a 2017 study, researchers identified the cities with the most noise pollution. At the top of the list were Delhi, Cairo, and Beijing, and not far behind were Los Angeles, Chicago, and Houston. The study concluded that people who lived in these cities were more likely to experience depression, heart disease, cognitive impairment, anxiety, and stress, among other health risks.
At a domestic level, our cars, phones, and smart speakers perpetually generate a racket of sound, and even washing machines can now play noise-making music. "A cacophony seems inevitable," writes Laura Bliss in The Atlantic. In the future, "the smartest machines might turn out to be the ones that know when to hold their peace."
Today's noise pollution, which includes both sonic noise and visual noise, is a hazard to our entire health, according to the World Health Organization. As such, we find ourselves in desperate need of quiet spaces both in our personal lives and also in our corporate life together as the church. The inclusion of silence in worship, then, is not just a matter of our physical well-being, it is also a matter of well-being before God.
Yet as many pastors will attest firsthand, silence is one of the most difficult things for churches to make space for in their corporate worship. Invariably, it is poorly understood, treated perfunctorily, or seen as an interruption to fulsome praise and proclamation.
But while silence in our prayer and praise of God may feel for many like anxiety-inducing dead air, it is central to faithful worship.
The Fullness of Dead Air
Silence is fundamental to faithful prayer because prayer begins with the act of listening, not talking. God gets the first word—not the pastor, not the musician, not any of us.
Silence is also fundamental to faithful singing because in silence, we attune our ears to "the chief Conductor of our hymns," as John Calvin once put it, in order to be reminded that we were not the first to arrive on the liturgical scene. In humility, we listen first—then we sing.
Silence is likewise fundamental to faithful preaching because the preacher must make time for the people of God to inwardly digest the word of God so that it has a fighting chance to take root in our hearts and bear good fruit in our lives.
Silence, of course, is not merely negative—the absence of speech, the omission of sound, the refusal to act. It is also a positive thing. Much like Mary's "let it be," uttered in response to the divine word in Luke 1:38, silence is an "active passivity" which creates space for God to transform us. In other words, the absence of noise is not an emptiness; it is always a generative fullness, and in some cases, a terrifying fullness.
In silence, we are confronted with God's voice, a voice that we often drown out for fear of being found out or found wanting. In silence, we are judged for our desperate need to fill up our lives with frenzied activity. In silence, we discover that we are not ultimately in control; we are weak and vulnerable and awfully in need of God's grace.
What insight might Holy Scripture offer us in order to think carefully about the matter?
The Silence of Praise
In the Bible, silence in worship is commanded, modeled, and inferred.
First, it is commanded.
In Psalm 46:10, the psalmist, speaking in God's name, issues a general directive: "Be still and know that I am" (Psalm 46:10). In the word that comes to the prophet Zephaniah, we find a similar injunction to "be silent before the Lord" (Zeph. 1:7). In Proverbs 30:32, the matter is put more bluntly: "Put your hand on your mouth." In Isaiah 41:1, we hear a word that the Lord speak to one and all: "Listen to me in silence." Is there any other way to listen to God? For both the prophet and the psalmist, the answer is decidedly no.
Silence is also modeled for us. In Psalm 62:5, we find the psalmist describing what presumably represents his usual disposition before God: "My soul waits in silence for God." In Deuteronomy 27:9, we see Moses speaking to Israel this word: "Keep silence and hear."
First Kings 19 is perhaps the most famous passage on this topic. The angel of the Lord tells Elijah to stand on the mountain, for the Lord is about to pass by. First a great wind appears, but the Lord is not in this tempestuous wind. After that, an earthquake occurs, but the Lord does not reveal himself there, either. After the earthquake, a fire, and after the fire, silence. It is in this "sound of sheer silence" (19:12, NRSV) that the Lord appears.
Certain things, the text suggests, can only be known about God in the absence of sound.
Lastly, silence in worship is inferred throughout Scripture. The Psalter, for example, aims to train us not only in faithful speech but also in faithful silence. That's part of the idea behind the term selah. Appearing 71 times in 39 of the psalms, the term functions as a pause—both a pause in the text and, as plenty of scholars believe, an invitation to the reader to pause.
In Psalm 3:4, for instance, the psalmist prays, "I cry aloud to the Lord, and he answers me from his holy hill. Selah." In Psalm 24:6, the setting is plural: "Such is the company of those who seek the face of the God of Jacob. Selah."
Neither the "answer" of Psalm 3 nor the "seeking" of Psalm 24 can be fully perceived, I suggest, apart from a pause. Where a selah appears, then, we are offered the opportunity to actually stop—not pretend to stop—in order to reckon honestly with the word of the Lord to us.
30 Minutes of Silence in Heaven
But how exactly should pastors and worship leaders incorporate silence into worship without alienating their congregants? And how might we do it well—and for how long?
The Book of Revelation offers us a possible starting point, albeit a daunting one.
In Revelation 7:9-10, John the Seer beholds a mass of people from every nation, tribe, people, and language all standing before the Lamb. Holding palm branches in their hands, they acclaim a hymn to God: "Salvation belongs to our God, who sits on the throne, and to the Lamb." Eventually, the angels, the elders, and the four creatures join in, adding their own roaring doxological words.
Immediately after this scene, in chapter 8 verse 1, the Lamb opens the seventh seal and the Seer informs the reader that "there was silence in heaven for about half an hour." This is one of the more curious details in all of Scripture, one that has baffled commentators for centuries. Yet however the text is interpreted, few doubt that Saint John meant anything but a straightforward understanding of the time increment: a half hour of silence. A half an hour.
After a fullness of words and prior to a fullness of activity, there is a sizable, noise-stopping, word-ceasing, activity-halting time of silence.
Realistically speaking, of course, most churches will not be able to incorporate 30 minutes of noise-free time into a typical worship service. But there are a few ways, perhaps, that we might attend silently to the word and work of God in our midst.
When you call your people to worship, for example, consider taking 20 seconds for silence. Invite them to offer up to God all the parts of their lives, trusting that he wishes to take all their helter-skelter thoughts, all their fragmentary feelings, and their all-over-the-place bodily appetites and make their lives whole again through worship.
If your worship includes a confession of sin, be generous with the amount of time you give people before they confess their sins commonly. Don't shortchange the silence. Give worshippers an honest amount of time to reckon not only with their specific sins but also with the comprehensive mercy of God for them.
If singing occupies a great deal of your worship, think of ways for it to become not more noise in the world but also a vehicle for hearing the voice of God. Consider adding brief moments of silence between songs or instrumental bridges between verses to create space for contemplation.
For preachers, I commend the practice of my former pastor in Houston. After giving the sermon, he would sit and wait for a solid minute before continuing with the liturgy. On the screen were written the words: "Whoever has ears, let them hear what the Spirit says to the churches." After hearing the sermon, each of us was given the gift of silence in order to hear Christ's word to us personally. I cherished that gift every time.
If you include communal prayer in your worship, take the practice of the psalmists to heart: Include an honest-to-God selah. Resist the temptation to truck through the prayers or fill the air with many words. Invite people to wait and listen. Resist the worry that worshippers will become uncomfortable with extended silence, and instead offer them an opportunity to hear the still, small voice of the Holy Spirit.
Lastly, however your worship ends, consider allowing a moment of stillness before people return to the noise of their busy lives. Give them a minute to attend to the one thing that God might have spoken to them during worship in light of the many things that will demand their attention throughout the week. Help them to hear God's word to them individually—to which they might say yes with all their strength.
In your benediction, too, offer your people a moment of peace, not just words of peace. Consider how such a moment might become a balm to people who feel assaulted by a thousand thoughts and desires.
Acclimating to silence in worship can feel overwhelming for both pastors and congregants. It takes time, incremental change, and plenty of care-filled, ongoing education. As you take on the challenge, trust that God will meet your people in that space.
Silence on Earth, as it is in Heaven
In The Screwtape Letters, CS Lewis suggests that to resist the clamor of noise is to resist a demonic temptation to drown out the voice of God. In the words of Lewis' demon protagonist:
[Hell] has been occupied by Noise—Noise, the grand dynamism, the audible expression of all that is exultant, ruthless, and virile—Noise which alone defends us from silly qualms, despairing scruples, and impossible desires. We will make the whole universe a noise in the end…. The melodies and silences of Heaven will be shouted down in the end.
As Lewis imagines it, silence is intrinsic to heavenly worship and thus also to worship on earth, while noise carries with it a dehumanizing, perhaps even diabolical power.

If God is at work, then, before we say or do anything in worship, and if both Christ and the Spirit are continuously at work during our worship, the proper response is first to be silent. We listen before we speak. We wait before we act. We lean in to hear the whispering voice of the Lord. And we do so in the belief that silence is fundamentally a corporate act of worship rather than merely an individual one.
In the end, we welcome silence in worship not just because we wish to be faithful to God but because our lives depend on it, and because we hunger for the still, small voice of God in the midst of our noisy, seething, modern world. As The Message renders Habakkuk 2:20, "God is in his holy Temple! Quiet everyone—a holy silence. Listen!"
W. David O. Taylor teaches theology at Fuller Theological Seminary and is the author of Glimpses of the New Creation: Worship and the Formative Power of the Arts (Eerdmans, 2019). He tweets @wdavidotaylor.
Parts of this essay were adapted from Glimpses of the New Creation, copyright 2019 (Wm. B. Eerdmans Publishing Co.) Reprinted by permission of the publisher; all rights reserved.