In an Epidemic of Isolation, 'Relational Ministry' Isn't Enough
Can the church offer our loneliest students something more than a place to make friends?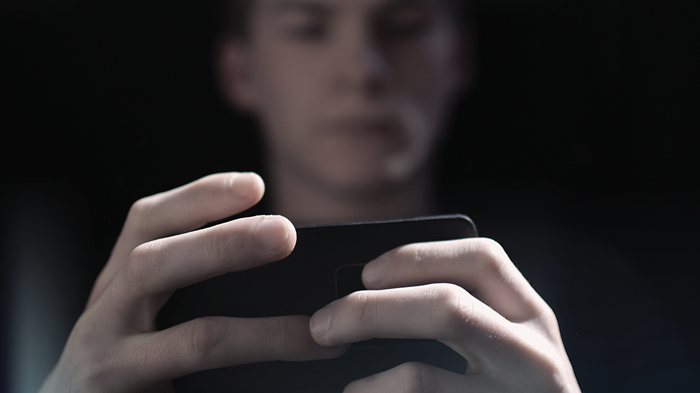 Image: Photo by Marcel / Stocksy
When I first started leading mission trips and wilderness experiences 12 years ago for LeaderTreks Youth Ministry, students spent their downtime laughing as they played card games like Dutch Blitz or Phase 10 together. These days, students sit silently on their phones, texting friends back home or making sure they don't break their Snapstreak on Snapchat.
One teenage girl I spoke with recently told me she has thresholds in her mind for the number of Likes or comments she needs to get on an individual post to deem it successful. If she doesn't get the Likes she needs, she goes into an emotional spiral. While students maintain a hyper-connected, global community through social media, it is often only screen deep.
According to a recent study by health insurer Cigna, loneliness has reached "epidemic levels." When asked by Cigna how often they feel like no one knows them well, over half of respondents (54%) said they feel that way always or sometimes. Research done by the British Red Cross revealed that over nine million adults in the UK—about one-fifth of the country's population—feel always or often lonely. And young adults are the most likely to be addicted.
The "BBC Loneliness Experiment," a 2018 survey of 55,000 people from around the world, revealed that loneliness levels were highest among 16–24 year olds, with 40 percent saying they felt lonely often or very often. Cigna reports that more than half of Gen Zers identify with 10 of the 11 feelings associated with loneliness, more than any other generation. The most common feelings expressed by older members of Gen Z (ages 18–22) include, "feeling like people around them are not really with them (69%), feeling shy (69%), and feeling like no one really knows them well (68%)."
And the label of "epidemic" may be appropriate in more ways than one. According to a 2015 study published by the Association for Psychological Science, loneliness has the same impact on mortality as smoking 15 cigarettes a day. It's a better predictor of early death than obesity.
Every day in my role at LeaderTreks, I coach youth workers by phone and in person to effectively minister to this emerging generation. Many are eager to restructure their ministries to better respond to Gen Z's loneliness epidemic. What can you, as the pastor, do to help your church create a relational youth ministry where the room layout and program structure engender organic conversations between adult volunteers and students?
From what I've seen, that is the wrong question.
Relational Ministry Isn't Enough
When youth pastors tell me they are taking an "organic" approach to "relational" youth ministry, I know there's a problem. These two terms signal to me that the youth pastor simply encourages volunteers to hang out with students, usually without much of an agenda. I routinely see long, contentious online discussions in youth pastor Facebook groups about how to redesign the youth room to provide students with "a space to call their own." These youth pastors dream that, if students feel comfortable in the youth room, they'll naturally bring friends, learn about Jesus, and dive into organic relationships with adults who care about them. But that rarely happens. I can't tell you how many times I've been brought in to train youth workers serving in a "relational" youth ministry where the adult volunteers admitted they don't even know their students' names.
Even if those volunteers were able to make deeper connections, mere relationship doesn't go far enough. I've seen what happens when we prioritize one specific ministry element over robust discipleship, and it isn't pretty.
When I was in college from the early-to-mid 2000s, like many millennials, I became enraptured by the social justice movement. My friends and I idolized celebrities who used their fame for good and organizations that focused on ending child slavery and bringing clean water to those in need. Our college ministry focused heavily on these and other issues because our leaders knew they would keep us coming back. It was exciting to live out our faith and serve people in need.
Yet in the years since I graduated from college, I watched many of my friends who joined me in those causes walk away from God while still serving the marginalized in society. They realized they could keep the activism and drop the gospel.
Should we be surprised if Gen Z does the same with relational ministry?
The truth is, building friendships with students isn't all that hard. Perhaps even more than previous generations, students today crave relationships. I was reminded of this last year when I noticed that three high school boys—formerly youth ministry regulars—rarely showed up anymore at our Sunday night gatherings. I invited them to hang out at my house to play video games, and without hesitation, they all jumped at the invite.
But just like social justice that isn't rooted in the gospel, relational ministry that doesn't generate discipleship ultimately falls short of our calling, and it won't solve the root issues of the loneliness epidemic. Hanging out with students is never bad, but as ministers of the gospel, we are meant to show them God in everything we do and say, as God commands in Deuteronomy 6:4–9:
Hear, O Israel: The Lord our God, the Lord is one. Love the Lord your God with all your heart and with all your soul and with all your strength. These commandments that I give you today are to be on your hearts. Impress them on your children. Talk about them when you sit at home and when you walk along the road, when you lie down and when you get up. Tie them as symbols on your hands and bind them on your foreheads. Write them on the doorframes of your houses and on your gates.
Relational youth ministry falls short if it doesn't make discipleship its ultimate goal. Students' loneliness won't heal unless we connect them with the God who wants to know them and be known by them. And a healthy discipling relationship takes far more effort, strategy, and intentionality than an organic friendship.
The Harder Road of Intentional Discipleship
Every other Wednesday, I wake up earlier than usual. I slowly roll out of bed, trying not to wake my wife or our dog, tiptoe past the door of my two sleeping children, and sneak out of the house. I drive 20 minutes to a Starbucks, passing several other coffee houses along the way, to meet up with a high school sophomore close to his home. I always arrive a few minutes before our scheduled meeting so I can sip my coffee and pray for our time together. When John finally sits across from me, we start our time by going through the same four questions:
1. What's the best thing that happened to you since we last met?

2. What's the worst thing that happened to you since we last met?

3. What's one risk you've taken?

4. What's one thing you've done to serve someone else?
These questions catch me up on his life, freeing the rest of our time to dig into Scripture together—a passage we've prepared in advance to discuss. We ask each other tough questions and share stories about what God is doing in and through us.
While my body drags a little from sacrificing an hour or more of sleep on those Wednesday mornings, I wouldn't trade my times with him for anything. John is smart, caring, and artistic. He freely shares with me his thoughts on faith, his struggles, his fears, and his deepest joys. He's profound, often making me sit back in my chair to contemplate the depth of his responses to my questions. Unfortunately these meetings are the only times I get to see the real him.
When he comes to youth group with his friends, he's all sarcastic quips and teenage bravado, too worried about other people's opinions to just be himself. But in our Wednesday-morning hangouts, we share our lives with each other.
We have a natural rapport, but our meetings aren't exactly organic. Our conversation follows a format, and each week I have a goal in mind for our talk. There's room to shift from our usual pattern when necessary, but without a plan, I can't give him the gift that will resolve his identity and loneliness issues in a way my friendship cannot: the gospel that assures him he's made in God's image and reveals Christ's redemption.
I should also point out that, although the three high school boys who came to my house every other Tuesday for "guys' night" accepted the invitation because they wanted to play video games, we would dive into Scripture every time we got together. They weren't opposed to faith conversations. On the contrary, they welcome them. But this small step—from hanging out to discipleship—doesn't come naturally. It has to be taught.
Generation Z Served Well
Justin Knowles, student pastor at Christ's Church of the Valley in Southern California, is passionate about reaching Gen Z. His program has many of the things you'd expect to see in a youth ministry: lights, music, compelling videos, and good communicators speaking from a stage. Yet his ministry is anything but reactionary. Justin unapologetically tells people that his top three priorities are for students to know the gospel, be discipled, and use their gifts to serve others. He trains adult volunteers to not only build relationships with students, but to help them grow in their faith.
This is harder than you might expect. While Justin loves spending time with students, he does it less than he used to. His main job has become mentoring the adults under his care who pour into teenagers every day. He doesn't just unleash volunteers to have organic conversations with students; he equips them to disciple. That's counterintuitive for many churches. Most youth pastors are hired to do what their title implies: connect directly with the youth. But that's no longer the bulk of Justin's job.
Justin could make his primary goal to build friendships with students. He would feel like a superhero, saving students from their lonely lives. Yet while it's easy for youth leaders to build friendships with dozens of students, it's nearly impossible to genuinely disciple more than a handful of people at a time. By spending most of his time training adults to have intentional conversations and use relationships as discipleship opportunities, Justin has chosen a less gratifying path—the adults become the heroes instead of him. Justin sacrifices friendships with students for the sake of their relationship with Christ.
This mentality cannot exist only within the youth ministry; it needs to pervade the entire church, and it needs to start with the senior pastor. I know plenty of youth pastors who have gotten reprimanded—by pastors and parents—because they spent more time with adult volunteers than with students. Senior pastors can either stifle a culture of discipleship or champion it and raise up adult believers to disciple the next generation.
The ultimate remedy to Gen Z's loneliness crisis isn't just giving them venues for relationship building, hoping organic conversations will give them the human connection they lack. The cure is to cement their identity firmly in Christ and do whatever it takes to make sure that relationship flourishes.
Dan Colwin is director of trips at LeaderTreks Youth Ministry, a discipleship and leadership-development organization.