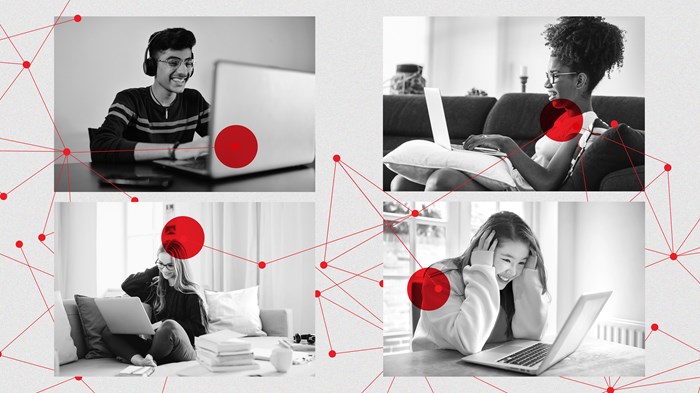 Image: Illustration by Mallory Rentsch / Source Images: Peter Dazeley / Halfpoint / Pollyana Ventura / Mayur Kakade
Before the pandemic, I often drove away from church wishing youth ministry could be different. I yearned for teenagers to be less busy. That hope has become a startling reality as all but a few extracurricular activities are canceled, leaving most young people with unprecedented free time.
I longed for volunteers to stop equating showing up on Sundays and Wednesdays with relational ministry. In this COVID-19 season, volunteers check in with students all week, often building better relationships than before.
I wanted "taillight parents"—family members we see only as they drop off kids and drive away—to become true partners in spiritual formation. Now, parents nationwide are improvising "family church" around coffee tables and kitchen islands every week.
I dreamed that youth ministry and my role as a youth pastor would be admired and valued. Today, many youth pastors are gaining more respect as the adaptability and technological mastery gained on the job is celebrated through online innovations to keep us connected as we social distance. Since the students we serve are so tech-savvy, youth leaders have had a head start in moving our weekly youth program, small groups, and prayer gatherings online. We're being tapped on the shoulder and asked for help by leaders of other departments and congregation members having a tougher transition.
In these tumultuous moments, the answer to why we need youth ministry doesn't change; we still hunger to see young people changed by Christ to change our world. But courageous leaders are unsatisfied with merely moving everything we did in person last month onto Zoom this month. Courageous leaders are wondering if this is our chance to change what we do and how we do it.
This pandemic is terrible. But how might keeping apart reinvent youth ministry and draw young people closer to God? Once this crisis ends, we can't default back to yesterday's answers that no longer fit the questions of today's young people. This is youth ministry's tipping point to move to a new and better normal.
Start with empathy
In this pressing season of adaptation, youth pastors are asking each other mostly questions about virtual connection, ranging from technological hacks to recommended teaching topics. What if we spent less time learning from the leaders we know and more time listening to the students we serve? Empathy pushes us past adaptation to true innovation.
Stars, a neighborhood ministry focused on equipping and emboldening vulnerable young people in Pasadena, California, models this creativity. At the start of the COVID-19 emergency, the Stars staff dove into scenario planning and ministry brainstorming. But they then wisely paused, realizing their strategy was guesswork at best because they hadn't yet asked what was needed .
Since then, the Stars team has surveyed all volunteers and families across their programs, discovering what each program needs and how each could assist the others. Only by asking did they hear about the neighborhood's greatest fear: large, intergenerational families living under one roof and leaving inadequate space for social isolation if a family member contracts COVID-19. Mobilized with that knowledge, the Stars team shifted its goal to investigating immediate local quarantine zones.
These leaders knew what to do by asking, not assuming. Empathy that changes both the form and function of youth ministry for the better doesn't happen by accident. Questions that purposefully challenge our current ministry habits include: How many normal ministry rhythms are devoted to listening to students' and families' needs? What needs adjusting so that we hear and respond to actual needs? How might God want to transform us through the gift of hearing students' stories?
Experiment with discipleship models
COVID-19 has jump-started youth leaders' imagination. After this emergency ends, let's preserve the risk-taking spirit that always has beat at the heart of the best youth ministries and launch new experiments. We have an opportunity to boldly reshuffle what we prioritize in our youth ministry schedule. For example, we might focus on what happens in students' faith journeys between our virtual meetings than during them.
What about handing the keys of ministry to students who have newfound free time? Teenagers can inform us about who needs help and their creative solutions. Some strategic ministries are now training young people to lead online discussions, care for stressed friends, and stretch outside their relational circle to help those most vulnerable to the disease (the elderly, the poor, the already sick). Teenagers can be especially effective in re-engaging other kids who have drifted from church and ministry but in this season might be more open to connecting with a peer. As Reggie Joiner, the CEO and founder of Orange, regularly reminds leaders, "A kid may get over what I teach them, but they will never get over what God does through them."
With attendance tougher to assess, now is an ideal time to adopt new, creative metrics of success that better reflect our mission and goals of discipleship. During this pandemic, let's keep measuring students' attendance at online events, but let's also start tracking how their relationships with mentors and parents grow, how they tangibly serve others, and how they seek God all week. Shifting what we measure in the present will change our church culture in the future.
As students' needs multiply and in-person gatherings disappear, it's obvious there are more students in our ministry than one or two people can personally mentor. This is a moment to multiply our impact by training our volunteers to probe with provocative questions in one-to-one conversations and sensitively press in.
We can also take this opportunity to deepen partnerships with families. As multiple studies over decades affirm, while the church and mentors are vital in a young person's faith development, they don't outweigh the influence of parents. With more families at home, we have a ripe opportunity to curate and develop innovative tools to help parents and teens move from conversational doldrums into conversational depth. We can equip parents and stepparents to turn everything from family walks around the block to conflicts over limited wireless access into moments that build family intimacy and faith.
As our churches are forced into new ministry territory, students hold a compass that can guide senior pastors and pastoral teams. The next generation is on the leading edge of technological and relational trends and can point us to a better future—if we are willing to pay attention. A new approach can rise with the markers that have always made youth ministry great: improvisation, empathy, and risk-taking for young people and the cause of the gospel.
Youth leaders, we were made for this moment. But let's make it so much more than just a moment. Let's leverage today's changes to imagine a whole new tomorrow.
Kara Powell, PhD, is the executive director of the Fuller Youth Institute, a faculty member at Fuller Theological Seminary, and co-author of a number of books including Faith in an Anxious World, Growing With, and Growing Young.