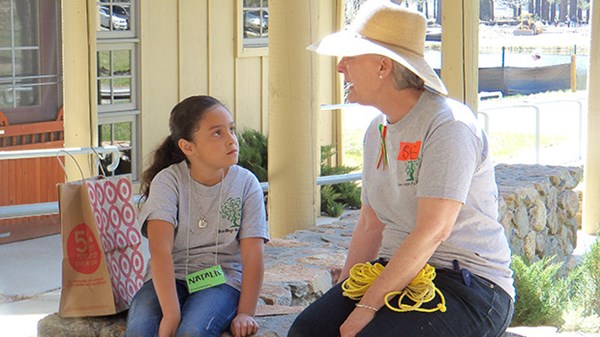 A MASH Unit for Grief: A Support Center Reaches the 'Incoming Wounded' of Long Beach
Nurse Susan Beeney estimates that each year, 40,000 of her neighbors are facing profound loss. What her nonprofit is doing to heal their wounds.
7.9.12
In 2010, Felix Sandoval was stabbed to death in front of his young siblings. The 7-year-old had been trying to protect his mother from her boyfriend's alcohol-induced rage. In the wake of Sandoval's death, authorities from his school in Long Beach, California, turned to New Hope Grief Support Community, a local nonprofit launched by nurse Susan Beeney in 1999.
"The principal called us and said, 'The winds of grief are blowing over us. We need your help,' " Beeney recalls. For the next two months, New Hope staff spent an hour each week in Felix's classroom, using art therapy with the first graders to help them process their distress.
The invitation is common for New Hope staff, who get asked into several schools each year by the Long Beach Unified School District. Sometimes the invitation comes on the heels of a community tragedy. Other times New Hope is asked to serve students facing family loss. "Our stories are not easy to handle," Beeney says. "We've come alongside youth who've seen their parents die violently. We've helped a 16-year-old who had to make the decision to take his mom off life support because there were no older relatives to step in."
Currently the nonprofit is running a grief group with junior high students at Franklin Classical Middle School—their second grief group this year. Franklin counselor Terri Phelps says the groups have helped "with so many issues" among grieving students, including behavior and attendance. She's thankful to have New Hope's assistance when it comes to students like Kara.* The seventh grader lost her older brother to suicide; two weeks later, her father was killed in a car accident. "There are an awful lot of students in need of grief counseling," Phelps says.
Beeney's passion to help those in mourning stems from her own familiarity with loss. Shortly after her father died when she was 18, she lost both her childhood best friend and her sister-in-law to cancer. Busy with nursing school at the time, Beeney admits she tried stuffing the pain. Her career path then led her further into the thickets of grief: after graduating, she became a hospice nurse with the local VA hospital. The accumulated sorrows caught up with her in the mid-1980s.
MORE FROM CHRISTIANITY TODAY