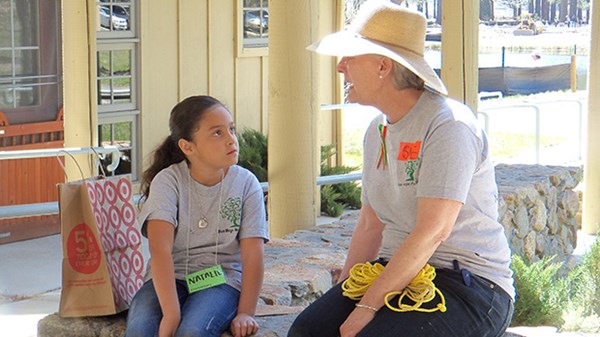 A MASH Unit for Grief: A Support Center Reaches the 'Incoming Wounded' of Long Beach
Nurse Susan Beeney estimates that each year, 40,000 of her neighbors are facing profound loss. What her nonprofit is doing to heal their wounds.
7.9.12
In 2010, Felix Sandoval was stabbed to death in front of his young siblings. The 7-year-old had been trying to protect his mother from her boyfriend's alcohol-induced rage. In the wake of Sandoval's death, authorities from his school in Long Beach, California, turned to New Hope Grief Support Community, a local nonprofit launched by nurse Susan Beeney in 1999.
"The principal called us and said, 'The winds of grief are blowing over us. We need your help,' " Beeney recalls. For the next two months, New Hope staff spent an hour each week in Felix's classroom, using art therapy with the first graders to help them process their distress.
The invitation is common for New Hope staff, who get asked into several schools each year by the Long Beach Unified School District. Sometimes the invitation comes on the heels of a community tragedy. Other times New Hope is asked to serve students facing family loss. "Our stories are not easy to handle," Beeney says. "We've come alongside youth who've seen their parents die violently. We've helped a 16-year-old who had to make the decision to take his mom off life support because there were no older relatives to step in."
Currently the nonprofit is running a grief group with junior high students at Franklin Classical Middle School—their second grief group this year. Franklin counselor Terri Phelps says the groups have helped "with so many issues" among grieving students, including behavior and attendance. She's thankful to have New Hope's assistance when it comes to students like Kara.* The seventh grader lost her older brother to suicide; two weeks later, her father was killed in a car accident. "There are an awful lot of students in need of grief counseling," Phelps says.
Beeney's passion to help those in mourning stems from her own familiarity with loss. Shortly after her father died when she was 18, she lost both her childhood best friend and her sister-in-law to cancer. Busy with nursing school at the time, Beeney admits she tried stuffing the pain. Her career path then led her further into the thickets of grief: after graduating, she became a hospice nurse with the local VA hospital. The accumulated sorrows caught up with her in the mid-1980s.
"If you don't deal with your grief, it waits for you," she explains. "You have to hold it and voice the suffering at some point in your life."
Beeney started reading "everything she could get her hands on" about grief. When she learned that grief experts had begun encouraging the use of small support groups, Beeney found her niche. For the next 12 years, she ran support groups in the evenings after work—"anywhere I could find 10 chairs and a box of Kleenex."
In 1999, Beeney and her husband, Rick, and close friend Wayne Twedell took an adult education class at their church, Grace Brethren of Long Beach. "The essence of that class was a 'kingdom-now' love," Beeney recounts. "Basically the pastors said, 'Get out of these seats and into the streets.' " Alongside Twedell, the Beeneys launched New Hope as a nonprofit, and Susan quit her job to throw herself into the endeavor.
From the outset, their focus was on serving all of Long Beach. "We didn't think about just reaching the faith-based community," Beeney explains. "This was meant for the city." They didn't register their new organization as a faith-based nonprofit, she adds, because "we wanted to be able to go anywhere without discrimination."
Since 1999, New Hope's reach has grown considerably. Last year staff served nearly 1,250 families, 90 percent of whom live in Long Beach and the surrounding communities. Drawing on 290 volunteers, the agency facilitated 36 support groups for mourners of every age. "We have groups for teens, grandparents, those dealing with miscarriages, little children mourning the loss of parents, and more," Beeney says. New Hope is unique, Twedell adds, because of how it targets so many types of loss. Moreover, he says, "We try to match each group with a leader who has experienced that particular grief."
Yet many more such activities are needed, Beeney emphasizes. "The statistics are overwhelming. On average in Long Beach [pop. 500,000], about 3,510 people are going to die in the local hospitals each year. We figure on average each death affects at least 13 people, so that's about 40,000 people annually who are walking around needing grief support."
In addition to its weekly groups, New Hope responds quickly to community tragedies. In 2008, Beeney and her team stepped in to assist survivors of the "Santa Claus massacre." On Christmas Eve, a disgruntled man showed up on his ex-wife's doorstep in a Santa suit. When her 8-year-old daughter opened the door, the man shot the child in the face and went on to gun down eight other family members gathered. More recently, the Orange County First Response asked New Hope to help families of the victims of the October 2011 Salon Meritage tragedy in Seal Beach. There, the disaffected ex-boyfriend of one of the beauticians opened fire in the crowded salon, killing eight.
"I look at us as a MASH unit," Beeney says. "We have all our regularly scheduled grief groups, but then we have those times of what we call 'incoming wounded.'"
New Hope's books and resources have been used nationwide by counselors responding to tragedies like the Columbine school shooting, 9/11, and Hurricane Katrina. Today the agency is poising to respond to what it hopes will be a major influx of calls for training resources after being highlighted on ABC's Secret Millionaire show last night. Beeney is passionate to help churches strengthen their outreach in this arena. She says when she began the work in 1987, "there was virtually nothing out there." She is encouraged by the "slow and steady enlarged awareness of the need" she's witnessed in recent years, but there is still far to go. "Today grief ministry is still not taken on as an important focus, just like divorce care isn't," she laments. "Those two are still territories of ministry that are severely and embarrassingly lacking. We've dropped the ball there. That's why we are so strong on helping others to get going."
Dr. Amy L. Sherman's most recent book is Kingdom Calling: Vocational Stewardship for the Common Good (InterVarsity Press), which includes an abundance of stories of Christians contributing to the flourishing of their cities. More at ivpress.com.
MORE FROM CHRISTIANITY TODAY