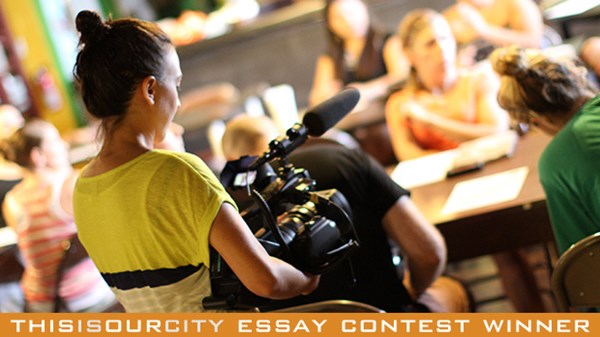 Sibling Filmmakers Set Out to Free Austin's Sex Slaves
John and Michelle Nehme are tackling human trafficking in their own background.
1.7.13
At the intersection of the Southwest and the Deep South, Austin is the self-declared "live music capital of the world." A haven to filmmakers and folk artists, tech engineers and college students, it's the home of Austin City Limits, the kind of city where almost every Saturday the same musician can be found standing under a tree in Zilker Park, playing his guitar and harmonica for kids riding by on the park train. Even the bats love it here. (Austin has the largest urban bat colony in the world.) Known for its slogan "Keep Austin Weird"—a motto-turned-movement that seeks to protect the city's local focus—Austin is making room for a new, lesser-known movement: Free Austin.
In the first half of 2012, nearly one in ten of all calls to the National Human Trafficking Hotline came from Texas. The causes are speculative—proximity to the border and a major transit corridor up I-35 are likely factors—but the crisis is profound. The fourth largest city in Texas, Austin in particular is a microcosm of a national problem that often goes unseen. Every year, 200,000 children are at risk of being forced into the U.S. commercial sex industry. The average age of entry is 12.
In an effort to address the hidden crisis, an Austin nonprofit is gathering a diverse group of change-makers, including police officers, trafficking survivors, and state senators. "At the end of the day, we want Austin to be a slave-free city," says John Nehme of Trade In Hope, both a community outreach project and a documentary film. John and his sister, Michelle, claim hope as the virtue that motivates their work.
"In the church world, there seems to be a lot of talk about trafficking, but there's not a lot of feet to it—there's not movement," says Matthew Hansen, pastor of Austin New Church and executive director of Restore Communities. "John and Michelle Nehme are saying, 'Let's actually do something to fight trafficking … right here in our own backyard.' They're not big-shot professionals. They're not businesspeople with money. They're not Hollywood. They're just two people who said, 'We're going to do something, even if it costs us.' That's pretty rare."
MORE FROM CHRISTIANITY TODAY