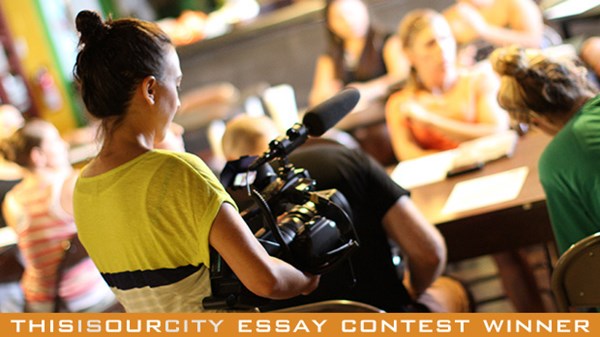 Sibling Filmmakers Set Out to Free Austin's Sex Slaves
John and Michelle Nehme are tackling human trafficking in their own background.
1.7.13
At the intersection of the Southwest and the Deep South, Austin is the self-declared "live music capital of the world." A haven to filmmakers and folk artists, tech engineers and college students, it's the home of Austin City Limits, the kind of city where almost every Saturday the same musician can be found standing under a tree in Zilker Park, playing his guitar and harmonica for kids riding by on the park train. Even the bats love it here. (Austin has the largest urban bat colony in the world.) Known for its slogan "Keep Austin Weird"—a motto-turned-movement that seeks to protect the city's local focus—Austin is making room for a new, lesser-known movement: Free Austin.
In the first half of 2012, nearly one in ten of all calls to the National Human Trafficking Hotline came from Texas. The causes are speculative—proximity to the border and a major transit corridor up I-35 are likely factors—but the crisis is profound. The fourth largest city in Texas, Austin in particular is a microcosm of a national problem that often goes unseen. Every year, 200,000 children are at risk of being forced into the U.S. commercial sex industry. The average age of entry is 12.
In an effort to address the hidden crisis, an Austin nonprofit is gathering a diverse group of change-makers, including police officers, trafficking survivors, and state senators. "At the end of the day, we want Austin to be a slave-free city," says John Nehme of Trade In Hope, both a community outreach project and a documentary film. John and his sister, Michelle, claim hope as the virtue that motivates their work.
"In the church world, there seems to be a lot of talk about trafficking, but there's not a lot of feet to it—there's not movement," says Matthew Hansen, pastor of Austin New Church and executive director of Restore Communities. "John and Michelle Nehme are saying, 'Let's actually do something to fight trafficking … right here in our own backyard.' They're not big-shot professionals. They're not businesspeople with money. They're not Hollywood. They're just two people who said, 'We're going to do something, even if it costs us.' That's pretty rare."
The Characters
As a victim of sexual assault herself, Michelle knows something of the trauma of exploitation. Although she was never trafficked, she felt compelled to offer hope and healing to victims by telling their stories. "Making this film is my way of speaking and the Lord's way of healing me," says Michelle, cofounder of Trade In Hope and the film's director. "If we as a community can face these issues, if we can step into the pain, we can come together and write a better story."
Michelle holds a master's in film from the University of Texas, and her Emmy-nominated work has appeared on PBS, the Rachel Ray Show, and TLC. John holds a master's in political economy from the University of Sydney. Before becoming Trade In Hope's film producer and director of outreach, he worked as a policy analyst for the Centre for Social Justice in London and consulted for Blood:Water Mission. At great cost to their financial stability, in 2010 the Nehmes moved to a donated office downtown and started piecing together donations and in-kind support. Together, the support has made possible their two-fold goal of producing a film about domestic sex trafficking and using it to fuel the "Free Austin" movement.
The Nehmes are Austinites who at once blend in and stand out. They seem just as comfortable sitting in a bar making small talk with city leaders as they do raising their hands in praise at their Anglican church. "People want to know if this is a Christian film," says John. "There will be gospel truth in the film, and yet we're not marketing it as a Christian film. We want it to be from the church and beyond the church, attractive because of the redemptive truth in it. Film is the language of change in our modern context."
The Film
At the start of the 20-minute trailer, a woman says, "I was raised singing the Star Spangled Banner and saying the Pledge of Allegiance." Then the film cuts to images of empty parks and passing streets, seen from the window of a moving car. A lone guitar accompanies her voice. "My family was all-American. We had great dreams and great hopes… When I was 4, we had three neighbor boys, and they started raping me. When I was 10, my dad was murdered. By the time I was 12, I started doing drugs, I started drinking, I started having sex."
Her name is Jessica Richardson. The short film tells of how she dropped out of high school at age 15 and shortly thereafter was recruited by a pimp who controlled every aspect of her life. On average, Richardson was exploited 15 to 20 times a day. (This Is Our City also told Richardson's story in the Portland-based film "All I Was Good for Was Sex.")
"Any person under the age of 18 induced to perform a commercial sex act—where anything of value is given, be it food, money, shelter—is automatically considered a victim of sex trafficking," says Michelle, who edits the feature-length film late at night after her daughter goes to sleep. "Trafficking is happening all over the city, even in upstanding communities. Most people don't see what's going on in their own neighborhoods."
The Outreach
As both a film and an outreach effort, Trade In Hope has helped galvanize a diverse group of people: law enforcement officers, churchgoers, synagogue goers, students, social service providers, politicians, private-sector businesses, nonprofits, and volunteer groups like Allies Against Slavery. The latter has played a key part in building the local grassroots response to human trafficking. John Nehme now co-leads Allies, which in the past three months has seen a 50 percent increase in "network influence," meaning that more people are signing up to learn, act, and get involved in preventing sex trafficking in Austin.
'Trade In Hope has really energized the community around this issue. John and Michelle are … charting the course for the future.' ~ Laurie Cook Heffron, professor, University of Texas
Public awareness is the first step. Two years into the Trade In Hope project, over 600 people have watched the short film in public settings, almost 2,000 people have viewed one of two teasers on their website, over 400 individuals have offered financial support for the film (and its outreach efforts), and hundreds of others have been exposed to their work through community presentations and conferences like Austin's 7th Annual Human Trafficking Conference. Time after time, the Nehmes see people respond with conviction. Perceptions change. Passion grows.
"Trade In Hope has really energized the community around this issue," says Laurie Cook Heffron, who teaches at the University of Texas School of Social Work and collaborates with the Nehmes on local outreach. "They've been the catalyst for interest about human trafficking among community networks that have not been reached by other efforts. John and Michelle are … charting the course for the future."
The End Goal
The Nehmes are on schedule to complete the feature film by spring of 2013. The end of the film marks the beginning of a larger project: rallying cities beyond Austin in the fight against sex trafficking. They hope to show the film at festivals and community screenings and also meet with city leaders to discuss the nuts-and-bolts details of how they engineered the Austin movement.
"The film will bring people together, it will be the rallying point for dialogue," says John. "But we can't and don't want to be the big organization that solves this problem [in other cities]. We see ourselves as the catalyst. If we get the right people in the room and offer the right resources and model, we can light the fire and let that local community build their own capacity to fight the problem."
For now, the Nehmes are gearing up to finish the film and making daily sacrifices in their quest to "Free Austin." "As a single mom," says Michelle, "there have been times when I've asked, 'What are we going to eat for dinner?' I'm a mom during the day and [a filmmaker] during the night. I'm tired beyond tired. But it's been so worth the cost. God's goodness prevails in the midst of such darkness. It's like having a taste of heaven—seeing the Body the way it was meant to be, seeing the survival of the human spirit."
"As long as a person is breathing, they have the opportunity to heal," says Richardson at the end of the film trailer. After roughly four years "in the life," she found herself in a clinic with a positive pregnancy test and realized she had to escape and give her child a life different from her own. Ten years later, she's happily married, raising five kids—one of whom was conceived during those years—and running her own organization that works with survivors of sex trafficking. Her story reveals the Trade In Hope vision—a vision in which hope transforms both the character of a person and the character of a city.
Andrea Palpant Dilley lives with her husband and two daughters in Austin, Texas.Her work as a documentary producer has aired nationally on American Public Television.Her work as a writer has been published in Geez, Utne Reader, and the anthology Jesus Girls as well as online with CNN, Her.meneutics, The Huffington Post, and Duke Divinity's Faith and Leadership. Her memoir, Faith and Other Flat Tires: Searching for God on the Rough Road of Doubt, tells the story of her faith journey. For more information, visit Andrea at andreapalpantdilley.com or on Facebook.
MORE FROM CHRISTIANITY TODAY