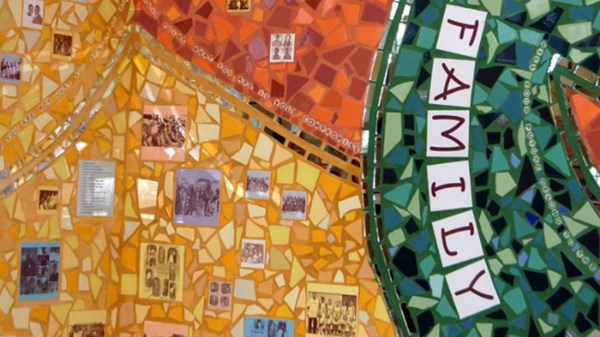 Image: Courtesy of Carolyn Elaine
Piecing Together Peace Amid Chicago's Youth Violence
Why muralist Carolyn Elaine returned to her embattled alma mater.
9.23.13
Editor's Note: Four years ago today, 16-year-old Derrion Albert was walking home from school when he was caught in a brawl between fellow students and beaten to death with pieces of railroad tie. The footage of his death spread quickly on the Internet, igniting a national conversation about Chicago's youth violence, and featured prominently in the 2011 award-winning documentary The Interrupters. The following story is told in Albert's honor.
The video went viral. The boy was dead. The heart-stopping YouTube footage struck Fenger Academy High School in 2009 like the blunt force that took the life of one of its students. At a time when Chicago was reeling from a lost bid for the 2016 Summer Olympics, the violent death of Derrion Albert on the city's South Side became an emblem of its disgrace. And the digital contagion that captured it seemed to boil the complexities in Chicago down to a simple truth: "Fenger High School is what's wrong with Chicago." It threatened the dignity and aspirations of a generation of high schoolers and their families.
It was becoming difficult for anybody to see a life for these students beyond this dark moment. As one of the people working to shine a light, Carolyn Elaine came back to her alma mater with artistic talent, a class in restorative justice, and a desire to help.
Now, four years later, Elaine says, "If you look up Fenger High School today, they have paved the way for what restorative justice in the schools can accomplish. They're calling it 'The Miracle on 112th Street.'
"When you go into that school now, you walk into an environment of peace. It has created a model for what they're trying to replicate at other schools. We wanted to shift the view of the school, and didn't want the way that Derrion Albert died to be his legacy."
Elaine told her story at the 2013 CIVA Conference for Christians in the Visual Arts, held at Wheaton College this summer in the Chicago suburbs. This year's theme was "Just|Art: A Conversation about Making Things and Making Things Right." Conference themes included: Can art do justice? Can artists play a role in restoring a culture? Does making art and making beauty heal a place, a community, a soul? Elaine's story offered one answer.
MORE FROM CHRISTIANITY TODAY