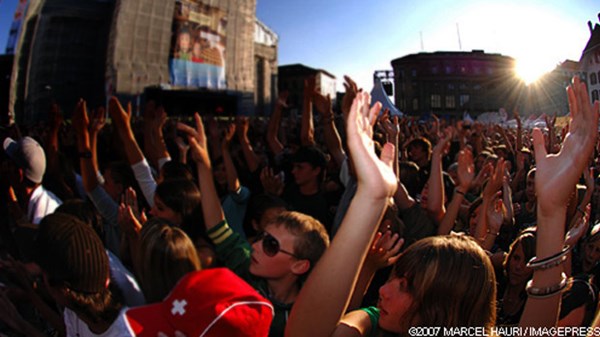 Seeking a 'Fanboy' Faith
Becoming 'fans' in our cities: an excerpt from 'Your Neighbor's Hymnal.'
10.20.11
Last summer my daughter practiced one of the oldest traditions in Western culture: she was baptized. Members of our church along with family and friends gathered lakeside in a neighborhood park and watched while I waded knee-deep with my daughter and our friend and pastor in the cold water. People on the shore sang "Amazing Grace" as we prayed and plunged my daughter under the water, watching as she sprang back to the surface drenched not only in the water but the grace and mercy of God and those gathered in love around her. As we came out of the water and she received hugs, people who were at the park for a myriad of reasons—walking their dog, playing with their kids in the playground, journaling on a park bench—started to wander over and ask what we were doing.
As Beth Maynard, professor at Gordon Conwell Theological Seminary, has noted, the word leitourgia is a Greek term used in early Christian communities to mean a public act that expresses the mission of a people, something done in the open and not behind closed doors. Maynard cites David Fagerberg's study Theological Prima in looking at how the term grew in usage in the early Christian communities. She notes that the term becomes more and more associated with "actions expressing [a] city's relations to the world of divine powers on which it acknowledged itself to be dependent." In the early centuries of Christianity, leitourgia was a term to denote public rather than private gatherings whose focus and intent was essentially to bring light into darkness and challenge the prevailing social and spiritual assumptions of the time. By "public," it is meant that everyone is invited to participate and find their voice in this reality. As Fagerberg notes, "… the early Christians chose the term leitourgia for what they were doing [because] it signaled that they did not think themselves to be doing [a service closed off in meaning from the rest of the world], but they were doing the eschatological work of making Christ's kingdom present … [embodying] the presence in this world of the kingdom to come."
Faith like this is so real, so pervasive that it has to be made public and shared, drawing others into the song, challenging the heartbreak and nihilism of an age and offering an alternative reality for all to see and hear.
In many ways, this ancient notion of leitourgia is the faith of the pop music fanboy as well. The desire to take something so core to who we are and seek to express it regardless of what others may think of us is seen in the moment someone becomes so taken with a song and an artist that they play it on repeat for days on end, wear the concert T-shirt, follow the band's Twitter feed and Facebook updates, and have to tell people about it as a way of keeping the world on alert. This is when people forgo the norms set by the culture around them, throw care to the wind, and run fully into expressing something bigger than themselves.
I recently attended a U2 show with a number accomplished professors, many of whom had written in areas of literary theory, economics, history, sociology, and theology. However, once we stepped into the arena for the rock show, what had been reserved and mediated discourse became a full-bodied fan fest—PhDs jumping up and down, pumping their fists in the air, dancing in the aisles, and singing along with the thousands of fans gathered together. Amid the music and flashing stadium lights, people forgot themselves in all the right ways, joining together in chorus after chorus. Basically, people found faith in something other than themselves and gave themselves over to it, even if for a moment.
It doesn't take a rock show to see this full-bodied faith take hold with a pop song. Just look at the car next to you at the stop light when you hear the thumping subwoofer pounding your windows: heads bobbing to the beat like a scene from Wayne's World, lip-syncing along to the song and belting it out with all the passion of an American Idol finalist. Watch the commuters on the train with their white iPod ear buds. Their eyes are closed, but they're fully alive in ways they won't be during their workday. True, some pop music fandom draws people into the trivial and mundane, just as some Christian worship songs celebrate consumer culture more than critique it or provide an alternative. But the drive to find something larger than ourselves and make it public is a starting point. Even a shallow faith is better than no faith at all.
What would it mean to take our faith public in the cities that we love with a fanboy faith? To go to the open spaces—the streets, the parks, the playgrounds, the basketball courts, the shopping malls, and the building sites—and become "fans" in the midst of our city for all to see and hear? The lesson we see in rock concerts is that people are wired to declare their fandom when given the permission to do so. Whether it is found in a rock stadium or a simple baptism at a lakeside, people are drawn together with authentic fans who give themselves over to what they truly consider to be core to who they and what grounds their lives. Like the early church, perhaps loving our city means going public with what we love, meeting others in the public spaces of fan faith that animates them, and finding our common ground together in a deep desire to be public about what we love and to whom our love is committed.
Jeffrey F. Keuss is professor and associate dean in the School of Theology at Seattle Pacific University. His latest book is Your Neighbor's Hymnal: What Popular Music Teaches Us About Faith, Hope, and Love (Cascade Books, 2011), from which this article is excerpted.
MORE FROM CHRISTIANITY TODAY