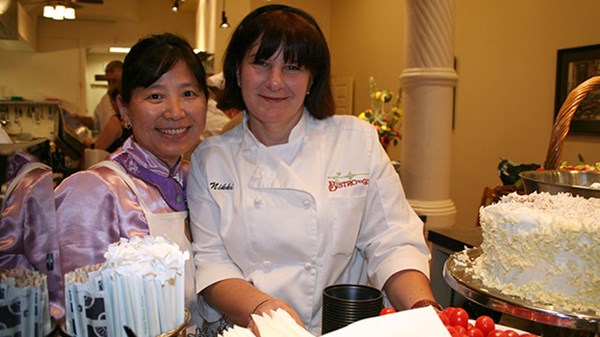 Good Eats and Evangelism: A Whole-Gospel Restaurant Serving Pittsburgh's Soul
Chef Nikki Heckmann's Bistro To Go offers tasty ingredients to revitalize Pittsburgh's North Side neighborhood.
8.16.12
On any given day between 11am and 7pm, locals can watch Nikki Heckmann ply her craft at Bistro To Go, the eclectic café the chef launched in 2007 in the North Side neighborhood of Pittsburgh. Just peer over the glass cases into the open kitchen, and you'll find her stirring her famous tomato basil soup or coaching a young employee on how to make salmon croquettes. Both scenes would reflect Heckmann's motivation behind opening the café in 2007: her heart for sharing the gospel with those outside the church, and her desire to bring revitalization to a community she has come to call home. And simply, she says, "I love to cook."
Chef Nikki was loved into the faith by an urban congregation, Allegheny Center Alliance Church (ACAC), which welcomed her probing questions and didn't turn her away for running a bar and living with her boyfriend. Five years at ACAC, including volunteering with the youth group, finally brought the message of Jesus home to her. Having received mercy, Heckmann now has a heart for seekers. At Bistro—which one Pittsburgh food critic described as furnished "by the International House of Whimsy"—Heckmann says she's creating "a missional lab" outside the church walls where everyone from the homeless guy to the downtown businessman can connect. To entice folks in, she deliberately offers pan-global cuisine.
Early on, skeptics warned her that she was "trying to be everything to everybody." But, as Heckmann told a local journalist, "No—I'm trying to get different people in the dining room.'"
People who know they're lost, Heckmann says, might enter a church to find some answers. "But the people outside in the community, they don't know they need a Savior," she says. For her, Bistro is a place where she can rub shoulders "among people who are sinners like me." The open kitchen design was deliberate, she explains. It puts her faith and character "on display" and "promotes accountability, cleanliness, and civility."
A journalist from Pittsburgh's City Paper captured the café's spirit in her December 2007 article announcing its launch. She wrote that Bistro was "supplying the downtrodden street with a haven for comfort and joy." And you will find "comfort food" at Bistro, but Chef Nikki avoids the really unhealthy stuff. By intention, there's no deep fat frying. The menu changes daily and is dotted with "lite" and vegan options, such as sundried tomato feta orzo, cod with brown butter and almonds, plus more traditional options like chicken parmesan and macaroni and cheese. Ingredients are sourced locally whenever possible. Cooking demonstrations on Saturdays and cooking classes two nights a week provide patrons the how-to skills to create nutritional meals at home. But, knowing the stresses of modern life, Heckmann's café specializes in offering time-saving, healthy, culturally diverse take-home dishes.
Bistro To Go almost didn't happen. At one point after her conversion, Heckmann left the restaurant industry, went to seminary, and served a stint on ACAC's pastors' team. But the chef soon realized she was no longer in the right vocation. "I went to our senior pastor and said, "I'm confused. I'm on the pastors' team but further away from the people I used to work with in the kitchen. I'm hands-on, I like evangelism, I do street-level stuff." Wisely, the pastor responded by giving Heckmann a few months' leave to explore her calling. The church even paid her salary for several months while she got Bistro off the ground.
She ended up coming full circle. Heckman had grown up "a suburbanite through and through" but got acquainted with and loved the diversity of the North Side community as a college student. At age 20, she landed her first restaurant job at a Hardees on E. Ohio Street, a short hop from ACAC. Years later, as a new believer at ACAC, Heckmann took up Pastor Bruce Jackson's challenge to move into the urban community. Though a family friend tried to convince Heckmann that North Side was too dangerous, she plunged ahead. Living there only deepened her passion for the community. Starting a café on E. Ohio Street seemed almost destined. "This street has always been my passion and focus," she says.
The first year was scary. Over her career, Heckmann had opened numerous restaurants, but this was a risky financial venture. Locating to a neighborhood with visible drug dealing, on a lot with no parking, her expectations for sales were low. "I came in with four staff thinking I'd be baking pies and mentoring a few kids," Heckmann says. "But that first day we did $3,600."
The surprising economic success has continued. Last year, Bistro brought in $1.4 million. Heckmann has opened a second restaurant, Bistro Soul, next door, which features health-conscious Southern cooking made from scratch. She uses the profits to create jobs and strengthen local nonprofits serving North Side. For now, she works without a salary to free up as much cash for payroll as possible, and many of her hires are people who faced barriers to employment. To uphold local nonprofits, Heckmann offers a 10 percent discount on catering, allows local organizations use the Bistro's community room for free, and promotes their work through special events.
"I think it's entrepreneurship that will change our inner cities," Heckmann argues. "It's not more nonprofits, it's not more media, it's not more government." Currently her cafés employ 46 people, including urban youth who come to her as summer interns through her partnership with the Pittsburgh Advisory Board. "We want to really change E. Ohio Street's economy, so it can thrive and be a place for families to come to," Heckmann says. Already, other businesses on the street have perked up their storefronts: "When my building looks beautiful, it raises the standard for others," notes Heckmann. Plus, the high foot traffic into Bistro has intimidated local pimps who've moved their prostitutes elsewhere. "When you bring light into darkness," Heckmann enthuses, "the darkness leaves."
O'Dell Merryman, who eats at Bistro To Go with his wife several nights a month, says the café has contributed to both community and economic revitalization. "Bistro's become a hangout place, a connection place for many people on the North Side," Merryman says. "It's an 'in' place to be—great atmosphere, great food, great hospitality.
"It's a real blessing to have a business that is not just concerned about its own welfare, but wants the neighborhood to thrive as well."
Dr. Amy L. Sherman's most recent book is Kingdom Calling: Vocational Stewardship for the Common Good (InterVarsity Press), which includes an abundance of stories of Christians contributing to the flourishing of their cities. More at ivpress.com.
MORE FROM CHRISTIANITY TODAY