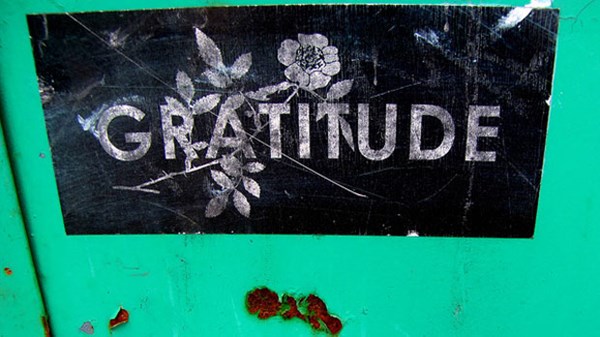 Gratitude Comes to the City
Christian writers share what they love about where they live.
11.23.11
Photo courtesy of Shannon Kringen, Flickr.com
This week, people throughout the nation are spending a bit of extra time reflecting on what they are most thankful for. In the spirit of This Is Our City, we asked several Christian leaders to share what they are most thankful for in the cities where they live. Here are their responses.
Why I'm Thankful for Rockwall, Texas
By Mary DeMuth, Author
I've never felt at home. I moved around a lot in the Pacific Northwest, the longest stint being five years in a country town close to skiing and cows. When I moved from there, my heart ripped out. Moving, moving, moving.
When I got married, the trend continued, involving a move to Texas, then to France to plant churches. When we came home from France during Christmas 2006 a bit defeated and deflated, Rockwall, Texas, welcomed us home. We stayed in an apartment in the corner of a barn on a wide stretch of ranch. Friends fixed it up, put up a Christmas tree, baked cookies. A month later we bought a home. We've lived here now longer than any other place I've lived on this beautiful earth. Rockwall is home.
Three reasons I love this bedroom community, hugging a giant lake:
The people. Our community is here. Folks who pray for us. People who challenge us and do life alongside us. We've been sheltered by our friends here, loved well.
I can go to the store and run into someone I know, have a friendly conversation, and feel oh-so-connected. When we line the streets for the homecoming or Christmas parade, we see friends alongside us and marching the well-kept streets.
The school system. After the harsh conditions our kids endured in France, it's been an absolute pleasure to see our kids (teens now) thriving. Our eldest is now in college, well prepared and thankful for her education.
I have such fond affection for Rockwall that I set my latest novel, The Muir House , there. I highlighted our neighborhood eateries, schools, and community—a perfect setting for my 20-something character Willa to uncover the mystery of her past. I dedicated the book to Rockwall.
It's a blessing to find home, to feel settled, to unpack, and rest. Rockwall has provided that for me.
Why I;m Thankful for Colorado Springs
by Wess Stafford, president and CEO, Compassion International
In this Thanksgiving season, I've been thinking a great deal about all that I have to be grateful for. It's my privilege to lead Compassion International, a global organization that has been linking caring Christians with children in poverty since 1952. As Compassion's president, I have many opportunities to visit the children we serve as well as the generous sponsors and donors who so faithful partner with us in caring for them. My job takes me all around the world, but I'm deeply grateful to call Colorado Springs, Colorado my home. When I learned about Christianity Today's This Is Our City project, I was eager to share some of my favorite things about this remarkable city.
Colorado Springs sits along the eastern edge of the southern Rocky Mountains. We enjoy a cultural diversity born from a combination of our rich, rural heritage that has long been shaped by cowboys, ranchers, and farmers and the modern energy and opportunities of a thriving city. Our city is well-known as a center of activity for ministries that help Christians live out their faith in this world. Colorado Springs is currently home to so many evangelical Christian organizations that it's earned nicknames like "the evangelical Vatican" and "the Christian Mecca." Compassion shares Colorado Springs with the Association of Christian Schools International, Biblica (formerly International Bible Society), Focus on the Family, HCJB Global, the Navigators, and Young Life, to name a few.
It thrills me to see the various Christian organizations of Colorado Springs working in collaboration. I often joke that when my fellow ministry leaders and I walk into heaven the Lord is going to ask us, "What did you think I was planning when I put you all together in Colorado Springs?" Each year the 850 staff employed at Compassion's Colorado Springs office personally donate thousands of dollars to support a local organization that ministers to children and families in our own community. Although Compassion's ministry is focused on children in the developing world, our staff can't help caring for the children of Colorado Springs as well. Presenting the sister ministry with their gift is the highlight of our annual staff Christmas celebration.
I also appreciate that Colorado Springs is an incredibly patriotic city. We enjoy the company (and the protection) of the brave soldiers of the Fort Carson Army base, Peterson Air Force Base, Shriever Air Force Base, and the United States Air Force Academy. Colorado Springs is also home to the North American Aerospace Defense Command (NORAD), a component of America's missile defense system. I'm so proud to share our city with some of America's finest and bravest soldiers. When our troops are sent into harm's way, we pray for them. We comfort their families while they're away. We rejoice with them when they return home safely. We visit them in the hospital, and we grieve when they pay the ultimate sacrifice for our country.
And, of course, I'm grateful that our city is such an amazing showcase for God's handiwork. Colorado Springs rests in the shadow of one of the most famous American mountains, Pikes Peak. It was Pikes Peak that inspired Katharine Lee Bates in 1893 to write the song "America the Beautiful." That inspiration lives on today as we enjoy a stunning backdrop of natural beauty while walking, jogging, biking, and hiking in the crisp, clean Colorado air.
This is just a taste of Colorado Springs. I hope you'll come experience it yourself!
Why I Am Thankful for Boston
by Carolyn Custis James
Author of Half the Church: Recapturing God's Global Vision for Women
President, WhitbyForum and Synergy Women's Network, Inc.
"Wear that cap anywhere in this city, and you'll be safe."
I had just moved from Florida to Massachusetts, and was surrounded by boxes. The person speaking was the Verizon installer who, seeing the Boston Red Sox cap my husband had bought me, felt compelled to inform me of the protection it afforded. As a baseball fan, I found the mention of Fenway Park enough to outweigh fearful remarks I heard about New England winters. It gave me fresh incentive to brave the move north. This tip about my cap was doubly good news.
I've been here two years now—hardly long enough to begin shedding my outsider status or for Boston to feel like home. I'm years away from weaning myself off of GPS dependence. Still, even as a relative newcomer, it's hard not to love this place. Boston is the epicenter of American history and an international hub of many of America's finest higher educational and medical institutions. Today, the city bustles with activity, traffic jams, crazy sports fans, a rising generation of gifted students and researchers, and native Bostonians who take liberties by adding and subtracting the letta' r in conversation.
But the promise of safety inherent in a Red Sox baseball cap reminds me that there are two sides to Boston. Alongside reasons for great pride and deep gratitude for this remarkable city, there are also and always have been reasons to need protection here.
Early Puritan settlers in Boston breathed in the fresh air of religious freedom back in 1630. But local cemeteries contain the bones of early Bostonians whose beliefs fell outside the circle of accepted doctrine and were persecuted—some of them to their graves. In 1773, the Boston Tea Party (anything but a party) was a dangerous act of resistance against the Crown and a harbinger of a royal crackdown to come. It did come. In 1775, Boston acquired the unenviable reputation of being the site where the first shot of the Revolutionary War was fired and both American and English blood was spilled. Boston speaks of sanctuary for some fleeing religious persecution and of unbearable persecution—literal witch hunts—for others; a place of both peace and bloodshed.
Old ironies live on in this city. Here, even beloved baseball players can land on the wrong side of their fans. But danger of a more sinister nature has held the advantage over many in Boston until last week, when state legislators finally passed an anti-sex trafficking law for the governor to sign. Despite a long-established history of taking the lead when it comes to social change, Massachusetts lagged shamefully behind with two others states that still do not have a law empowering local enforcement to go after traffickers, pimps, and johns and to treat prostitutes as victims instead of criminals.
What I love most about Boston are the people here who love Boston too. They haven't waited for the government to act. Just since moving here, I've witnessed the formation of two unstoppable gatherings of Christian women who are fired up to bring hope to the hopeless and freedom to the captives. Last week, people gathered to support a safe house for women recovering from trafficking. Darkness and danger may be strong, but these light-bearing ezer-warriors are filled with hope and determination. Boston will feel the impact of their efforts and many will find freedom because of their advocacy. And that makes me truly thankful to live here.
So if you're in Boston and happen to see a GPS-dependent woman driving around sporting a Red Sox cap, she could be me—growing to love Boston and staying safe.
Why I Am Thankful for Colorado Springs
by Glenn T. Stanton, director, Global Family Formation Studies, Focus on the Family
It's a rare day that I don't remind myself that I love living in Colorado Springs. And not because it has become the evangelical Vatican—in spite of it, rather. Yes, we have more professional Christians here per capita than most any American city. But Colorado Springs is a great place to live, work, and play all by itself.
It is a city of contrasts, where the rolling flatness of the Kansas prairie meets the Front Range of the Colorado Rockies. My family lives on those plains. Every morning while taking the kids to school, we get an absolutely majestic picture of Pikes Peak. And every morning the view changes because of the way the sun falls upon and illuminates the mountain terrain. Many mornings, the snow caps and clouds give a new and wonderful picture. I have lived here for nearly two decades, and it's a safe bet to say that very view will take my breath away tomorrow and every morning after.
And while the Springs is home to a boat-load of evangelical ministries, it is also a major military town where we have a major Army base and four Air Force installations, including the storied NORAD and the United States Air Force Academy. It is rewarding to observe up close how much our armed service members give of themselves for our nation. We live next door to them, shop with them, eat together in restaurants, worship together during the week, and see each other at our children's school conferences. They come from and live in a very different world from mine; I am glad I get to see theirs up close.
I love that Colorado Springs is a relatively small town close to other interesting cities and towns. It is a treat to run 40 minutes north to Denver and enjoy its concerts and museums, without every day having to fight its traffic. Manitou Springs is a small boulder nestled just to the West of us, right up against the mountains. It is where all manner of fun and interesting hippies live. These folks open their New Age, tourist, dulcimer, and ice-cream shops in the morning when the sun gets warm (or later in the day, depending on what the previous evening's activities). Manitou has no hard start-time. It is a place to visit on weekends and to knock-off work early during the week and go have dinner there with the family. It fascinates some of our kids and creeps out the others. How can a dad not love that?
I also love my city because it is an interesting mix of city dwellers and suburbanites, along with a very vibrant Mexican community (however, we are not swarming with great Mexican restaurants unfortunately) as well as cowboys, horse, and ranch folks. These are the folks who press their jeans and wear shirts with pocket flaps that button. They wear those big bushy or handle-bar mustaches (at least the men) and sport cowboy hats that occupy the whole dashboard of their diesel, dually trucks. Some of them look like they've never touched a clod of dirt in their lives. Others are encrusted in it. They are from a whole different world than me, and I love seeing them at the local Wal-mart. I love to hear them talk in the Wilford Brimley way, but with a great twang.
Colorado Springs has a bit more diversity and mystery going for it than most would imagine. It sits in the Napa Valley of micro-brews. And for an old dinosaur skateboarder like me, I am happy my town not only has more skateparks than any place I've ever lived, it also has one of the best public parks in the world right downtown. You can find me there sometimes.
There are few places I would rather live.
MORE FROM CHRISTIANITY TODAY