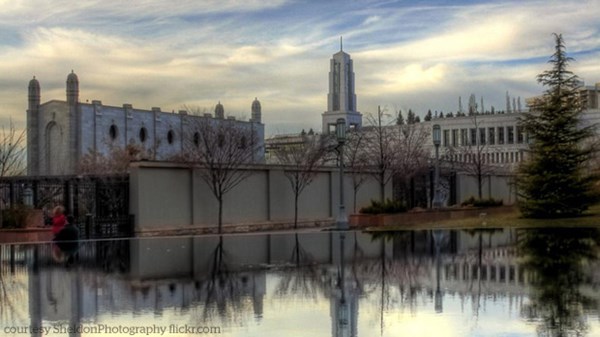 How Mormon Country Became My Home
Now, instead of complaining about Salt Lake City's odder aspects, I pray for its well being.
12.7.11
When my husband and I moved from San Francisco to Salt Lake City, we told ourselves and our appalled friends that we'd give it two years. Two years to ascertain whether we could survive summer heat, winter snow, being inland, minimal sources of good Chinese food, and a total absence of Mission-style burritos.
And what we transplants to Utah politely call "the culture."
It's a shifty phrase that can refer to, among other things, the Church of Jesus Christ of Latter-Day Saints and its members, the conservative political landscape, the relative racial and ethnic homogeny, the baffling liquor laws, or the pioneer spirit—which is sometimes manifested in drivers shunning the idea of lanes or laws.
That move was over ten years ago, and we're still here.
At first, we made fun of nearly everything we observed. We'd tune into the local news and find lead stories about "lake stink"—what happens when the winds blow over the Great Salt Lake in such a way that the smell of decaying algae floats over the valley.
We'd discuss and try to imitate the inscrutable accent that varies from region to region and block to block. Before living here we never knew about wire deer, family portraits the size of big-screen TVs, obsessive leaf-blowing, unironic Jell-O salads, and the Holy War between the University of Utah Utes and the BYU Cougars.
Whenever I traveled and was asked, "Where are you from?" I'd say, "Well, I live in Utah right now but I'm from San Francisco." Puzzled looks, polygamy jokes, and the assumption that we ski and/or are Mormon inevitably followed.
I laughed along, though I also boasted about our cheap rent, the ease of parking, the beauty of the Wasatch Mountains.
Yet I clung to my California connections and identity. For at least a year after moving, I continued editing my San Francisco church's newsletter. I kept working for my Bay Area company as a telecommuter. Friends often asked, "When are you coming home?" But I didn't get the sense that they asked so much because they missed us. The underlying question was, How could smart, cultured people like us possibly make a life in a place like Salt Lake City?
MORE FROM CHRISTIANITY TODAY