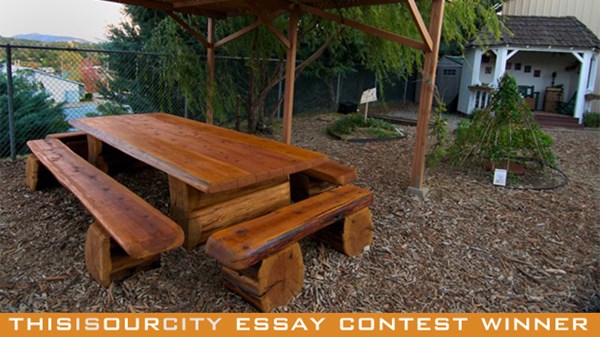 My Love Affair with Small Town America
The qualities that drive away others are what endear me to my community.
12.19.12
I am nurturing a 12-year love affair with small-town America—namely, Julian, California. After years of a semi-nomadic lifestyle, my husband and I planted ourselves in this little Gold Rush–era town (pop. 1,500) nestled at 4,000 feet in the San Diego Mountains. In charm, it's stunningly stereotypical, but other indicators reveal a diverse community, from ethnicity and income to the number of generations each family has called this place home.
Like all good relationships, my devotion to Julian is passionate, but the day-to-day challenges are real. When faced with the decision to stay or flee, I return to the undeniable "common good" calling we feel to live in this particular place. Instead of constantly evaluating the reasons to keep living here, I try to always reframe the question by creating—indeed, being—good reasons for someone to live here.
Small-town living can be wildly life-giving when neighbors choose deep care over carelessness and work together for a good life. Because we live so far from an urban area and the attendant entertainments, we're skilled at making our own fun, and our kids reap the benefits of inventive celebrations, immersion in nature, and being known and loved most places they go. Living an hour away from most amenities, we learn how to substitute, go without, share, and appreciate what we have. Whether it is because they are the type of people who would choose to live here, or living here has made them this way, doesn't matter; my local friends are creative, hardworking, resilient, and unfussy. I tell stories about the strength of our community to friends who live other places, and I can see the wonder in their eyes, as if we are living some ideal version of life that they weren't sure existed.
To claim a place as your own is to champion its selling features—and bear its burdens.
Yet the smallness of things can be a curse when it entails natural, but nonetheless depressing, limitations in jobs, opportunities, programs, health care, groceries, and the range of courses offered at our small high school. We feel these shortcomings keenly. People move away because of these deficits, and sometimes we can't blame them. At the same time, it feels like a punch to the stomach when someone does move away. To make life all that it can be in this corner of the earth, we need everyone and the gifts they bring. I carry these tensions as a member of this zip code. And at the end of the day, I grow suspicious of anyone who ticks off the virtues of their own city without groaning from the gut about its problems. I've discovered: to claim a place as your own is to champion its selling features—and bear its burdens. We take pride in our dark-night skies and clean air and safe streets. But we also carry the death of a family killed on a treacherous bend of rural road like a knife in our collective side.
Like a marriage vow, our family has committed, for better or worse, to living here and doing our part to bring life to the nooks in which we dwell. Because we don't want to be mere consumers of place and hastily bolt for a "better" one, and also because we are bound like barnacles to the rock of our friendships, we stay. Staying means advocating for parks, volunteering in classrooms, coaching youth sports, serving on wilderness protection boards, being involved in our tiny country church, pulling off endless fundraisers, shopping locally, and (with grimaces) paying our overdue library fines.
A particular piece of real estate in which I, and others, have invested serious hours is a formerly neglected piece of cracked asphalt on the campus of our public elementary school. Once a graveyard for broken equipment and a wasteland of waist-high weeds, it is now a colorful, pulsing, thriving garden. We grow food, and we also grow character, community, beauty, citizens, skills, academics, and stories.
One of our best stories begins with parent volunteers deciding to buy a massive table to sit in the heart of the garden for gathering, eating, and teaching. We looked at everything from school-grade lunch tables to cast-off picnic tables. Then we hit upon the idea of commissioning a table.
Our community has suffered through a series of catastrophic wildfires over the past 10 years. As such, we were drawn to a local artisan who specializes in taking down cedar trees on Volcan Mountain that were killed in fire, and refashioning them into beautiful objects. We struck up a friendship and took children to watch him hand-mill the wood on site. He made us a magnificent table large enough to seat a full class of students. When he delivered the table to the school, he was assisted by a team of local firefighters who carried it in piece by piece, with students, staff, and parents looking on, quiet and teary-eyed and something very close to reverent.
We call it a legacy table, and I believe it represents the best of our community. Our hard-earned PTO money stayed local, as we put it directly into the hands of an artist down the road. The work of his hands is enjoyed every day by school kids. Solid and gorgeous, it lives on a piece of the school that used to be sad and ugly. The table is unique, telling our story and rooting us here. It belongs to us. We cannot look at the table without remembering our shared losses and our painful recoveries, as well as our potential to re-imagine the places we inhabit, with hard work and gratitude. Everyone is invited to the table to learn, to eat, to share, as it sits in the public square of a public school. When I look at it, I see death transformed into life, the central theme of the gospel, which ultimately animates my own life's commitments. Others may not see that at all, but that's okay. The table still sings out of beauty, transformation, and community to everyone who lives in this small town.
A San Diego Master Gardener, Tricia Elisara leads the school garden programs at her kids' neighborhood school and coordinates the "Farm to School" program for the district. She blogs about "all the good things that happen in school gardens" at KidsinGardens. She and her husband, Chris, have deep roots in Christian environmental stewardship as the founders/directors of the Creation Care Study Program in Belize and New Zealand.
MORE FROM CHRISTIANITY TODAY