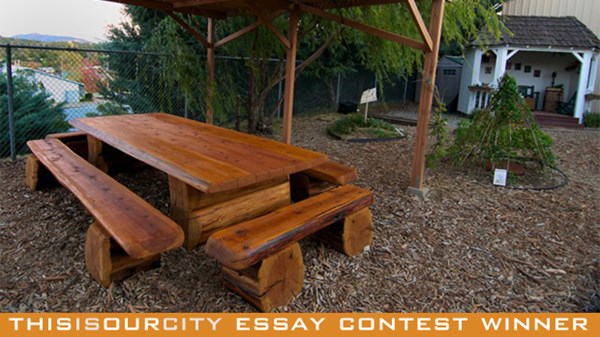 My Love Affair with Small Town America
The qualities that drive away others are what endear me to my community.
12.19.12
I am nurturing a 12-year love affair with small-town America—namely, Julian, California. After years of a semi-nomadic lifestyle, my husband and I planted ourselves in this little Gold Rush–era town (pop. 1,500) nestled at 4,000 feet in the San Diego Mountains. In charm, it's stunningly stereotypical, but other indicators reveal a diverse community, from ethnicity and income to the number of generations each family has called this place home.
Like all good relationships, my devotion to Julian is passionate, but the day-to-day challenges are real. When faced with the decision to stay or flee, I return to the undeniable "common good" calling we feel to live in this particular place. Instead of constantly evaluating the reasons to keep living here, I try to always reframe the question by creating—indeed, being—good reasons for someone to live here.
Small-town living can be wildly life-giving when neighbors choose deep care over carelessness and work together for a good life. Because we live so far from an urban area and the attendant entertainments, we're skilled at making our own fun, and our kids reap the benefits of inventive celebrations, immersion in nature, and being known and loved most places they go. Living an hour away from most amenities, we learn how to substitute, go without, share, and appreciate what we have. Whether it is because they are the type of people who would choose to live here, or living here has made them this way, doesn't matter; my local friends are creative, hardworking, resilient, and unfussy. I tell stories about the strength of our community to friends who live other places, and I can see the wonder in their eyes, as if we are living some ideal version of life that they weren't sure existed.
To claim a place as your own is to champion its selling features—and bear its burdens.
Yet the smallness of things can be a curse when it entails natural, but nonetheless depressing, limitations in jobs, opportunities, programs, health care, groceries, and the range of courses offered at our small high school. We feel these shortcomings keenly. People move away because of these deficits, and sometimes we can't blame them. At the same time, it feels like a punch to the stomach when someone does move away. To make life all that it can be in this corner of the earth, we need everyone and the gifts they bring. I carry these tensions as a member of this zip code. And at the end of the day, I grow suspicious of anyone who ticks off the virtues of their own city without groaning from the gut about its problems. I've discovered: to claim a place as your own is to champion its selling features—and bear its burdens. We take pride in our dark-night skies and clean air and safe streets. But we also carry the death of a family killed on a treacherous bend of rural road like a knife in our collective side.
MORE FROM CHRISTIANITY TODAY