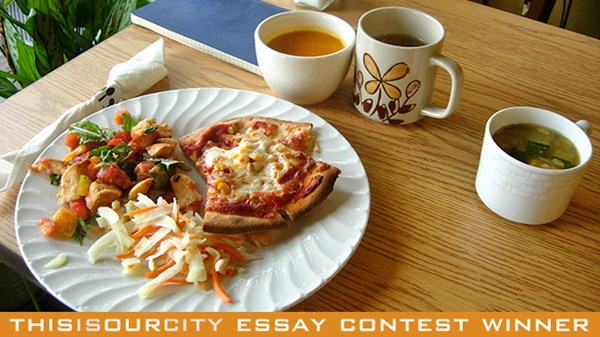 Pay-What-You-Can Restaurants Dish Up Dignity in Denver
A new business model helps close the socioeconomic gap.
1.15.13
The walls are Shrek green, the stainless steel lights, violet trim, and framed photos of organic food giving the space a modern flavor. Menus listed on flat-screen TVs above the counter feature pita sandwiches, Mediterranean salads, chicken enchilada soup—and no prices. As I approach the counter and breathe in the aroma of freshly baking pizza dough, the beaming clerk takes my order: grilled flatbread veggie pizza, apple walnut salad, and loaded potato soup. But as I pull out my wallet, the employee asks an odd question, one that stays with me all afternoon: "What would you like to donate today?"
I'm there to meet Cathy Mathews, co-founder and executive director of Café 180 in Englewood, Colorado. As I take in my first trip to a pay-what-you-can restaurant—what some are calling a new hybrid movement in business and social entrepreneurship—I peer out the window: a thrift store, a post office, a tailor. To my north is an abandoned building. The contrast between the buzzing café and its neighbors is stark. But no starker than the difference between the customers here eating lunch: a businessman, two elderly ladies, a middle-aged mother, and a man wearing several coats and a tattered winter cap.
Going out for a meal tends to segregate age, race, and social class, based on one's ability to pay. At Café 180, the serrated knife that separates wealthy and poor is laid down next to plate, fork, and spoon on the table of fellowship. Here is a radical culinary experiment in dignity and community.
Two Cafés and a Dash of Dignity
Albert Edward Day wrote, "Lazarus sometimes makes his way to our door step. We toss him a coin and go on our way. We give our charities but we do not give ourselves." In early 2010, Cathy Mathews began to grow similarly wary of "charity." A resident of Cherry Hills Village, an affluent Denver suburb, she began to wonder about her neighbors in low-income Englewood, seven minutes away. "We drop off food and clothes, but there remains a barrier between the person giving and the person receiving," she tells me over lunch. "What if there was more engagement? What would that relationship look like? How would it benefit both giver and receiver?"
MORE FROM CHRISTIANITY TODAY