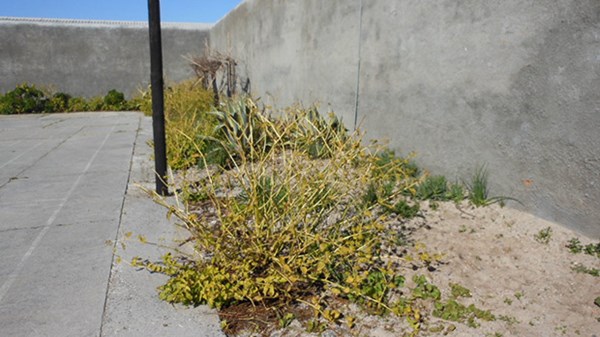 Image: flickr.com mikecogh
Planting Gardens in Prison: Why We Labor for Shalom Now
Even though we know we can't usher in God's kingdom, we're still called to establish order, beauty, and abundance in this life.
10.9.12
The beauty of Cape Town, South Africa, can only be appreciated when viewed from the sea. Rising from of the waters of the South Atlantic, the city's layers build upon each other—colonial stone structures along the coast, then glass and steal skyscrapers, then rolling foothills of green farmland and vineyards, and finally the breathtaking wall of amethyst stone known as Table Mountain, which serves as the canvas for the whole scene.
Cape Town's stunning beauty makes the horrors of its past that much uglier. The policy of apartheid divided races, disempowered millions of people, and sparked countless cycles of violence and retribution. For his efforts to end apartheid and establish justice, Nelson Mandela became a prisoner of the state for 27 years. I was familiar with Mandela's story before traveling to South Africa, but being there helped me sense the agony of his imprisonment in a new way. It wasn't the tiny barren cell he occupied with only a bucket for a toilet, or the back-breaking physical labor he endured in the quarry that got my attention. It was the view. Mandela spent most of his imprisonment on Robben Island, just seven kilometers off the coast of Cape Town. The island is blessed with an unparalleled view of the city.
During his imprisonment, Mandela could see the remarkable beauty of his home, but he could not reach it. Seven kilometers of hostile waters barred the way. As a result, Robben Island provided a peculiar kind of torture shared by few other prisons (Alcatraz and Devil's Island come to mind). It allowed Mandela to see freedom but not possess it. Still, Mandela was not without hope. To cope with the gap between his vision and his reality, he did something very ordinary: He planted a garden. After years of petitioning the authorities, they finally permitted their most famous inmate to cultivate a small garden in one corner of the prison yard. He started with just a few seeds collected from around the island and spent hours every day working his plot, studying growing techniques, and testing fertilizers (pigeon manure worked particularly well). Over time, his garden became a refuge for both prisoners and guards who shared in its bounty of vegetables and flowers. Mandela later explained that for him, the garden was "a small taste of freedom."
MORE FROM CHRISTIANITY TODAY