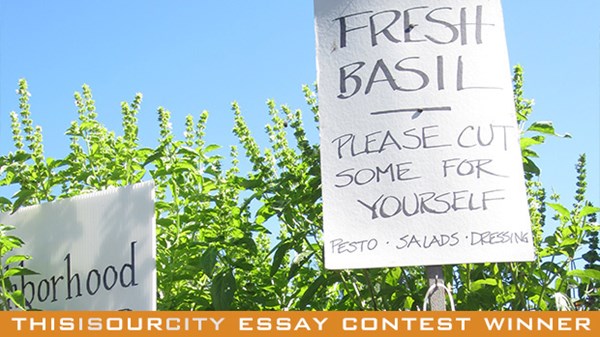 A Sliver of Shalom in the Suburbs
How my Christian community used a plot of land to plant community in an isolated neighborhood.
12.17.12
Editor's Note: Ever since we announced the This Is Our City essay competition in September, we've received no shortage of stories about Christians making 'common-good decision' to bless their city and neighbors. Over the past weeks, our team has enjoyed stories hailing from Austin to Malaysia to small-town America. We even received a story about surfing for the common good.
Today we're delighted to debut the first of the 10 essay winners. Today's is from Drew Ward, a member of Riverbend Commons intentional Christian community in Corona, a wealthy suburbs in Southern California whose challenges are not material but relational. In the coming weeks, we'll share the other essay winners on our site, highlighting the 3 top 'blue-ribbon' essays that deserve particular attention.
Some folks in Ohio call it the Devil's Strip. It goes by other names depending on where you live: shoulder, berm, snow shelf, tree lawn, furniture strip, among others; or the name heard throughout the British Commonwealth: verge. The verge of what, I wonder. It's the strip of grass in many residential areas that runs between the sidewalk and the road. Neighbors here, in Corona, California, call it a parkway. It's public land that many towns require homeowners to care for—watering it, weeding it, mowing—though city ordinance forbids homeowners to make alterations to it. It's a residential no-man's land, a verdant pariah. A developer friend of mine calls it "the stupid strip." My friends and I hoped to redeem this sliver of public land in our attempts to build community in our Southern California suburb.
Riverbend Commons is an intentional Christian community devoted to hospitality, creativity, simplicity, and reimagining life more justly in a suburban context. The 40-plus members of Riverbend couldn't imagine how daunting this would be when we started 12 years ago. One of the founders of NieuCommunities, near inner-city San Diego, commented to me, "I imagine what we're doing here in Golden Hill is a piece of cake compared to what you're up against." We weren't sure what he meant.
MORE FROM CHRISTIANITY TODAY