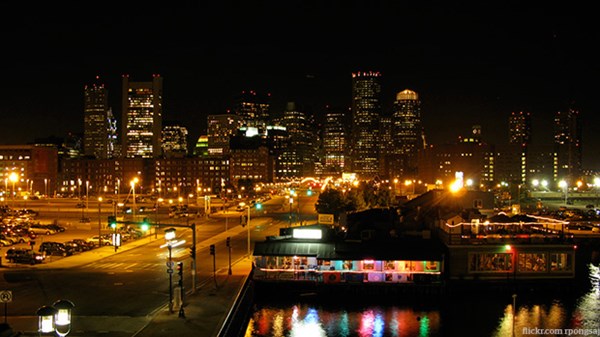 The Tech Poverty Fighter
How Andrew Sears at TechMission harnesses the Web to fuel urban ministry.
5.7.13
"If you ask the average person on the street right now what's changing the world more than anything else, the response will probably be technology," said Andrew Sears. "But Christians often resist technology. We are fighting battles against injustice, but are using antiquated tools. It's like the other side has tanks and jet planes, and Christians are fighting with sticks."
By using internet-based technology to connect people and resources, Sears and the organization he helped found, TechMission, are finding new approaches to overcome systemic poverty in the United States and beyond.
All of this is a far cry from Sears's upbringing in inner-city Kansas City, Missouri. He spent most of his childhood living on the streets because they were safer than his home.
As a teen and self-described hoodlum, he saw the destruction woven into his community and funneled all of his energy toward launching out of it. Upon enrolling at the University of Missouri, he decided that he would make straight As and become student body president—and he did. After graduating as valedictorian, while a graduate student at MIT, he co-founded the Internet Telephony Consortium with one of the "fathers of the Internet," David Clark.
With a proven track record, Sears was on a road to follow Bill Gates. But he woke up from 100-hour workweeks and realized he was on the run. It was at that point the gift of his technological brilliance was combined with a gift of personal and biblical insight. The faith he had embraced in childhood began to take root. During this period, Sears began to deal with scars from an abusive past, and for the first time started imagining how modern technology could be used to overcome poverty in Jesus' name.
Starting with a church-based computer training center at Bruce Wall Ministries in inner-city Boston, Sears saw one provision after another propelling him and his partners forward to use technology to respond to the issues woven into impoverished communities.
While the initial computer training work connected urban youth with skills for viable employment, Sears realized that much more than technological training was needed to overcome the hurdles the youth were facing.
So in 2000, in partnership with other Christian Community Development Association (CCDA) leaders, Sears founded TechMission. Its primary programs today are a volunteer matching service for individuals and organizations (ChristianVolunteering.org), distance learning for urban ministry professionals (City Vision College), an internship program (City Vision Internships), and a web portal to share teaching resources and connect urban ministries across the country (UrbanMinistry.org). TechMission also runs Safe Families, an educational tool designed to help parents and churches keep children safe online (safefamilies.org).
Sears, his family, and the TechMission staff live and operate out of a three-story home in inner-city Boston. Their most recent project was to create a website in a matter of hours to help hundreds of local churches support victims of the Boston Marathon bombings.
TechMission has served a vital role in connecting under-resourced individuals with technological training, and also in connecting a sometimes disconnected group of urban ministry practitioners with each other.
CCDA advisory board member and TechMission founding board member Rudy Carrasco says that Sears "is a person with huge tech credibility who also is a hard-core incarnational and relational urban ministry leader."
Carrasco, who served for many years in Los Angeles and now works with Partners Worldwide, shares Sears's passion for building on the intersection of poverty and technology. "If you say technology and poverty to most Christians, thoughts move toward, How can I get a cheap mobile phone to a poor person?" said Carrasco. "Andrew is trying to address the systemic issues involved in poverty such as: Can a kid get access to the kind of education he needs and have the support of his community, family, and church?"
Sears says he learned a formative lesson about addressing systemic issues of poverty while working briefly with a children's shelter in South Africa. Years after his time there, he learned that many of the children from the shelter had died violently. And then there were the children who never made it to a shelter. The shelter's leaders shifted from serving a few children with limited long-term impact to battling the causes of children living on the streets. Over 10 years, shelter leaders reduced the number of children living on their streets from 10,000 to 1,800.
"We list our values as Jesus and justice to emphasize both meeting the needs of the whole person and our affiliation with the social justice tradition of the church, like the Salvation Army, Gospel Rescue Missions, and the Christian Community Development Association," said Sears. "The problem is that our society is structured in a way that those with the greatest physical needs are often segregated from those with the most resources."
Corey Hicks, director of Urban Reach in New Orleans, is one of hundreds of graduates of TechMission's City Vision College. Born and raised in New Orleans' ninth ward, after high school Hicks became addicted to drugs and alcohol. When he came to faith in Christ, his passion grew to reach others who faced the same desperation he once did.
Hicks said that City Vision gave him confidence to serve as a nonprofit leader, describing it not only as an educational resource but also a forum for people serving in similar contexts.
While TechMission may seem to have a hands-off ministry approach, TechMission Corps has placed more than 500 full-time interns in Boston, Los Angeles, and Denver in AmeriCorps–type programs primarily focused on educational tutoring for inner-city youth. (Funding for that program was provided through AmeriCorps, and TechMission has recently chosen to end that nine-year funding relationships. The TechMission Corps program will now be transitioned to City Vision Internships.)
"We've taken the archive of the past 20 years of the major urban ministry conferences—CCDA, Urban Youth Workers Institute, Association of Gospel Rescue Missions—and we've made about a 100,000 resources available online," said Sears. "We also have an iPhone and Android app for people can listen to the sermons."
More than 15 years after Sears stopped running from his childhood, his organization has equipped and sent thousands of people to reach children and adults in the kinds of circumstances he once faced.
"Jesus said the summary of the Bible was to love God and love others," Sears said. "Paul used the latest technologies to do that—Roman roads and letters—and we want to do the same."
"Andrew is leading an area that today's church is weak in," Carrasco said. "This is technology as mission."
Eileen O'Gorman lives in Phoenix, where she works in communication for Food for the Hungry, an international relief and development organization. She is a member of Christ Church Anglican and holds a Master of Divinity from Covenant Theological Seminary, in St. Louis, Missouri. She has written for This Is Our City about Phoenix entrepreneur Jade Meskill.
MORE FROM CHRISTIANITY TODAY