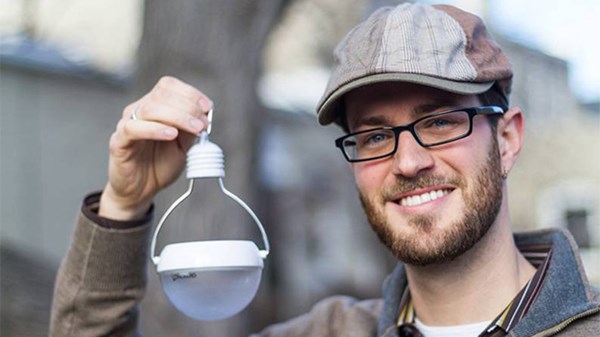 A Well-Lit Pathway Out of Poverty
Selling solar lamps to impoverished families is how Brian Rants serves God--and brightens the world.
12.19.12
Brian Rants never thought his contribution to the world would be a $15 lamp. But for schoolchildren in Swaziland and earthquake survivors in Haiti, these solar lamps have made all the difference. Rants's Denver-based company—Nokero, short for "no kerosene"—have allowed African students to read at night and increased safety for Haitian families living in tent cities. As vice president of marketing, Rants's job is to get these lamps into the hands of millions of families in the developing world.
Since its founding in 2010, Nokero has sold over half a million solar lights and chargers in 120 countries, but Rants believes their work has just begun. With over a billion people worldwide still using kerosene as their primary fuel source, the need is vast. In a comprehensive study on the industry, The Economist lauded solar lights as the next big innovation for the world's poor, noting that solar lighting is "falling in price, improving in quality and benefiting from new business models that make it more accessible and affordable to those at the bottom of the pyramid. And its spread is sustainable because it is being driven by market forces, not charity."
Nokero's lamps replace the need for kerosene lighting and eliminate the sweeping problems that accompany its use. Annually, over 1.5 million people die from complications arising from indoor air pollution. Over a million of these deaths are from kerosene fires. When individuals live with kerosene lamps, they experience the same health effects of smoking 40 cigarettes a day.
When Rants graduated from Grace College in 2001 with a Bible degree in hand, he didn't want to "settle" by pursuing a business career. A decade later, Rants works at a for-profit company.
"I am very surprised to find myself in business," Rants says. "Business seemed to be a backup plan to being a missionary. Or being a pastor like I thought I would be. It seemed like businesspeople were just 'extras' in God's story, rather than lead or even supporting actors."
Over the past ten years, Rants worked for a number of nonprofits and churches. After going through graduate school, however, he began to discover the ways enterprise is improving the lives of the poor around the world. Rants excitedly joined Nokero, equipped with a restored vision of vocation. Through leveraging his knack for marketing, Rants fights poverty not just through his volunteerism and philanthropy, but inherently through his work in business.
"The world changes by people doing work—whatever that work might be—with all their heart and might," he says. "That's not God's Plan B. That's plan A. . . . I began to discover how God made me. And I realized I am not a creative, entrepreneurial person by accident, but by design."
Alongside reimagining business vocationally, Rants also started reimagining the role of business itself. What he once viewed as an adversary to the war on poverty, he now sees as a vital ally. His perception early in his career was that big business, multinational corporations, and globalization worked against the poor.
"Once I actually studied this in graduate school, I was shocked," Rants shared. "Not only is business not 'the bad guy,' it's the primary reason poverty has decreased so substantially over the past 50 years. Nothing has undermined poverty, tyrannies, and injustice more than open and free markets. It is the only system proven to actually do that over the long-term."
Yale University and The Brookings Institution released a staggering study bolstering Rants's conviction. According to the study, in 1981, 52 percent of the world's population was unable to provide for their basic needs like housing and food, living below the "extreme poverty line." By the end of 2011, just 30 years later, the number had plummeted to 15 percent. The reasons they cited for the unprecedented drop in poverty are "the rise of globalization, the spread of capitalism and the improving quality of economic governance." This, the researchers describe, is the "potent combination" behind the tumbling poverty levels.
Even activists who were once critical of business recant their old positions. Bono—the lead singer of U2 and vocal advocate for the poor—recently admitted this "humbling realization."
"[I'm a] rock-star preaching capitalism. Wow. Sometimes I hear myself and I just can't believe it," Bono shared last month at a technology conference. "Commerce is real . . . aid is just a stopgap. Commerce—entrepreneurial capitalism—takes more people out of poverty than aid."
Nokero believes their for-profit approach is ultimately the most helpful for the families they serve. Research indicates those who buy a solar product take much better care of it than those who are given it for free. It's also a smart long-term financial decision for these families to buy their products.
The average family off the electric grid spends 10% of their income on kerosene, with many spending up to 25%. When Nokero customers buy the $15 solar lamps, they recoup the purchase price in a few months—sometimes just weeks—from the fuel savings alone. Nokero joins an array of companies taking a new approach to the many needs and opportunities faced by poor families around the world.
D.Light Design, launched in 2007 by a group of five graduate students at Stanford University, is one such company, launched when designer Xianyi Wu created a solar light prototype designed for the developing world.
For Wu, the path to founding D.Light stalled many times. In December 2006, while attending the Urbana missions conference, Wu sensed God prodding him to persevere with his idea. He did. Five years later, D.Light has provided light to over ten million people around the world and created a market for companies like Nokero.
"Nonprofits that were in this industry this were either giving them away or highly subsidizing them because the design and business approach was so poorly done," Wu says. "Handouts haven't worked. Giving stuff away hasn't changed anything. We asked: 'What would happen if we leveraged capitalism and great design to reach more people?' When we launched D.Light, we were able to prove that we could deliver a high-quality product at a very low price point."
Some activists accuse companies like D.Light and Nokero of profiting off the poor, but these companies believe they're profiting with the poor. These companies sell lights in places others are unable or unwilling to go. And Rants believes it actually gives their customers more power when they are buyers, not just receivers.
"When our customers buy a lamp from us, we become responsible to them," Rants says. "They tell us what they like and don't like, forcing us make our products better. If we want to stay in business, we have to respond and improve. Rightfully so, they have very high expectations from us."
When Rants met Steve Katsaros, the inventor and CEO at Nokero, his growing conviction about commerce became real. Katsaros, a mechanical engineer with a penchant for competitive ski racing, began his colorful career by inventing several commercial products for the ski industry. In early 2010, he invented the hugely popular solar lamp, Nokero's first product. Katsaros describes himself as an entrepreneur; Rants describes him as much more.
"He's a remarkable poverty fighter," Rants shared. "He designed a simple, affordable, market-based solution that addresses the needs of one-fifth of the world's population living without reliable electricity."
When David Livingstone, a renowned American missionary, returned from one of his trips to Africa in the 1850s, he suggested the two things the continent needed most were "Christianity and commerce." Livingstone, a hero of the faith, believed all successful societies were built on these two pillars. For Rants, it's taken him a few years to recognize how astute Livingstone's suggestions truly are.
For more information about Nokero and Rants, visit BrianRants.com.
MORE FROM CHRISTIANITY TODAY